NYC SantaCon 2021: Here's Everything You Need to Know About the Festivities
SantaCon NYC returns this year to the streets of New York City. The annual pub crawl event was canceled last year due to the ongoing COVID-19 pandemic.
The yearly "nonsensical Santa Claus convention" hosted by the SantaCon NYC charity, which has raised money for local businesses and charities since 2012, sees participants dressed in Santa Claus costumes get merrily intoxicated over a drink (or more) at various venues across New York City.
The Big Apple currently hosts the largest SantaCon event. However, SantaCon NYC is just one of more than 300 similar events taking place in over 40 countries around the world over the holiday season.
All participants must make a donation to SantaCon NYC's charitable drive (more on this below), which allows them to access all participating drinking venues.
This year, SantaCon has partnered with The Secret Sandy Claus Project. The charity will deploy its "Santas and Elves" with bags of toys to make deliveries at children's homes across Brooklyn, Queens and the Lower Manhattan area.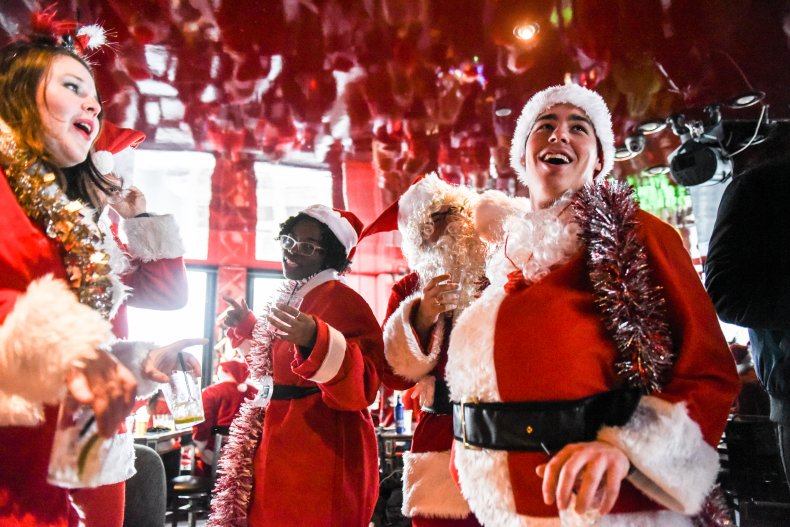 When Is SantaCon NYC in 2021?
This year's event will be held on December 11. The pub crawl begins sharply at 10 a.m. local time.
Where Does the 2021 SantaCon NYC Pub Crawl Begin?
According to the SantaCon NYC website, the exact start location will be disclosed on the website as well as on Twitter the week before the event. "It is always somewhere in the five boroughs of NYC," according to the website, which means it can be anywhere in Manhattan, Brooklyn, Queens, Bronx and Staten Island.
Do I Need to Wear a Santa Costume?
Yes. "Any type of costume" is fine. But according to "Santa's Code," the website suggests: "Full. Head-to-toe. Holiday themed. None of that 'just a hat' bulls***."
How Do I Join the Santacon NYC Pub Crawl?
Those who wish to attend can make a $13 donation (plus $0.93 fee) via the SantaCon NYC website. You can also opt to donate in cash at the venues "but do it online, it's quicker and easier on us," the charity says.
Once you've donated, you'll receive a confirmation email from Eventbrite explaining where and when you can pick up your Santa Badge, which "gets you into all venues all day," the charity says.
What Should I Bring to SantaCon NYC?
Proof of COVID-19 vaccination. The website says: "Santa respects NYC vaccination rules and venues staff trying to enforce them. Please make this trying time less of a clusterf***."
Proof of your online donation or cash to make donations at the door of venues.
Additional cash for bar stops and snacks.
A Metrocard for traveling on the subway.
Gifts, games, props and performances "to entertain Santas and strangers alike."
Comfortable walking shoes and layers to keep you warm. "Leave the stilettos at home," the charity says, "or you'll be Sad Santa by the end of the day."
Other SantaCon NYC Rules and Warnings
The website explains: "There is no excuse for inappropriate behavior. Public drunkenness, urination or rude behavior is not only prohibited by the stated rules of the event, but actively discouraged by the crowds of Santas themselves."
"Police will be at every one of our stops. Respect them and do not break laws," such as by urinating in public and jaywalking. Participants who bring open containers of alcohol to the event will be arrested, the charity warns.
Participants are also advised to follow the charity's prompts on Twitter while moving along the pub crawl route. "When you get the Tweet to move, head to the next destination and don't linger and don't litter," the charity says.
See the SantaCon NYC website for more information.