Sarah Sanders Blames Obama for 'Past Problems' of Russian Interference—but Trump Officials Say It's Happening Now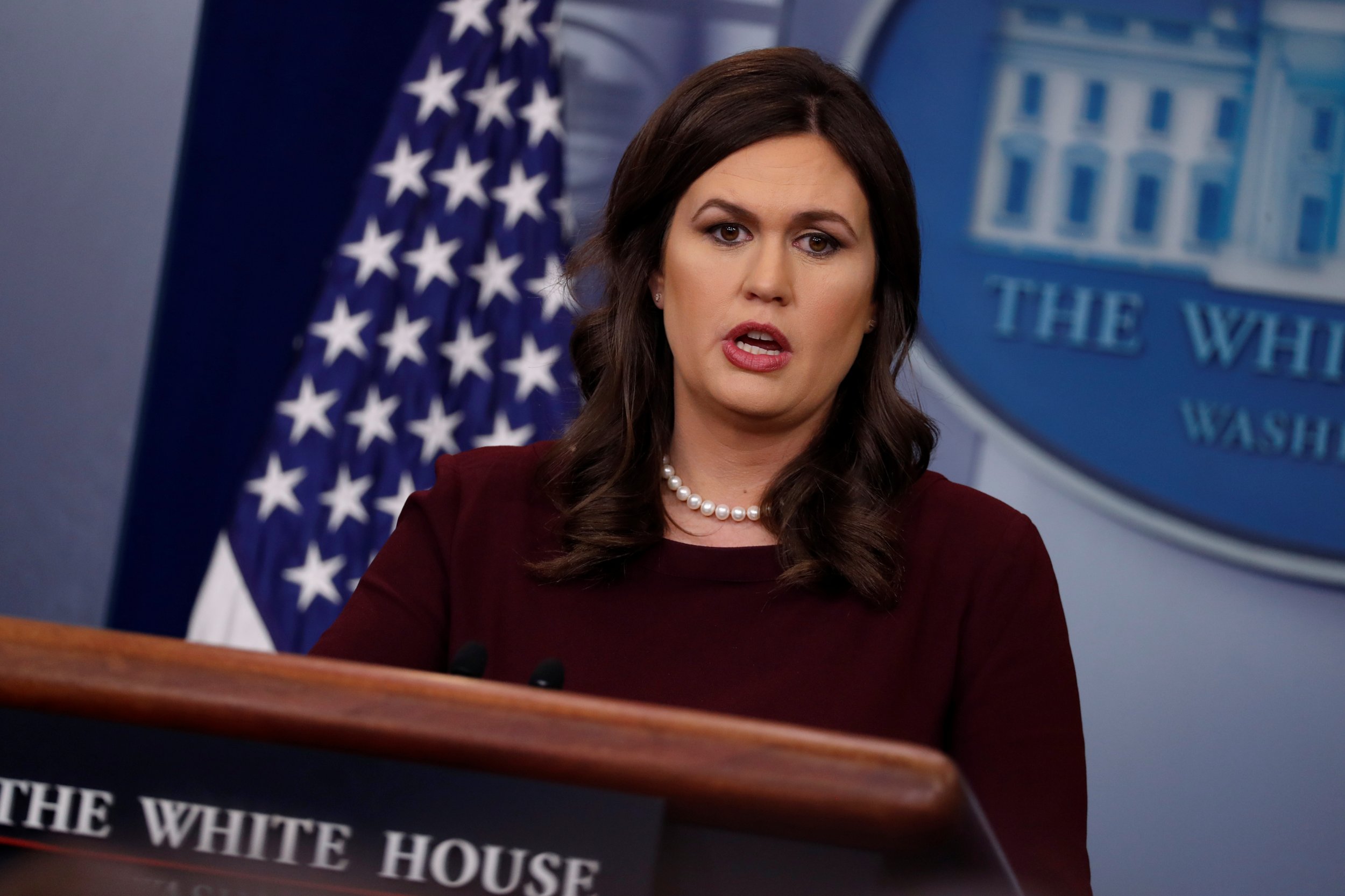 White House press secretary Sarah Sanders has said the Trump administration is not responsible for "past problems" such as Russian interference in the 2016 election.
"Let's not forget that this happened under Obama," Sanders said Tuesday. "It didn't happen under President Trump. If you want to blame somebody on past problems, then you need to look at the Obama administration," Sanders told reporters in response to questions about why Trump has not authorized U.S. Cyber Command—which wields America's cyber warfare capabilities—to combat Russian meddling at its root.
Members of Trump's cabinet, however, argue Russian interference is taking place right now and intelligence officials say not enough is being done to counter it.
During a Senate Armed Services Committee hearing Tuesday, Trump's National Security Agency Director Admiral Mike Rogers, who heads Cyber Command, said little is being done to stop the Kremlin's efforts to sow discord in the 2018 midterms right now.
Rogers said he believes Russian "President [Vladimir] Putin has clearly come to the conclusion that there's little price to pay and that therefore, 'I can continue this activity.'"
"Clearly what we have done hasn't been enough," he added.
Earlier in February, Secretary of State Rex Tillerson warned that the U.S. is vulnerable to Russian meddling in the 2018 midterms. In late January CIA Director Mike Pompeo said he expects Russia to continue to sow discord as they did in 2016, according to his agency's findings in a 2017 report.
Read more: Mueller asking about Trump's Russia business deals and Miss Universe Pageant
But Pompeo said he believes the U.S. will be able to push back "in a robust way."
Rogers said Tuesday that he has not been authorized to do that. "Both as the director of the NSA and what I see on the Cyber Command side, leads me to believe that if we don't change the dynamic here, this is going to continue and 2016 won't be viewed as something isolated," Rogers said. "This is something that will be sustained over time."
"In fairness, you can't say nothing has been done," he added, "but my point would be that it hasn't been enough."
Special counsel Robert Mueller is currently investigating Russia's efforts to meddle in the 2016 election and on February 16, he issued an indictment against 13 Russians who waged "information warfare" against America. Several probes of the matter are also underway in Congress.
Mueller's investigation is also seeking to establish whether Trump's campaign aided Russian attempts to meddle in the election.
President Donald Trump has dismissed these investigations as a politically motivated "witch hunt" and a "hoax."
National Intelligence Director Dan Coats said "the United States is under attack—now," in an interview with the Associated Press earlier in February. During a hearing before the Senate Intelligence Committee February 13, Coats, Rogers, Pompeo and FBI Director Chris Wray confirmed that there is no inter-agency strategy to combat Russian interference.
"We essentially are relying on the investigations that are underway," Coats said, referring to the Mueller and congressional probes.
When asked whether he had received a specific presidential direction to take steps to disrupt Russian interference efforts, Rogers said: "I can't say I've been explicitly directed to, 'blunt' or actively stop [interference]." Wray confirmed Trump has not directed him to counter Russian interference.
On Tuesday Sanders said that "Nobody is denying [Rogers] the authority."
"The president is looking at all of the different causes and all of the different ways that we can prevent it," she said. "As we find different ways that we can do that, we're implementing them."