Sasha Obama Defended by Celebrities as Twitter Photo Goes Viral
Several celebrities including Jameela Jamil, Aubrey O'Day and Akilah Hughes have come to the defense of Sasha Obama as she faces an onslaught of social media criticism over a viral photo and TikTok video.
In a clip that was shared on TikTok earlier this month, the 19-year-old daughter of former U.S. President Barack Obama could be seen dancing with a group of around six friends.
The user, identified only as @pixiestick222, quickly deleted the video, but not before someone else captured it and shared it on Twitter. It was on that platform that it took on a whole new life.
Sasha, who is a student at the University of Michigan, began trending as thousands of online commenters vilified her behavior while others were quick to celebrate and defend her.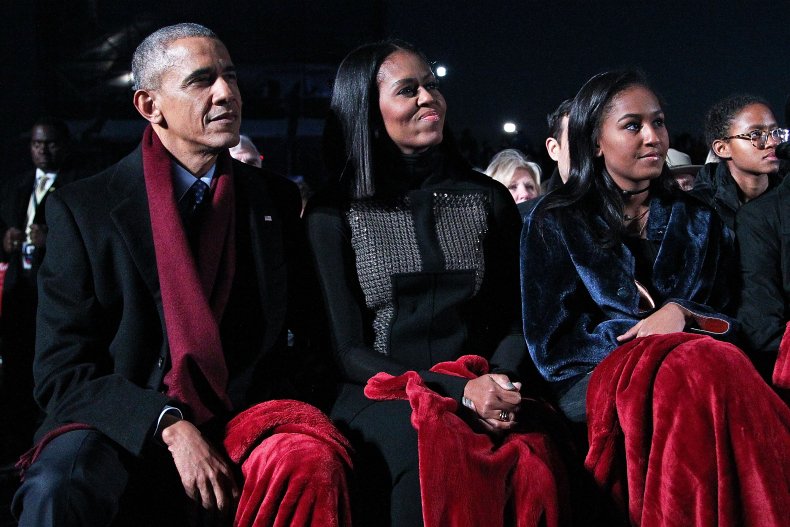 At first, many viewers latched on to Sasha's long, acrylic nails and then some people took notice that several of the young people dancing with the former first daughter are white aside from a younger black man behind her.
Meanwhile, a photo of a woman who looks like Sasha also began to circulate widely and was shared by a number of Twitter accounts with huge followings, including online magazine MEFeater, which wrote: "Sasha Obama is GIVING honey". There is no confirmation that the woman in the photo is Sasha.
British comedian and TV personality Jameela Jamil was among the celebrities to speak out in support of Sasha, saying: "Oh shut up about Sasha Obama, she's young, free and harming nobody. Stop acting like it's the President of The United States doing this.
"Which even if they did would still hurt nobody. She looks happy and she deserves to grow up expressing herself and having fun."
YouTuber and Comedian Akilah Hughes said: "I heard some ugly old white people are mad that Sasha Obama is hot and young?
"If they go any lower we have a moral obligation to stomp them into hell.
Singer Aubrey O'Day also weighed in by comparing the criticism of Sasha's behavior to Donald Trump allegedly paying adult film star Stormy Daniels to keep quiet about an affair they had before the 2016 presidential election.
O'Day wrote: "Keep your f***ing comments clean when you speak on the beautiful & smart Sasha Obama!"
Vice President-elect Kamala Harris' niece and prominent lawyer Meena Harris also came to the young woman's defence, saying: "Keep Sasha Obama's name out of your damn mouth" and author Frederick Joseph wrote: "I don't have much to say on the subject, other than leave Sasha Obama alone. Let the young woman be herself."
New York Assembly member Yuh-Line Niou added: "No. Just no to anything gross said about Sasha Obama. C'mon."
Some people on social media attacked Sasha for supposedly flouting pandemic protocol by gathering inside with a group of people, dancing closely together, while not wearing masks. (Note: The group appears smaller than even the most stringent recommendation of 10 or less people gathering together, and it's unclear if this group is part of a "quarantine pod" or not.)
While Sasha is a student at the University of Michigan, as of the end of September, her mother Michelle revealed both Obama girls were resuming school virtually at home. In other words, this group isn't likely a group of random youngsters with her, even though it's unclear when and where the video was recorded.
This is not the first time the 19-year-old has started trending on Twitter. A different TikTok video also went viral in October as users commented on a rare glimpse into her college life.
Newsweek has contacted Barack and Michelle Obama's office for comment.