Satellite Imagery Shows Major Winter Storm's Trajectory Over Northern U.S.
Satellite images have revealed the path of a massive winter storm that is expected to drop several feet of snow in some areas of the northern U.S. this week.
Imagery shared to Twitter by the National Oceanic and Atmospheric Administration (NOAA) on Wednesday shows the storm moving from the Rocky Mountains into the Northern Plains and Great Lakes regions. The National Weather Service reports that winter storm warnings are in effect in many areas, with blizzard warnings active across large portions of Wyoming, the Dakotas and Minnesota.
The storm is expected to impact roughly one-third of the country and has already hit some states with subzero temperatures, with heavy snowfall seen in the Rockies and Northern Plains regions. Forecasts predict that over 2 feet of snow could batter Minneapolis, Minnesota, beginning on Wednesday night. Ice storm warnings are also active in parts of Iowa, Illinois and Michigan.
Earlier on Wednesday, AccuWeather senior meteorologist Adam Douty told Newsweek that snowfall would be heaviest in the upper Midwest and northern Great Lakes regions from Wednesday night to Thursday morning, with "at least a foot of snow" falling on Minneapolis and Green Bay, Wisconsin.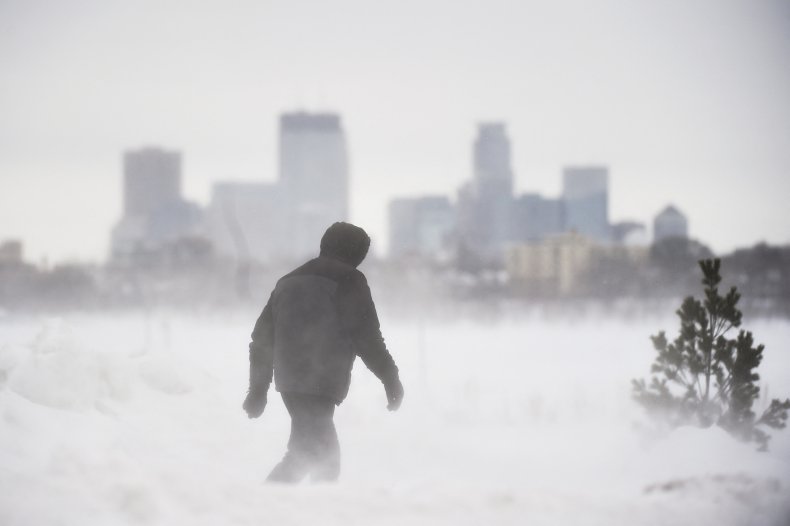 The snowstorm is expected to move into southern Canada before re-entering the U.S. in the Northeast. Between 6 and 12 inches of snow is predicted in the small area of northeastern Maine by the end of the week, as the storm exits the country for a second time.
Ice storms are forecast to hit northern suburbs of Chicago before traveling east to Detroit, Michigan, and into Buffalo, New York, which Douty said could experience "a good deal of ice." The storms are likely to impact travel and could lead to widespread power outages in some areas.
The storms have already caused major disruptions to U.S. air travel. At the time of publication, the aviation tracking website Flight Aware reported that nearly 2,500 flights had been canceled on Wednesday, while over 14,000 flights had experienced delays.
Although wintery conditions could cause havoc in some parts of the U.S. this week, other areas may experience unseasonably hot weather. Record-setting temperatures of around 80 degrees are expected in Baltimore, Maryland, and Washington, D.C., on Thursday.
Meanwhile, a separate and "extremely dangerous" winter storm is set to bring unusually wintery conditions to Southern California later this week, which Douty said could result in "a pretty significant rain and snow event."
Los Angeles County will be facing its first-ever blizzard warning as the worst of the storm hits Southern California from Friday morning to Saturday afternoon.
Mountainous areas near Los Angeles and San Diego may experience more than a foot of snow at elevations of 3,000 to 4,000 feet. Areas at lower elevations, such as the city of Los Angeles, could experience heavy rain and possible flooding.
Newsweek has reached out to the National Weather Service for comment.