Winter Storm Chaos as Hundreds of Flights Canceled Across U.S.
Flights coming into and leaving the U.S. have been canceled because of the intense wintry weather conditions gripping the country.
There have also been hundreds of delays for February 22, according to the Flight Aware website.
The aviation company, which provides real-time and predictive tracking data for airlines, said that there have been a total of 685 flights flying into or out of the U.S. that have canceled. The website also said there had been a total of 374 delays today for flights into or out of the country.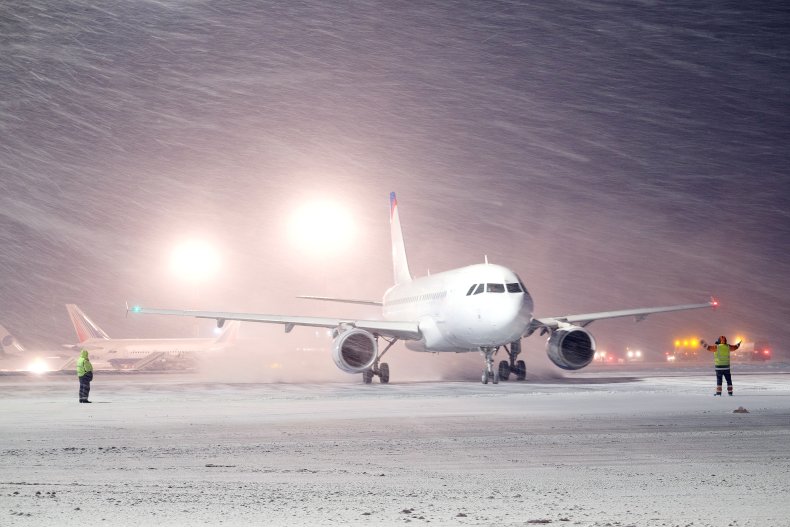 Much of the northern United States is expected to face some of the most severe winter weather, including heavy rain, snow, sleet and strong winds.
The National Weather Service's (NWS) latest weather map has detailed areas that have already received a blizzard warning.
North east and south east South Dakota, southeast North Dakota, west and south Minnesota and Central Wyoming are areas that have so far been issued with a blizzard warning by NWS.
The area from central Iowa through to southern Michigan has been issued with an ice storm warning.
The winter storm warning has been more widespread throughout the northern states, according to the weather agency.
The Weather Channel said that this winter storm could make travel almost "impossible" in multiple states like Wyoming, South Dakota, southern Minnesota and northern Wisconsin as winds create blizzard conditions.
Deep Snow expected
Minnesota could see some of the worst snow, with up to 2 feet covering the southern and central parts of the state.
With the incoming snow, ice and freezing rain conditions, concerns have been raised about local power outages as well.
AcuWeather senior meteorologist Dan Pydynowski previously spoke to Newsweek about this possibility.
He told Newsweek: "There could be enough freezing rain accumulation to be worried about more widespread power outages.
"When you start getting into areas where there's over a quarter-inch of freezing rain, that's enough weight to start bringing down tree branches and power lines."
Due to the ongoing weather conditions, any potential needed repairs could prove to be difficult as movement in certain areas gets harder.
Pydynowski added: "Maybe not so much while the ice is falling, but behind the storm it will be pretty windy across the Great Lakes.
"It's hard to say what crews are capable of, but at the very least [the storm] could hinder or slow progress of crews being able to get out safely."
Pydynowski closed by admitted that power outage impacts are hard to predict despite the many areas expected to be struck by the winter weather.