Saturday Night Live returned from a hiatus this week with a cold open that mocked the "unemployed" Cuomo brothers, Andrew and Chris, as well as other public figures.
The episode opened with Kate McKinnon reprising her role as Dr. Anthony Fauci. "I'm baaaaack!" McKinnon's Fauci said. "Do people still think I'm sexy or are we done with that?"
McKinnon's Fauci went on to discuss the new Omicron variant of the coronavirus and how those who have had two shots of a coronavirus vaccine and booster shots should be well protected.
"With COVID cases on the rise, people still have a lot of questions. Is it safe to travel? Can I still use this to get out of stuff? I would like to never work again," McKinnon's Fauci said, before showing the audience skits about navigating the pandemic during the holidays.
In the scenarios, SNL cast members acted out what it's like to go to a restaurant, travel on a plane and visit Santa at the mall.
But the scenarios became increasingly specific, with one showing the audience how "two unemployed brothers" are spending on Christmas Day.
"Hello, I'm disgraced former New York Governor Andrew Cuomo," Pete Davidson said. "And I'm disgraced former CNN host Chris Cuomo," Andrew Dismukes chimed in.
"And we both lost our jobs... because of COVID," Davidson added.
McKinnon, as Fauci, replied: "That's not why you lost your jobs."
Davidson's Andrew Cuomo then joined the pair, declaring: "Family is all we have."
Dismukes then appeared, adding: "Yeah, as of two weeks ago."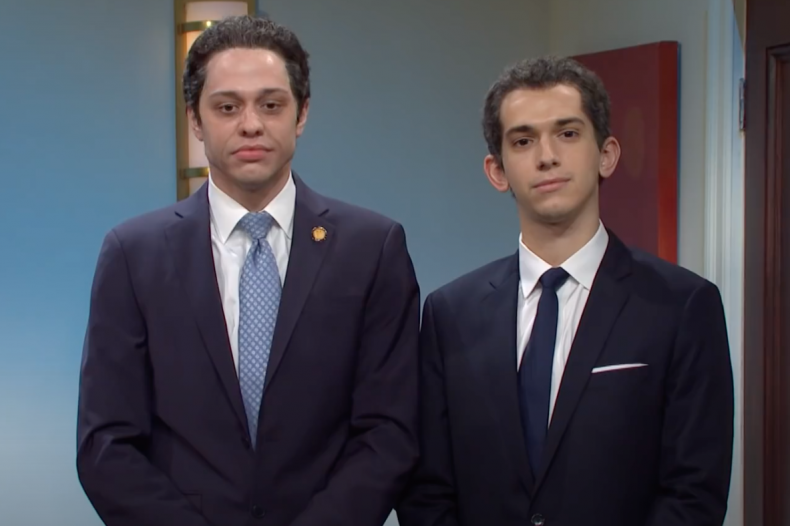 Andrew Cuomo announced his resignation in August, days after a report found he sexually harassed multiple female employees.
CNN fired Chris Cuomo last week after learning that he was more involved than previous known in helping his older brother deal with the sexual harassment charges. It later emerged that a woman reported an allegation of sexual misconduct against the Chris Cuomo days before the network fired him. His spokesman said the allegations are not true.
SNL's cold open also took aim at Reps. Marjorie Taylor Greene and Lauren Boebert, played by Cecily Strong and Chloe Fineman. Both are seen wielding semi-automatic rifles.
"The government has been using this fake disease to strip us of our freedoms. Do they think we're dumb?" Strong's Greene asked.
"Please," Fineman's Boebert replied. "Would they give a dumb person a gun? Yes."
Strong's Greene continued: "First, they said the shutdowns were until they found a vaccine. Then they found a vaccine and said it worked. Then they said everyone should get it. Then people got it and it saved their lives. If that's not communism, then honey, I might not know what communism is."
"So Merry Christmas," Boebert added. "And remember: guns don't kill people, people people people."
Aidy Bryant's Sen. Ted Cruz also popped by. "That's right, it's me, the weirdo with the beardo, Ted Cruz," Bryant's Cruz said. "Hey, if you're sick of seeing me, just think how sick I am of being me."
McKinnon's Fauci then asked how he was handling the pandemic. "Oh, textbook bad," Bryant's Cruz replied.
McKinnon's Fauci then told the audience that despite our differences, there's some things we can all agree on, such as spending time with our families. "Or run it back solo to Cancun," Bryant's Cruz said.