Saudi Arabia's Driving Ban Is Lifted but Women Are Still Being Oppressed, Activists Say
Starting June 24, for the first time in the country's history, women in Saudi Arabia will be permitted to drive.
Saudi Arabia was the last country in the world where women could not drive a vehicle, and dozens have been applying for a Saudi license in the lead-up to the lifting of the ban. But Saudi activists and human rights advocates said the country still has a long way to go before women have equal rights.
"Lifting the driving ban is a sad reminder of the 40 years lost for women's rights and progress," Ali al-Ahmed, director of the Washington, D.C.-based Gulf Institute, told Newsweek. "The Saudi government continues to bar women from being recognized as an independent legal entity who can make her own decisions on healthcare, education, work, marriage, travel, sports and many basic rights."
Related: Saudi Arabia Arrests Women's Rights Activists Who Violated Driving Ban
Saudi Arabia's male guardianship laws mean that women are barred from undergoing certain medical procedures or traveling outside of the country without the permission of a male guardian. Women are forbidden from spending time with men who are not related to them, especially in public places. They also need the permission of a male guardian to travel abroad or within the country.
For al-Ahmed, the driving ban had tragic consequences. "I myself lost two cousins due to the ban," al-Ahmed told Newsweek. "Because women couldn't drive and there was no ambulance service in the country, kids, men and women died at home. When male drivers are not around…my cousins had heart attacks ten minutes from the hospital, and died because no one could drive. Almost every family in the country had a story like that."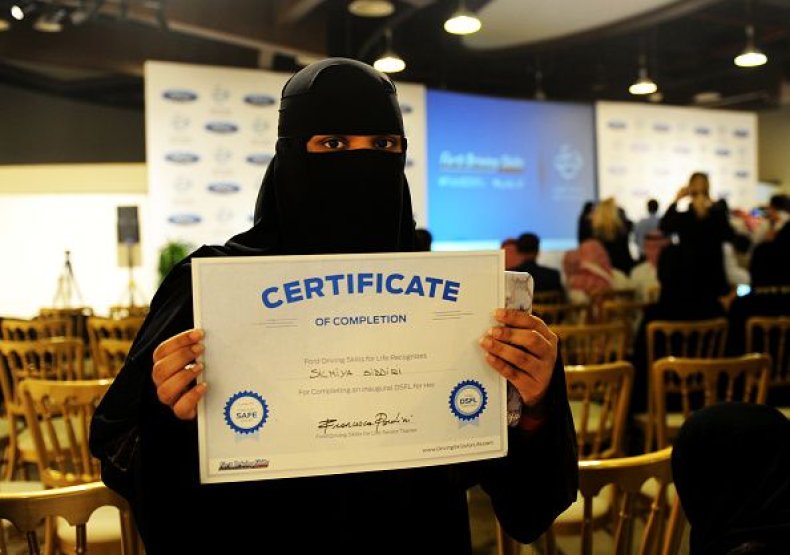 Advocates of the Saudi government said the country's leadership was serious about making deep societal changes. In the past two years, the government has unveiled plans to diversify its economy and attract more foreign investment. But in order to achieve this, Saudi Arabia has had to liberalize. Public concerts were permitted for the first time last year, and women were allowed to attend. Movie theaters suddenly began opening their doors, and women started attending public sporting events in January.
Under the leadership of Crown Prince Mohammed bin Salman, advocates said, the government started examining the guardianship program to determine how it could be changed. Today, only travel and marriage are controlled by the guardianship program, and even that may be altered soon.
But the jailing of women activists calls into question this new, liberal mindset.
"Leading women's rights activists and campaigners against the driving ban—including Loujain al-Hathloul, Iman al-Nafjan and Aziza al-Yousef—are among eight activists still being detained in Saudi Arabia for their peaceful human rights work. Some have been detained without charge for more than one month, and may face trial before the counter-terror court and up to 20 years in prison for their activism," rights group Amnesty International said in a statement. "The women's rights activists detained have campaigned for the right to drive and the end of the repressive male guardianship system in Saudi Arabia for many years."
Other activists have allegedly been forbidden from leaving the country.
Some advocates said it was unclear how Saudi Arabia's liberalization would play out in the long run.
"It is a confusing time for Saudis, and for women in particular. They are told society is changing and liberal reforms are taking effect, and then rights activists are arrested and the head of the entertainment authority was fired after [a] conservative backlash to a circus performance," Yahya Assiri, a Saudi human rights advocate based in the United Kingdom, told Newsweek.
The head of entertainment was fired on Monday for permitting female performers to wear tight clothes.
"Honestly, no one, including the ex-head of the entertainment authority, knows what the authorities want," Assiri said. "Basically, because the authorities are utterly despotic."