Saudi Arabia Fires Entertainment Chief Because He Allowed Female Performers to Wear Tight Clothes
Saudi Arabia has fired the chairman of its General Entertainment Authority after he allowed a Russian circus to perform in Riyadh featuring women wearing tight costumes.
The kingdom's official press agency originally announced the dismissal of Ahmed Al Khateeb without explanation on Monday. However, on Tuesday, the pro-government newsite Sabq revealed that the chairman had been fired due to the "indecent clothes" worn by women performing in the Riyadh circus, Al Jazeera reported.
Videos allegedly shot during the performance have been circulating on social media, outraging conservatives in the kingdom. The Arabic hashtag "naked Russian women in Riyadh" began trending on Twitter, as many Saudis attacked the performance.
The circus was originally intended to run for five days, through Tuesday. As the Saudi national soccer team is currently in Russia for the World Cup, the Russian circus was planned to coincide with the international sporting event. It's unclear whether the remaining performances continued or were canceled.
Although Saudi Arabia has moved to ease restrictions on the way women dress in public, most women wear an abaya and cover their hair. Previously, women who refused to do so could face fines and even detention by authorities. However, in recent months, top Saudi clerics have suggested the emphasis should be on modesty, not a specific garment. It appears that tight clothing doesn't pass the cut.
Al Khateeb was appointed to lead the country's entertainment authority when it was founded in 2016. Under his leadership, the government department brought a wide-range of new cultural and entertainment options to the traditionally conservative kingdom.
Despite criticism from conservatives, the kingdom allowed public concerts, a ComiCon event, a WWE Wrestling show, and numerous other activities to move forward. Under Al-Khatib's leadership, the kingdom also decided to end a ban on cinemas that had been in place for more than 35 years. Marvel's "Black Panther" was the first film to open in the kingdom to a sold-out audience on April 19.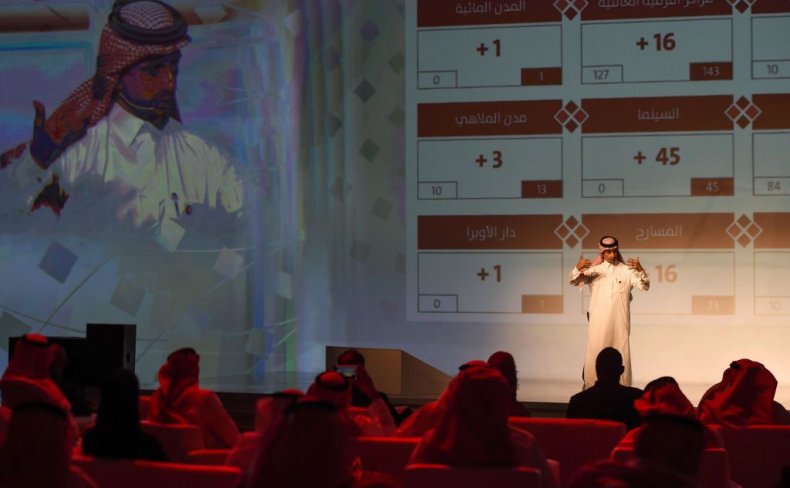 Saudi Arabia's King Salman bin Abdulaziz Al Saud and his son, Crown Prince Mohammed bin Salman, often referred to as MBS, have positioned themselves as reforming and modernizing the traditional kingdom. Under an ambitious Vision 2030 national transformation plan, MBS has pushed for diversifying the kingdom's economy away from oil, increasing entertainment and cultural options for Saudis and enhancing the role of women in society.
In one of the kingdom's highly publicized decisions, Saudi Arabia announced last year that it would allow women to legally drive. The ban will officially be lifted on Sunday and many Saudi women have already received their driver's licenses.
At the same time, critics have called out the Saudi leadership for presenting the image of modernization while continuing to crackdown on dissent. Several prominent activists, including several women who campaigned for the right to drive, were detained and held in May.