Saudi War in Yemen May Have End in Sight as Rebels Submit Peace Plan to United Nations
The head of a Zaidi Shiite Muslim group in control of Yemen's capital has submitted a letter to the United Nations in hopes of ending a devastating three-and-a-half-year war led by Saudi Arabia.
Mohammed Ali al-Houthi—chairman of the Supreme Revolutionary Committee interim government headed by the movement known as Ansar Allah, or the Houthis—first revealed the move Wednesday in a Twitter post, in which he shared the document titled "An Initiative to End the Tragedies Caused by the Aggression on Yemen." The document, which does not mention Saudi Arabia or its allies by name, criticized the U.N. Security Council for failing "to prevent the interference and aggression against Yemen as well as the massacres committed daily against the Yemeni citizens."
Related: U.S. missile defense couldn't stop North Korea and may not even protect Saudi Arabia from rebels in Yemen
Facing what U.N. agencies have described as the worst humanitarian crisis in the world due to its unmatched rates of sickness and starvation, the letter presented six points as part of a new initiative to cease the violence and allow the delivery of aid, which Ansar Allah has accused Saudi Arabia of blocking.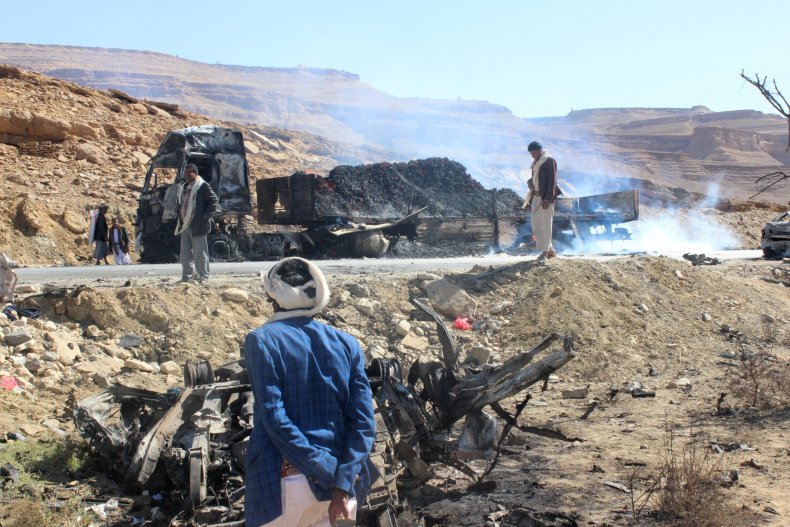 The points included "forming a reconciliation committee, using elections as a mechanism to elect a president and parliament that represents all of the Yemeni people and their political forces, establishing international guarantees to begin reconstruction and compensation for damages, preventing any aggression from foreign countries against Yemen, announcing general amnesty and the release of all those detained by all sides and putting any contested issue to a referendum," according to text and images of the letter sent to Newsweek by the pro-Ansar Allah Yemen Resistance Watch.
Ansar Allah fighters took over Sanaa, Yemen's constitutional capital, in early 2015, taking advantage of popular discontent toward Yemeni President Abed Rabbo Mansour Hadi, who replaced longtime leader Ali Abdullah Saleh after his resignation in 2012 during widespread protests. Hadi was forced to flee to the southern city of Aden as Ansar Allah allied with Saleh loyalists in the capital and elsewhere.
Neighboring Saudi Arabia accused Ansar Allah of being a proxy for Iran—Riyadh's revolutionary Shiite Muslim rival—and gathered other Gulf Arab allies to launch a massive campaign to drive the rebels out of Sanaa in March 2015. Despite spending billions of dollars and receiving support from Western countries, Saudi Arabia and its allies have struggled to defeat the Yemeni insurgents, and recent breakdowns in alliances have only exacerbated the already complex conflict.
In December, Saleh switched sides and endorsed a cessation of hostilities favoring Saudi Arabia. Shortly after, he was shot dead under circumstances that remain unclear, hence splintering the anti-Hadi alliance. The Saudi-led coalition also experienced a massive blow late last month when Yemeni southern separatists supported by its ally, the United Arab Emirates, turned on Saudi-backed Yemeni soldiers and seized parts of Aden.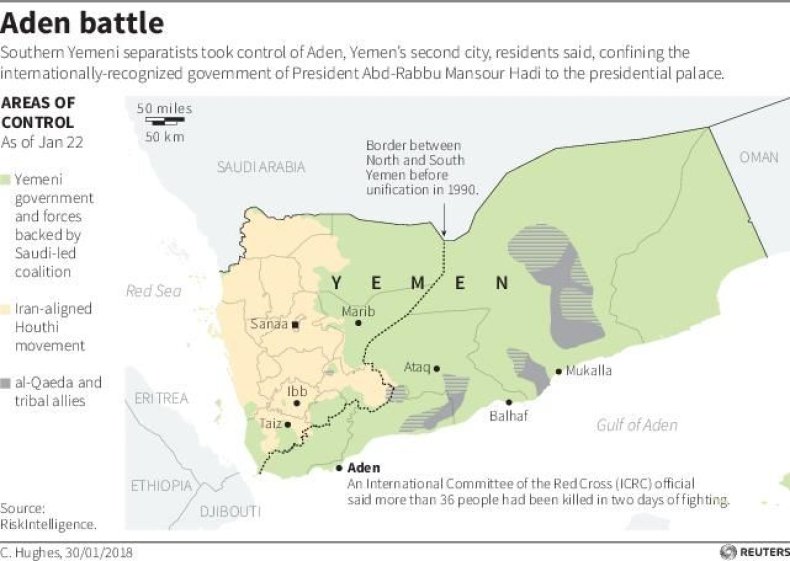 The unrest has not only furthered the dire humanitarian crisis in Yemen, but it has allowed jihadis loyal to Al-Qaeda and the Islamic State militant group (ISIS) to establish a foothold in the war-torn nation. While the militants only held limited territory, they have both claimed deadly attacks against civilians, as well as both belligerents of the civil war.
The war has also prompted fresh international tensions as Saudi Arabia and the U.S. accuse Iran of supplying Ansar Allah with ballistic missiles that have been fired on targets in Yemen and Saudi Arabia. The U.S. has been pushing the U.N. Security Council to condemn Iran over its alleged ties to the Yemeni insurgency, but fellow permanent U.N. Security Council member Russia said Wednesday it would not support such a resolution, according to Reuters.