'Scandal' Season 7: Everything to Know Before ABC Show Returns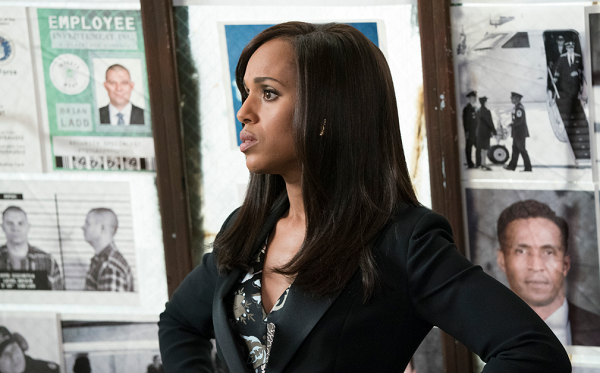 Scandal returns to ABC on Thursday with not just the second installment of Season 7 but the final episodes of the series.
Albeit a bittersweet goodbye (life without Olivia Pope fixing things, can you imagine?), fans at least have the pleasure of knowing the last few moments of the Shonda Rhimes's political drama will be just as thrilling and scandalous as always. Get the wine and popcorn ready.
Catch up on biggest moments of the season so far before the show premieres at 9 p.m. ET on ABC.
Episode 1: "Watch Me"
-President Mellie Grant (Bellamy Young) is in charge and Olivia (Kerry Washington) is her ringleader, aka Chief of Staff. Together—with the help of a little senator blackmailing—they get Mellie's first major bill passed: Free college for everyone!
-Quinn Perkins (Katie Lowes) is running Quin Perkins and Associates, formerly Olivia Pope and associates. Her first biggest case is to return a missing dad—who happens to be a CIA operative—back to the U.S. from Bashram.
-Olivia is also the new Command of B6-16, with Jake Ballard (Scott Foley) remaining as her number one agent. They are still hooking up from time to time, but Olivia makes it crystal clear that she's only here to command him in and out of the bedroom.
- Eli, aka Rowan Pope, or Papa Pope (Joe Morton) is spiraling under the pressure of being constantly watched by his former team of assassins B6-13. To comfort him, Olivia promises to give him his dinosaur bones as long as he behaves.
-Former U.S. President Fitzgerald Grant (Tony Goldwyn) is nowhere to be found.
Episode 2: "Pressing the Flesh"
-Mellie hosts the Bashran President Rashad (Faran Tahir) at the State Dinner in hopes of coming to an agreement regarding his nuclear power. Initially, he's pegged as a ruthless dictator, but he turns out to be not nearly as vicious as he's been painted. And after a few cocktails and longing looks, Mellie has the hots for him. It also helps Rashad was nearly assassinated by a Bashrami rebel acting as a war veteran. Luckily, Huck (Guillermo Diaz) was there to put his former B6-13 training to use and take down the bad guy before he could take down Rashad.
-Meanwhile Olivia leaves the dinner with a potential suitor only to find Fitz waiting for her at her door.
Episode 3: "Day 101"
-It's all about Fitz on this episode, and it's a pretty sad picture. Simply put, Fitz is miserable and lonely in Vermont now that Olivia has killed his dreams of them living together and making jam in his chateau. He's trying to settle into life as an everyday citizen, which seems to be a bit of a struggle. He didn't even know he was supposed to activate his debit card before trying to swipe at the grocery store.
-Marcus (Cornelius Smith Jr.) finally arrives to help Fitz start building his presidential library in Vermont. Although their egos tend to clash and they even get into a fistfight, they still manage to find a way to work together. Their union results in a young black advocate's accomplishing his goal of having a of a Confederate statue removed from a Vermont park. This leads Fitz to return to Washington D.C. and at Olivia's doorstep with his next philanthropic project, to save several missing girls in America.
Episode 4: "Lost Girls"
-Fitz and Marcus return to Washington in an attempt to convince QPA to help them locate some of the young black girls missing around the U.S. We finally learn why Fitz was waiting at Olivia's doorstep on the night of the State Dinner, and it's because he needs her to persuade Mellie to make a statement about his latest social cause.
-Mellie—very obviously into Rashad now—is working with the Bashran president to create some nuclear peace in the Middle East.
-Turns out Rowan is behind Fitz's decision to take on the case of the missing girls. He believes Olivia is too deep in the darkness of B6-13 and advocates for Fitz to help save her, when really he may just be using Fitz as a pawn to get B6-13 back under his control.
-Quinn and the rest of the QPA team are able to reunite one lost girl with her mother, which launches a nationwide search for the rest of the girls. Mellie also makes a statement about the missing girls.
-Militants in Bashran stage a coup and overthrow Rashad's presidency.
-Vice President Cyrus Beene's (Jeff Perry) brewing romance with tech guru Fenton Glackland (Dean Norris) starts to bubble over after he spends a day playing virtual reality games at the millionaire's house.
Episode 5: "Adventures in Babysitting"
-Fitz continues his push to get Olivia to get off her power trip and leave B6-13 behind, but only makes matters worse when he tells Mellie that his ex-girlfriend is still using the special agent group to do dirty work. Olivia learns her father is the one behind Fitz's sudden interest in her extracurricular activities and takes away Eli's beloved Tyrannosaurus Rex bones.
-Mellie is on the brink of calling a war on the rebels who have dethroned Rashad, and it becomes clear her feelings for him are heavily influencing her decision-making. Olivia comes up with another plan to overthrow the rebels that won't necessarily cost the lives of U.S. soldiers. Mellie agrees, but she has no clue Olivia's plan includes using B6-13 to blow up the Bashrami president as he gets on a plane headed back to his home country.What Olivia doesn't know, though, is that Quinn has somehow figured out she was behind Rashad's murder.
Episode 6: "Vampires and Bloodsuckers"
-Olivia operates as though she has no idea who's behind Rashad's murder, but later finds out Quinn is on to her when they meet at a memorial and Quinn exposes all the dirt she has on Liv. Jake thinks Quinn will likely spill the beans, given she's pregnant, hormonal and stressed from the wedding she's supposed to have the next day. However, Olivia doesn't give him the go-ahead to do even more dirty work and get rid of Quinn.
-Quinn goes missing on her wedding day, leaving behind nothing but the engagement ring Charlie proposed with. Although it seems like Quinn may have just gotten cold feet, when Huck finds and opens her "vows" folder he discovers photos of the plane bombing, leading everyone to believe she's been kidnapped. Everyone's worried, including Olivia. Of course, Olivia's mostly concerned their investigation into finding Quinn may cause everyone to find out she was behind Rashad's assassination.
-Charlie believes Cyrus's new boyfriend is behind Quinn's abduction and in turn, kidnaps and tortures him. Luckily Huck arrives just in time to save Charlie from making a horrible mistake.
Episode 7: "Something Borrowed"
-A flashback of Quinn standing in the elevator wearing her wedding dress reveals she wasn't planning to ditch Charlie at the altar at all. An unidentified person enters the elevator from a vent and appears to knock her unconscious by smothering her with chloroform.
-QPA is on the hunt for Quinn, and Charlie is given the task of identifying pregnant dead women in morgues across the city. But none of the women he views turn out to be Quinn.
-During a conversation with Jake about the real monsters in D.C., Olivia has an "ah-ha" moment and realizes her father is behind Quinn's abduction. Not long after, Eli requests to meet with Olivia and demands she returns his dinosaur bones (and freedom) in exchange for Quinn. He threatens to kill Quinn if Olivia doesn't give him what he wants. She calls his bluff and he calls hers.
-In her first appearance of the season, Maya (Khandi Alexander), Olivia's mother, encourages her to let Eli kill Quinn. After all, Quinn has dirt on the White House Chief of Staff, and allowing Eli to kill Quinn will not only hold Olivia's power over her father but prevent Quinn from revealing she gave the order to kill Rashad.
-Olivia has another meeting with her father, during which she tries to get him to kill her instead of Quinn. He won't do it, and this inability leads Olivia to believe Eli won't actually kill Quinn either. The episode ends with Eli going into another room and firing off a shot. A woman's scream can be heard, followed by another gunshot. Papa Pope returns to Olivia and simply asks, "Do you want to see the body."