Anthony Scaramucci: The Left Should 'Deprogram' Trump Supporters Like They're in a 'Cult'
Anthony Scaramucci says that the political left should view the president's loyal supporters as members of a cult that need to be deprogrammed.
During an Fox News interview Sunday with Howard Kurtz, the one-time White House director of communications warned, "We recognize that the president is a clear and present danger to the American society—the American culture,"
"There are many people inside the White House and in the Cabinet. I would ask the left to... create an off-ramp for those people," he added. "Because when you're trying to deprogram people from a cult, one of the first things you have to do is allow them to change their mind."
Although Scaramucci donated substantially to Trump's 2016 presidential campaign and has defended the president in the past—even after he was fired from his brief tenure at the White House—the financier has grown increasingly critical since Trump's racist attacks against four progressive Democratic congresswomen last month.
Scaramucci, who long voiced support for Trump based due to his economic record, has now become one of his harshest critics, warning that he is attempting to divide the nation counter to American ideals.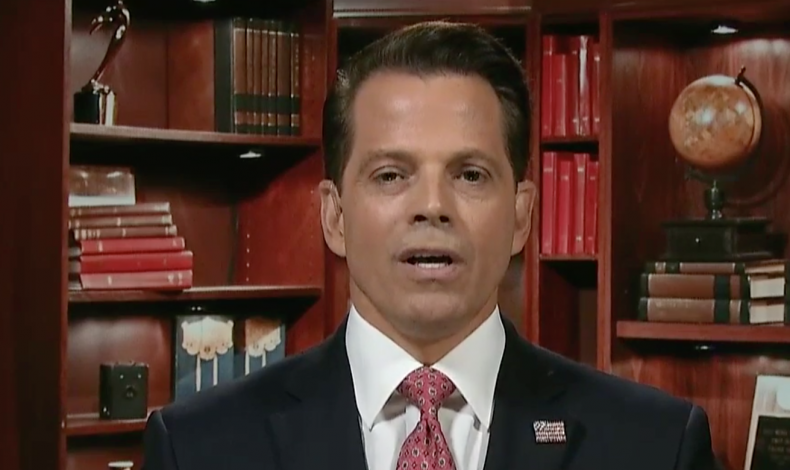 Kurtz pointed out that many critics on the left have questioned why o Scaramucci, a former Trump loyalist himself, has turned on the president, since the president's divisive rhetoric is nothing new.
Scaramucci admitted it was "very justifiable criticism," but said he had an op-ed that would be published in The Washington Post this week explaining his change of heart in greater detail.
Trump and his aides have tried to discredit Scaramucci, arguing that he simply wants attention and publicity.
"They're considered persona non grata if they're in Donald Trump's orbit and support this president, but the moment they say something bad about the president, they all of a sudden become the toast of the town," White House deputy press secretary Hogan Gidley told Kurtz earlier in the show.
"I've seen it time and time again—it is instantaneous," he added. "When you have a chance to make money and profiteer off of the mocking, pushing against the president, people do it all the time. And, in this instance, it is no different."
Last weekend, Trump levied a direct attack against Scaramucci: "Like many other so-called television experts, he knows very little about me other than the fact that this Administration has probably done more than any other Administration in its first 2 1/2 years of existence," the president tweeted." Anthony, who would do anything to come back in, should remember the only reason he is on TV, and it's not for being the Mooch!"
Scaramucci was sent packing shortly after beginning his White House role back in 2017, after giving an interview to The New Yorker in which he made negative remarks about several administration officials.
Following Trump's criticism last weekend, Scaramucci made more media appearances. He told CNN the president was "actually disassembling a little bit and he's sounding more and more nonsensical."