Scarlett Johansson Reveals She's Working with Disney Again After Settling Lawsuit
Scarlett Johansson has revealed that she aims to collaborate with Disney once again, after settling her lawsuit over Black Widow's streaming release.
The Marvel movie was released in theaters this summer, with Disney debuting the film on its Disney+ Premier Access streaming service for $30 at the same time—leading Johansson to blame poor theater ticket sales on the latter decision.
With Johansson stating that her compensation was tied to the movie's box office performance, the actress filed a lawsuit in July against the studio giant for loss of earnings—with both sides lashing out at one another in fiery statements.
However, it was announced on Thursday that Johansson has not only settled her lawsuit with Disney, but was looking forward to further projects with the studio. The terms of the settlement have not been disclosed.
"I am happy to have resolved our differences with Disney," Johansson said in a statement, per The Hollywood Reporter. "I'm incredibly proud of the work we've done together over the years and have greatly enjoyed my creative relationship with the team. I look forward to continuing our collaboration in years to come."
Disney Studios chairman Alan Bergman shared a more specific teaser of what's to come, when he said in his statement: "I'm very pleased that we have been able to come to a mutual agreement with Scarlett Johansson regarding Black Widow.
"We appreciate her contributions to the Marvel Cinematic Universe and look forward to working together on a number of upcoming projects, including Disney's Tower of Terror."
Black Widow grossed $80 million domestically at theaters on its opening weekend in July, while also pulling in $60 million on Disney's streaming service. While the opening figures were impressive, sales sharply declined in the weeks that followed.
With the movie eventually pulling in global earnings of $379 million, Black Widow holds the dubious distinction of being one of the lowest grossing Marvel films.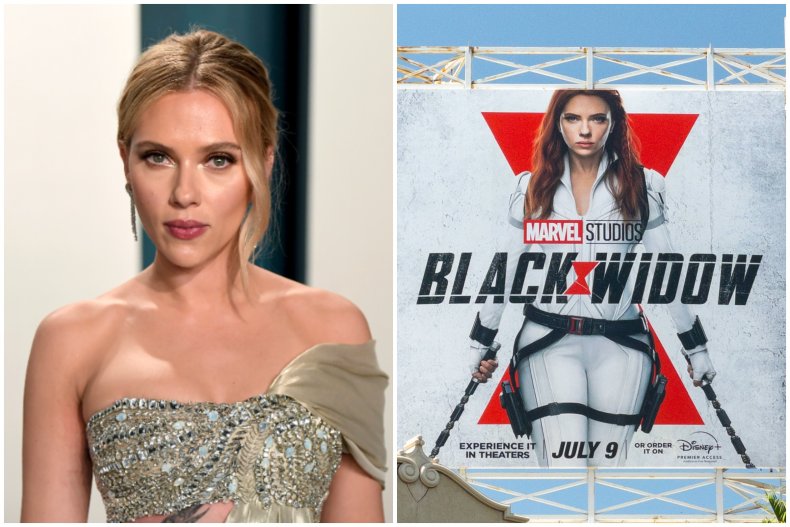 Johansson's attorney, John Berlinski of Kasowitz Benson Torres LLP, said in a statement at the time: "It's no secret that Disney is releasing films like Black Widow directly onto Disney+ to increase subscribers and thereby boost the company's stock price—and that it's hiding behind COVID-19 as a pretext to do so.
"But ignoring the contracts of the artists responsible for the success of its films in furtherance of this short-sighted strategy violates their rights and we look forward to proving as much in court.
"This will surely not be the last case where Hollywood talent stands up to Disney and makes it clear that, whatever the company may pretend, it has a legal obligation to honor its contracts."
Industry observers anticipated an ugly fight between Johansson and Disney, when the studio hit back at the screen star with a surprisingly blunt statement.
"There is no merit whatsoever to this filing," read Disney's statement. "The lawsuit is especially sad and distressing in its callous disregard for the horrific and prolonged global effects of the COVID-19 pandemic."
The Disney spokesperson continued: "Disney has fully complied with Ms. Johansson's contract and furthermore, the release of Black Widow on Disney+ with Premier Access has significantly enhanced her ability to earn additional compensation on top of the $20M she has received to date."
Creative Artists Agency (CAA) co-chairman Bryan Lourd then fired back that Disney "shamelessly and falsely accused Ms. Johansson of being insensitive to the global COVID pandemic, in an attempt to make her appear to be someone they and I know she isn't."
At the time her lawsuit was filed, Johansson won the support of a number of stars and Hollywood executives who spoke out on her behalf, including actress Jamie Lee Curtis, WandaVision star Elizabeth Olsen and producer Jason Blum.