A teacher who made national headlines after he was seen on video praising Antifa and communism while lamenting his short window of opportunity to turn his high school students into left-wing revolutionaries will be fired, administrators in a Sacramento district said Wednesday.
In an online message seen by Newsweek and posted Wednesday dubbed "What We Know About Teacher in Video and Next Steps," The Natomas Unified School District said it investigated not only the video but other irregularities. The notice does not name the teacher, though he is identified in the video as Inderkum High School advanced-placement government teacher Gabriel Gipe.
District administrators said they will be "taking the legally required next steps to place the teacher on unpaid leave and fire the teacher."
In the video, which hails from James O'Keefe and his Project Veritas, Gipe is seen in a café saying, "I have 180 days to turn them into revolutionaries," a reference to his students, and when asked how he'll accomplish the task, he responds: "Scare the f*ck out of them."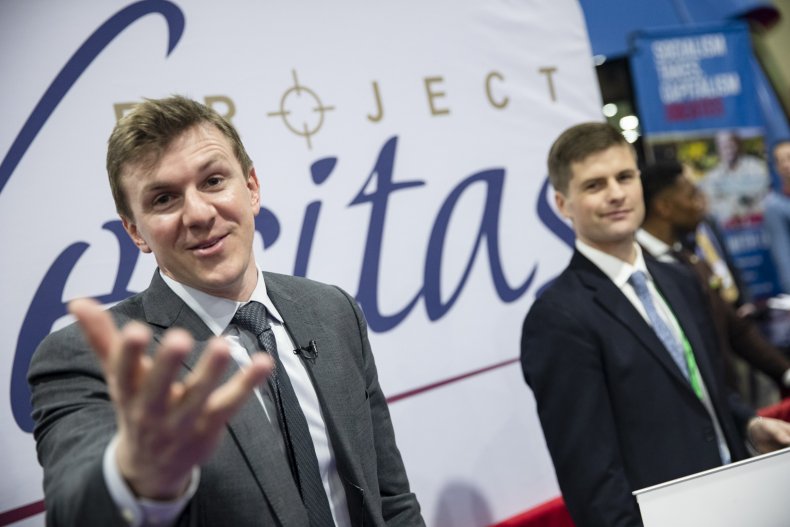 His classroom displays an Antifa flag and poster with an image of Chinese communist revolutionary Mao Zedong, and he says on the video he gives extra credit to students who attend left-wing rallies or disrupt rallies attended to by "right-wing rednecks."
District officials say their investigation revealed the teacher violated policy by promoting at least one political issue, if not more, and that he spent his own money to purchase rubber stamps with images of famous communists like Fidel Castro and Kim Jong Un that he'd use when marking a student's work as completed.
The officials also found that he encouraged students to attend potentially dangerous political rallies and that "the lack of involvement of parents in that kind of sharing was both unprofessional and irresponsible."
"This morning, the walls of the classroom were cleared of all posters and signage," district officials wrote Wednesday. "Not all of the material was inappropriate. However, the district believes the physical learning environment can best be rebuilt from a total fresh start."
Contacted on Wednesday by Newsweek, O'Keefe wouldn't divulge too much regarding the method by which he recorded or obtained the video and still photos of the teacher and his classroom. He said it was entirely legal, given Gipe was speaking loudly in a café where several people could hear him and, as such, there was no expectation of privacy.
"Someone inside the school gave us the photos and we sent an undercover journalist to corroborate at a coffee shop a few miles from the school. Gabriel Gipe thought he was talking to a parent," O'Keefe said.
The Sacramento Bee reported that someone claiming to be the parent of a student moving to Sacramento from Florida emailed the district requesting to meet with the government teacher to determine if he was suitably progressive, and Gipe apparently agreed to the meeting.
It's not known if Gipe knew that he was being filmed, though Project Veritas is known for its hidden-camera tactics. The group came to prominence in 2009 for videos produced at the Association of Community Organizations for Reform Now (ACORN), where O'Keefe appeared to ask for help with illegal activities. Critics accused Project Veritas of deceptively editing the videos. ACORN was later cleared of any wrongdoing by the Attorney General of California.