Student's Card Thanking Teacher for Not 'Quitting' on Them Sparks Delight
A thoughtful student's heartfelt handwritten message of thanks to their English teacher has gone viral on social media.
In a post upvoted over 30,000 times on Reddit, a user writing as rsantos11, who claims to be employed as an educator in the U.S., shared a picture of one of the "thank you" cards they received as part of "Teacher Appreciation Week."
Teacher Appreciation Week was the brainchild of Eleanor Roosevelt and dates back to 1953 when she began lobbying Congress for the introduction of a specific day recognizing the work of teachers.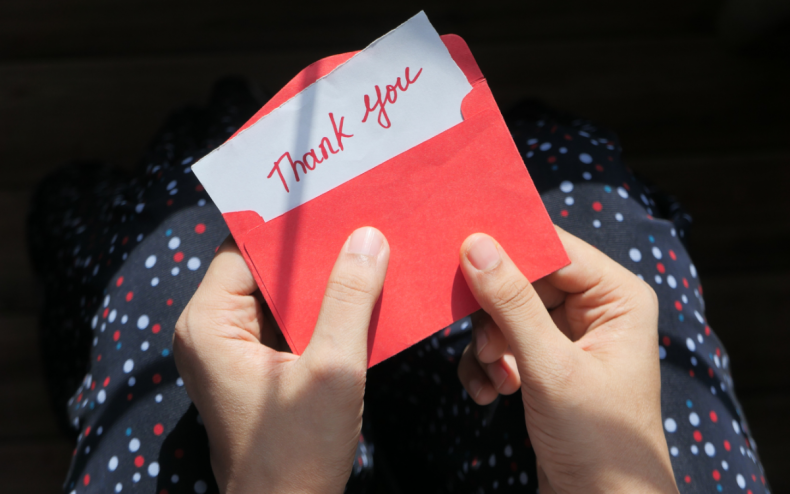 National Teacher Day was originally celebrated on March 7, until 1984 when the National Parent Teacher Association moved it to May and made it Teacher Appreciation Week rather than Day.
This year's Teacher Appreciation Week comes at a time when many in the profession are struggling in the face of exhaustion and disillusionment.
According to the 2022 Merrimack College Teacher Survey, a nationally representative poll of 1,300 teachers, little over half of those quizzed said they were satisfied with their jobs while just 12 percent ranked themselves as "very satisfied."
The latter of these two stats represented a significant drop on the figures polled in 2012, when 39 percent said they were "very satisfied." Meanwhile, 55 percent of teachers polled said they would most likely not have advised their younger selves to pursue a career as a teacher.
With many educators under pressure and out-of-sorts, sometimes a simple gesture can be enough to make a difference to their day. For the teacher posting as rsantos11, that gesture came in the form of a card containing a powerful message.
While the unnamed teacher acknowledges they received other gifts like chocolates, coffee mugs and vouchers, none touched their heart quite as much as the card, which can be viewed here.
It reads:
Dear REDACTED
Happy Teacher's Appreciation Week.
Sorry there's no money in this card, I'm kinda broke. You pick good books in ELA (English Language Arts) and I even finished The Outsiders.
Thanks for sticking with our class and teaching instead of quitting. If I were a teacher I would have left during the first week.
Your favorite student, 100% REDACTED.
The simple note, thanking the teacher for not "quitting" on them and helping spark their interest in reading classics like S. E. Hinton's 1967 novel The Outsiders, struck a chord with many online.
Lameduck0123 wrote: "This kid gets it." Fondledbydolphins agreed: "I have an immense amount of respect for people who realize you don't need to spend money on someone to show them your appreciation."
ERSTF commented: "I bet that letter made the teacher's day more than any present. That's the one that ended up being posted on Reddit."
Sew-sarcastic concurred, writing: "Exactly. Long after that Starbucks gift card has been spent, the chocolates have been eaten, and the mug has broken, that letter will remain burnt deep in their memory."
Another user, kidfromCLE, noted there's something special about getting a note like that, whether in school or out in the world of work.
"I've gotten bonuses at work for extra effort," they said. "But once I got a hand-written note from our president and CEO, and I've kept that. It was simple and sincere, and it meant a lot. "
Schrodingersnewcat, meanwhile, commented: "I showed this to my math teacher sister, and her response was, 'Man what a lucky teacher. That is the best note ever.'"
Elsewhere, Frodakai offered a dose of reality in amongst the sentiment, writing: "Shows how bad the state of the profession is when the best note ever is 'your job seems like it really sucks so I appreciate you not quitting.'"
Newsweek has contacted rsantos11 for comment.