'Priceless': Students Dress as Teacher on April Fools' Day in Viral Clip
A group of dental hygiene students pranked their teacher for April Fools' Day when they dressed up as her in a viral moment appreciated by viewers.
The TikTok recounting the situation, captioned, "April Fools' Day, dress as Dr. K and you bet we went all out #wigs #aprilfools #dresslikeyourteacher #dentalhygieneschool #dental," has been viewed 142,600 times and liked 15,800 times since it was shared on April 1.
A YouGov survey found that 45 percent of respondents found April Fools' pranks amusing, but that's about the same number as those who don't enjoy them. In fact, Redditors recently collaborated on the worst April Fools' Day jokes they've seen.
The 44-second clip, posted by TikToker @lexi_gordonn, or Lexi Gordon, shared the video accompanied by Run DMC's It's Tricky.
The video started with a bunch of women all dressed up in business casual attire while hanging out in a changing room with lockers. The women wore short, grey wigs to match Dr. K.
One of the women danced a little bit in her outfit, which included black slacks, a printed blouse, and a grey cardigan with a wig to match.
The TikToker then led the pack of Dr. K impersonators into the class where the real Dr. K was teaching. She wore a similar look to the ones the students sported. The camera panned back to the doorway where a seemingly endless stream of lookalikes came into the room.
Participants were all smiles, including Dr. K, who was being filmed for her reaction.
As the students sat down, Dr. K seemed to smirk at the situation before the clip cut off. According to the creator of the clip, "everyone was invited" to participate, although some chose not to.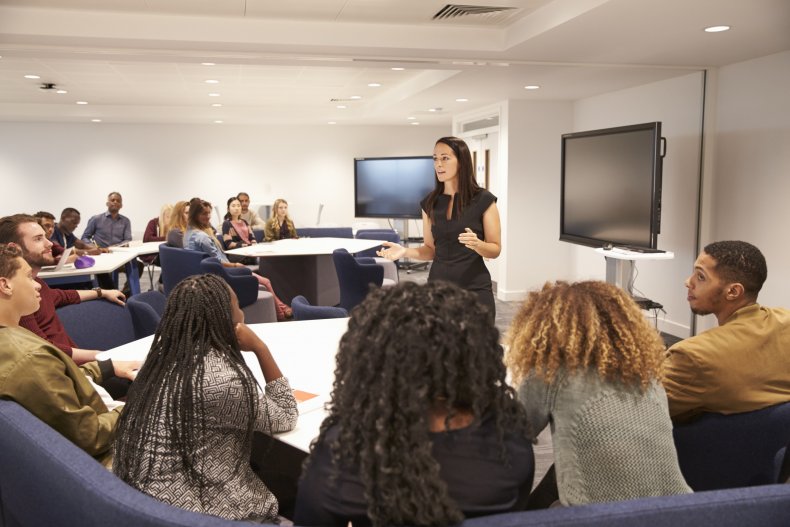 Commenters seemed to appreciate this viral April Fools' prank, unlike how they felt when one employee shared her boss pranked her by telling her she was fired. One person honed in on a bystander. "The one teacher recording the whole thing," a viewer pointed out. "Love this so much."
The creator replied back saying, "All of the teachers ended up coming by during class too."
Another TikToker said the video is "great," adding, "I bet y'all made her day."
Some viewers were fixated on the dancing student before the big reveal. "OK, that woman has major dance moves!" a TikToker said. "Love it."
Comments of approval included things like, "This is so funny," "I love this so much," and "Priceless."
While one commenter found the situation "sweet," adding, "I love to see the appreciation students can have for a good educator."
A TikToker thought based on the video, Dr. K is a "really nice person." However, they wondered, "But why do I keep thinking this is a Karen convention?"
Others wanted to know how Dr. K felt about the prank. "Hysterical!" a viewer said. "Did she love it?" The creator replied back, "Oh she loved it."
Newsweek reached out to @lexi_gordonn for comment.