Senate Majority Leader Chuck Schumer called out moderate Democratic Senators Joe Manchin of West Virginia and Kyrsten Sinema of Arizona over their continued opposition to ending the filibuster, which is viewed as the main impediment to passing major voting rights legislation.
Most Democratic lawmakers, and particularly progressives, have voiced support for ending the Senate's legislative filibuster to pass key aspects of President Joe Biden's agenda—including the For the People voting rights legislation. But Manchin and Sinema have resisted these calls, saying they value bipartisanship and believe such a move would lead to significant problems.
"We have all but two Democrats who have said they would not use the filibuster on voting rights. There may be a few others who haven't taken a position, but two said, no. They're Senator Manchin and Senator Sinema," Schumer said during a Thursday interview with SiriusXM's The Joe Madison Show.
"I have told them, we have to get this done. Everything should be on the table. And as I said, we're going to continue to push. We're going to have hearings. We're going to have votes until we get this done," the New York Democrat explained.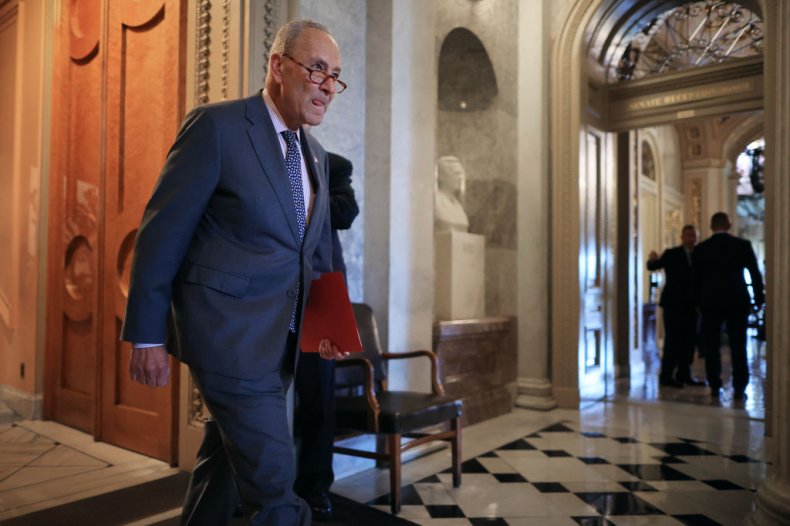 Due to the Senate's legislative filibuster, most bills require the support of at least 60 senators to pass through the upper chamber of Congress. The Senate is currently evenly split, with 50 Republicans and 50 members of the Democratic Caucus. Although Vice President Kamala Harris can cast tie-breaking votes, she cannot do so if Republicans filibuster legislation, as it then requires 60 votes to pass.
Although Manchin and Sinema are often viewed as the main roadblock by Democrats who want to nix the filibuster altogether, President Joe Biden has also voiced opposition to doing so on multiple occasions. However, he has expressed an openness to reforming the legislative maneuver.
"You're going to throw the entire Congress into chaos and...nothing at all will get done," Biden said during a CNN Town Hall on Wednesday evening when asked about ending the filibuster. He voiced support for returning the Senate to the "talking filibuster"—which previously required senators to physically hold the floor and continue talking to prevent a cloture vote.
Notably, Manchin's position on voting rights is more conservative than that of Sinema. While Sinema supports the passage of the For the People Act, her West Virginia colleague has voiced his opposition to the major voting rights legislation. He has instead proposed a more watered-down version, suggesting that he hopes it could garner enough bipartisan support to pass the Senate.
"And Manchin because of all the activity of the civil rights community, who I'm working very closely with Stacey Abrams, Barack Obama, Manchin now put out what he's for, which isn't bad," Schumer said on The Joe Madison Show.
"It's not everything I would want, but both Stacey Abrams and Barack Obama endorsed it," he added. "And now the Texas legislators, Raphael Warnock and all of us are asking Joe Manchin and others, well, Republicans won't vote for it."
GOP senators, as Schumer explained, currently appear opposed to passing any major voting rights legislation. Meanwhile, Republican lawmakers in states across the country have pushed forward, and in several states approved, restrictions on voting. Democrats have described this movement as the "new Jim Crow," arguing that the election changes negatively impact minority communities in particular.
During his Thursday interview, Schumer compared Republican lawmakers to segregationists in the south due to their opposition to voting rights legislation.
"You know what they sounded like? Some of those arguments were reminiscent of what the arch segregationist southern senators used to use in the forties and fifties and sixties," Schumer said.
Newsweek reached out to press representatives for Manchin and Sinema for comment but did not immediately receive responses.
Update 1:18 PM: This story has been updated with additional Schumer quotes and more background.