Scott Kelly Says View From Space Shows Earth Is Covered in Pollution and 'We Need Leadership to Protect it'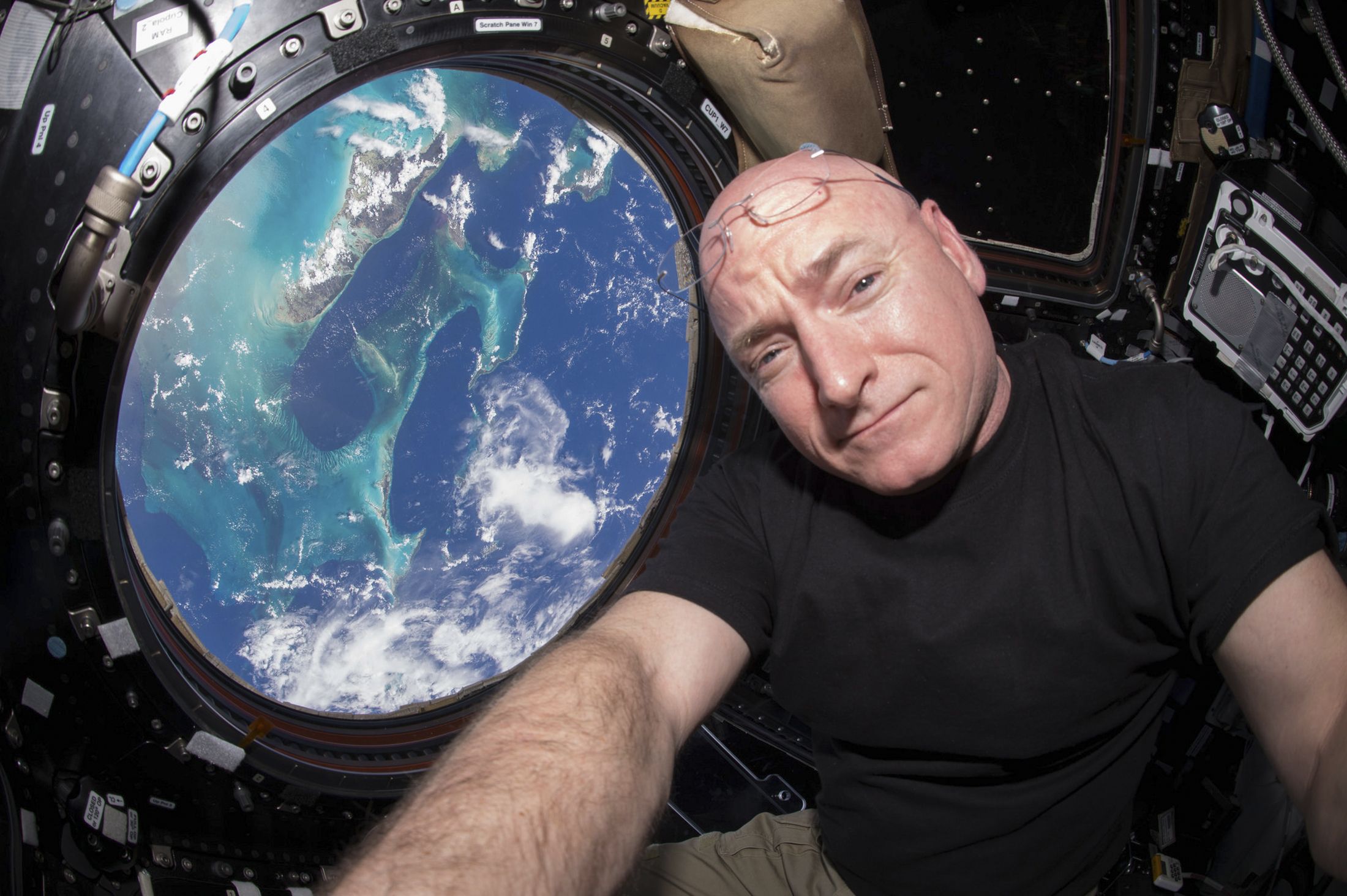 Scott Kelly returned to earth last March after spending 340 consecutive days at the International Space Station, bringing his cumulative total up to 520 days in space. His unique perspective of our planet during those trips has led him to speak and tweet about the impact humans have on earth and the responsibility individuals and leaders in power have to take care of it.
He sent a series of tweets on the subject to his more than 3.6 million followers starting on Tuesday, ahead of Donald Trump's announcement that the United States would withdraw from the Paris climate agreement. Though he never refers to the president by name, the timing of his missives hardly seems coincidental, coming in the hours and days leading up to the White House's critical decision.
"There are places on Earth almost always covered in #pollution that I'd believe it if kids there didn't know the sky is blue #EarthVitalSigns," he said in one tweet sent Thursday. A few hours later, he added that he "saw city lights on my #yearinspace I'd never seen b/c #pollution. Gov't closed coal plants that day. We can make a good impact on Earth too!"
On Wednesday, the former astronaut—who retired in April 2016, shortly after returning from his year in space—sent a tweet with a photograph of an iceberg and reflected that he had "spotted this massive #iceberg during my #YearInSpace. #EarthVitalSigns our planet is heating up. #COP21." In another tweet from Tuesday, he said, "The perspective of Earth from space is incredible. But #EarthVitalSigns also show us changes; we need leadership to protect it. #COP21," using the hashtag from the Paris conference where the accord was negotiated in both messages.
The timely social media posts are hardly Kelly's first remarks on pollution, deforestation, climate change and the environment. He lingered on the subject during a 90-minute talk in Pasadena, California, last month, telling his audience about the pollution and subsequent reduction thereof he'd seen over China from his perch at the ISS. "If we can build a space station, if we can get to the moon, then we can find solutions to Earth's environmental problems," he said optimistically.
On Earth Day in April, Kelly tweeted that "as far as we know Earth is unique in the universe, so we need to take care of it!" And later that week on Arbor Day he added that he had "shot this photo of deforestation of the Amazon on my #YearInSpace. Trees take care of us. Let's remember to take care of them too. #ArborDay."
Kelly is not the only astronaut in recent years to bring the public along on his missions via social media messages and stunning photographs from space, nor is he the only one to have been affected by views from the ISS that highlight the devastating effects humans have left on the planet.
"The planet is just beautiful," Terry Virts told Newsweek in an interview about A Beautiful Planet, an IMAX documentary he, Kelly and other astronauts helped film. But looking down on earth from space, he said, you can also see that "Madagascar is a mess"; that China is "just a brown soup down there"; and that in Brazil, you can see "humongous squares" where trees have been cut down.
Toni Myers, the director of A Beautiful Planet and other films about space, had the environment in mind while making her gorgeous documentary. "What I've found is that young people are environmentally caring and passionate invariably about being good to the planet," she told Newsweek last year. "It's the adults who are busy with their debts and day-to-day, paying the rent. They tend to be less so."
Kelly, it seems, was trying to use his voice to convince the adults who run our country to be good to the planet, too.