Scott Ritter, a former U.S. Marine Corps intelligence officer and UN weapons inspector in Iraq in the nineties, has had his Twitter account reinstated after he was suspended from the platform for calling U.S. President Joe Biden "a war criminal" in Ukraine.
Last weekend, Ukrainian officials reported the discovery of hundreds of dead civilians in Bucha, 15 miles northwest of Kyiv, a city once held by Russian troops. Moved to tears, Ukrainian President Zolodymr Zelensky accused Russia of committing a "genocide" in Bucha on his visit to the city on Monday. The United States and many other countries have also condemned Russia.
Anya Parampil, a journalist at Grayzone News, tweeted on Wednesday that Ritter had been suspended and screenshotted the social media website's message to the former UN official.
The offending tweet by Ritter, was: "The Ukrainian National Police committed numerous crimes against humanity in Bucha. Biden, in seeking to shift blame for the Bucha murders onto Russia, is guilty of aiding and abetting these crimes. Congratulations America... we've created yet another Presidential war criminal!"
These claims are unsubstantiated, and it is widely thought that Russian forces are responsible for the killings.
Twitter responded to the tweet, saying that his account had been "violating our rules of abuse and harassment".
Parampil demanded that Twitter re-instate Ritter's account.
Commenting on being re-instated, Ritter tweeted late on Wednesday night: "No official word from Twitter about what the problem was or how/why it was resolved. But I'm sure they took notice at the concern expressed by many of you here on Twitter. Thanks for speaking up in defense of free speech. Goodnight!"
Who is Scott Ritter?
It is not the first time Ritter has been embroiled in controversy. Ritter quit the UN inspector team for weapons of mass destruction in 1998, claiming that President Bill Clinton was too easy on Saddam Hussein. He criticized the Iraqi dictator's government for misleading inspectors and scamming the international community. His position on WMDs in Iraq changed significantly after he left the Middle Eastern country in 1998, initially saying Hussein had "not nearly disarmed" in 1998, before ruling out WMDs there, Time reported.
Last year, Ritter wrote an article for Russian state media about his regrets at the demise of the former Soviet Union.
Ritter has also long been suspected of being recruited by the Soviets "who honey potted him, with a woman he would eventually marry", U.S. former intelligence officer and Newsweek editor-at-large Naveed Jamali tweeted on Thursday.
Jamali said Ritter met his wife in 1988 while in the Soviet Union doing weapons inspection. His wife Marina Ritter was part of a group of "young girls" introduced to American inspectors. The New York Times reported that the FBI continously questioned Marina, because the agency believed she was a former KGB agent. Ritter described the investigation into his wife as "harassment".
That same Times report mentions that Ritter was found on a Yahoo chatroom by a Pennsylvania police officer hunting down sexual predators online. The officer was posing as a 15-year-old girl, who Ritter allegedly said that he liked her "very much" but didn't want to get in trouble. Ritter shared more explicit messages with the girl and masturbated in the online chat. After the officer said that is was the "15-year-old girl," Ritter turned himself in, guilty on six charges, including unlawful contact with a minor.
Ritter was sentenced to up to five and half years in prison in 2011. He went to Laurel Highlands state prison in Somerset County, Pennsylvania, but was paroled in September 2014.
Newsweek has contacted Ritter for comment.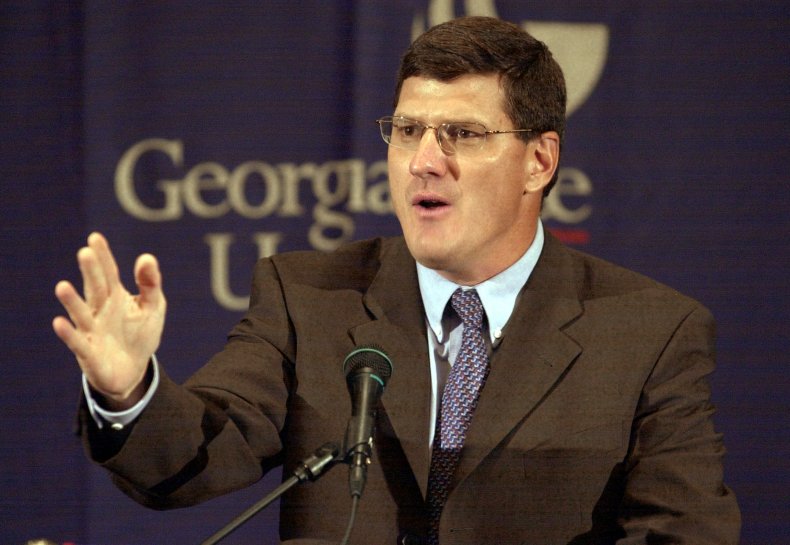 Story updated on 04/07/2022 at 09.28 a.m. ET with additional material