SCOTUS May Step Into Gun Control Debate By Hearing NRA-Backed Lawsuit On Concealed Carry
The Supreme Court could soon wade into the gun debate, which has been revived in the wake of back-to-back mass shootings that left 18 people dead in less than one week.
The nine justices will meet Friday to discuss whether or not to hear a challenge to a New York policy that requires residents to show "proper cause" in order to get a permit to carry a concealed handgun in public.
The case is being backed by the National Rifle Association (NRA), which, despite recent legal and financial issues, remains a lobbying powerhouse and influential figure for pro-gun rights. The NRA asked the Supreme Court to take up its challenge after a lower court rejected its arguments against the New York statute.
Jason Ouimet, executive director of NRA's Institute for Legislative Action, said in December that "as long as New York continues denying law-abiding gun owners their Second Amendment rights, the NRA will continue fighting to protect and expand those rights."
New York Attorney General Letitia James, a Democrat, has argued in court papers that "the law is consistent with the historical scope of the Second Amendment and directly advances New York's compelling interests in public safety and crime prevention."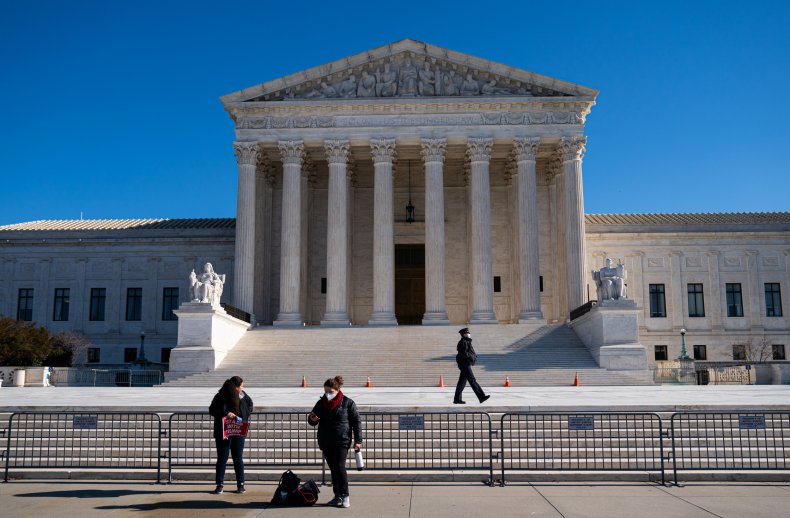 The high court is not expected to make a decision on whether to take up the case until March 29 at the earliest.
The mass shootings in Georgia on March 16 and Colorado on March 22 have resulted in a renewed push for federal gun control measures by Democrats. Prior to the shootings, the House of Representatives passed two gun reform bills—one would implement a ban on assault weapons and the other would close background check loopholes.
President Joe Biden called on the Senate to "act now" and pass both measures, which he described as "common sense." The issue of gun violence, he added, "should not be a partisan issue."
But so far, Republicans have expressed little support for tightening regulations on firearms. Democrats need at least 10 conservative members of the upper chamber on any piece of legislation because of the Senate filibuster.
Some Democrats and activist groups have called for getting rid of the filibuster to pass bills through a simple 51-vote majority. Democrats hold the slimmest of majorities in the 50-50 split chamber, with Vice President Kamala Harris acting as the tie-breaking vote.
When asked how he plans to get key pieces of his agenda, including climate change, voting rights and gun control, passed with a filibuster, Biden said he would be open to reforming the arcane Senate process.
"I think my Republican colleagues are going to have to determine whether or not we want to work together or they decide that the way in which they want to proceed is to just decide to divide the country, continue the politics of division," Biden said in his first solo news conference on Thursday.
The president added, "All I know, I've been hired to solve problems, to solve problems, not create division."