The Script: 'Musicians Aren't Standing Up Over Terrorism... Where the Hell is Bono? Jay-Z? Beyoncé?'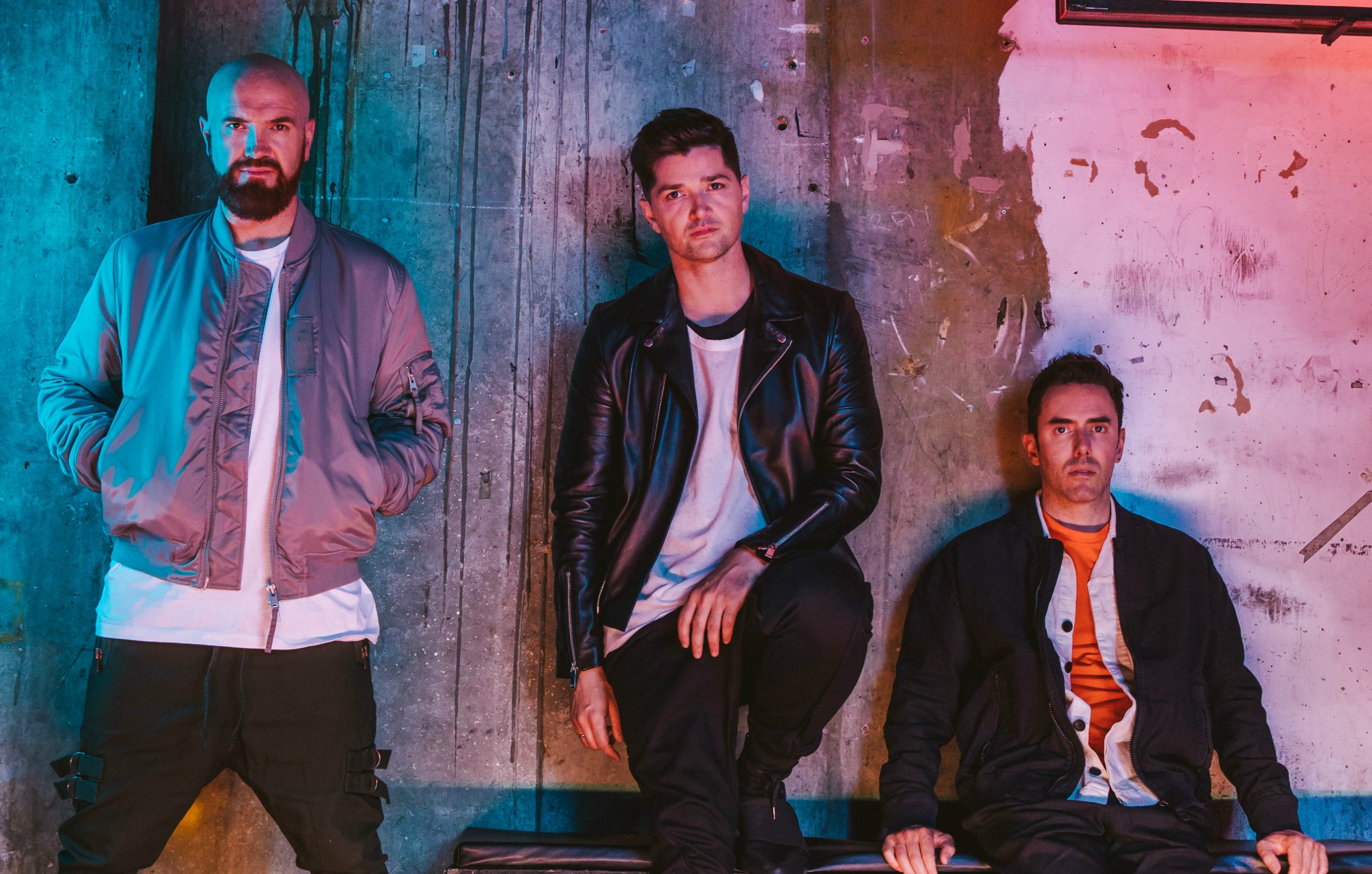 "Musicians aren't standing up enough," The Script guitarist Mark Sheehan tells me. "They did stand up together at the Ariana Grande concert…" he continues, but he's cut off by his bandmate Danny O'Donoghue, the Irish pop-rock group's frontman and lead vocalist. O'Donoghue finishes his thought: "That's the first show of support that musicians got behind. Where the hell is Bono? Where's Jay-Z? Where's Beyoncé?" The world has become a radically scarier place than the last time The Script released an album in 2014. "Terrorism has become the new norm," says Sheehan, reflecting on terror attacks around the globe including the Manchester Arena bombing at an Ariana Grande concert in May. For The Script, who write all of their own songs, talking about the world around them in their first new music in three years was unavoidable.
I sit with the band around a large boardroom-like table in a private room at a West London restaurant. Our conversation opens with a dick joke, on O'Donoghue's part, that didn't quite land—but half an hour later, we're onto much more serious matters. O'Donoghue, Sheehan and drummer Glen Power are explaining how they decided upon the title of their fifth studio album, to be released September 1. It is called Freedom Child and it takes its inspiration from the title track of the same name.
"It came from Mark's side," O'Donoghue says of "Freedom Child," the song. "His seven-year-old came up to him one day and asked, 'Dad, what's terrorism?' That's not a fucking easy thing to answer, no matter how old you are." The track addresses terrorism and the need for harmony with lyrics such as: "Put a flower in the top of a gun / Put confetti in an atomic bomb / It's time for change / We've seen enough / Instead of war we're declaring love."
O'Donoghue and Sheehan are soapboxing now—this is a subject, though uncomfortable, that they want to talk about. "Now more than ever, musicians need to stand up, they need to be the megaphones for people who have no voice. You have a microphone—what are you going to talk about? What you're wearing?" says O'Donoghue, 37. Sheehan adds: "Up to [the Ariana Grande concert] music wasn't politically charged."
Related: Bleachers: Jack Antonoff on How Girlfriend Lena Dunham and Trump Inspired New Album
"Really?" I ask. O'Donoghue counters, "I don't think it's been reflected in pop culture at all. I think we're too busy, as a whole entertainment [industry], we're too busy trying to entertain people instead of going, 'You know what, there's something we need to talk about right now.'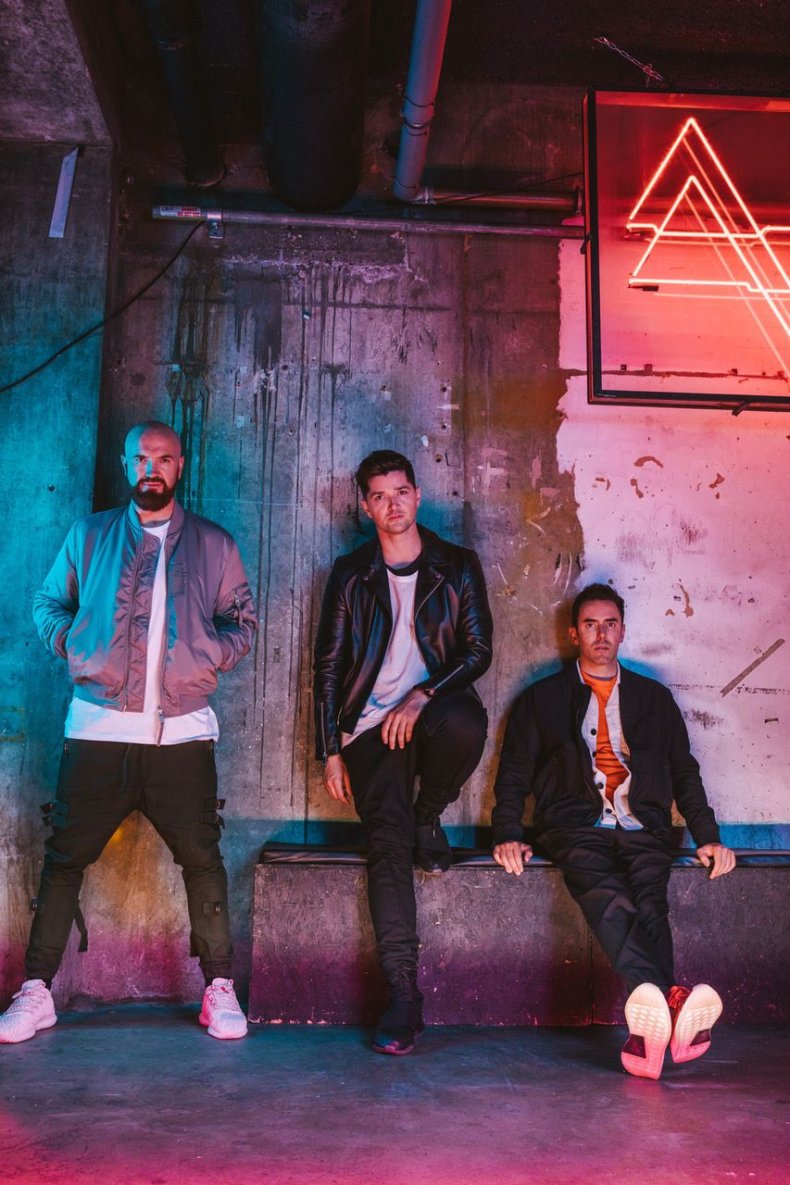 "Years ago music was a counterculture to what was going on...people would write political songs, it was the voice for the man. Now, people are too worried or too scared," the singer continues. "Nobody wants to chip in on a conversation about terrorism because they might be thought of next... This is before Ariana Grande put it under a magnifying glass. You'd find it very hard to find artists to make a big stand if that hadn't happened. It's only when it's on your doorstep."
Freedom Child, The Script's fifth album, is the follow-up to 2014's No Sound Without Silence, which was their third No.1 album in the U.K. and peaked at No.10 on the Billboard 200. In all, they've sold 10 million albums worldwide and, as they remind me, are still going strong 10 years after their first, self-titled album was released in 2008. "The year we came out it was Keane, The Editors, Scouting for Girls and so many of them are gone," says O'Donoghue. "We're the only ones still around doing our thing."
The recurrent theme on the record is being free. "Whatever you want to do, go out there and do it," O'Donoghue says. Embracing that mantra, The Script allowed themselves to be free and explore different musical styles and genres on Freedom Child. "Freedom Child" and another song, "Divided States of America," about the turbulent politics in the U.S. and around the world, contain overt political rhetoric. But the album's lead single, "Rain," which premiered last week, is considerably more playful. It's a pop track with an undercurrent of dancehall.
O'Donoghue says: "We heard it and we were like, 'This is totally not what The Script would do. But then when we started throwing some stuff on top of it and I start hearing my voice, you start going, 'Actually, this is totally what The Script should be doing.' The last frontier The Script's music hasn't been heard is the dancefloor."
Related: Exclusive: Zedd Talks Plans for More ACLU Benefit Concerts
"Rain," with its radio-friendly, repetitive hook, is a song that you can play on repeat. It was a considered choice to lead the album, O'Donoghue, Sheehan and Power tell me, befitting their appetite for global success.
The Script have been out of the spotlight and kept a fairly low profile, returning to their native Ireland for the past two years and rekindling relationships with family and friends. During that time the music industry has evolved toward a model that favors singles and streaming. For a band that has traditionally lived and died by their album sales—three of their first four records reached No.1 in the U.K.—that meant adapting. "The attention [of listeners] is smaller, people want a playlist for each aspect of their lives. As a musician, you have to [pay attention]...how do I get these songs to be digestible for the masses? You evolve or you die," says Sheehan.
Adds O'Donoghue: "We've got one leg in American music, we've got one leg in European music, so I think we've got a great shot of holding those radio spots. We want people to listen to us so if we have to change and use the pop formula to fucking disguise a wolf in sheep's clothing, then let's get on there."
The Script's new single "Rain" is out now. The album Freedom Child is released September 1.