Sea Lions Chase Unwelcome Sunbathers off Their Beach
A TikTok video showing a pair of sea lions chasing beachgoers off their beach has gone viral.
The sea lions seemingly didn't enjoy sharing La Jolla Cove in San Diego with too many humans, with the video showing them charging at people both on the sand and in the water.
"I started recording because it was really funny to watch, for me to see all these tourists getting blown away by these giant sea lions," TikTok user Charlianne Yeyna, who shot the video, told NBC 7.
"The sea lions were sleeping and were just massive on the beach and I was just watching them and this woman got really close to them, like 4 feet away, and was trying to take a photo of it up close, and it just woke up and started chasing everybody."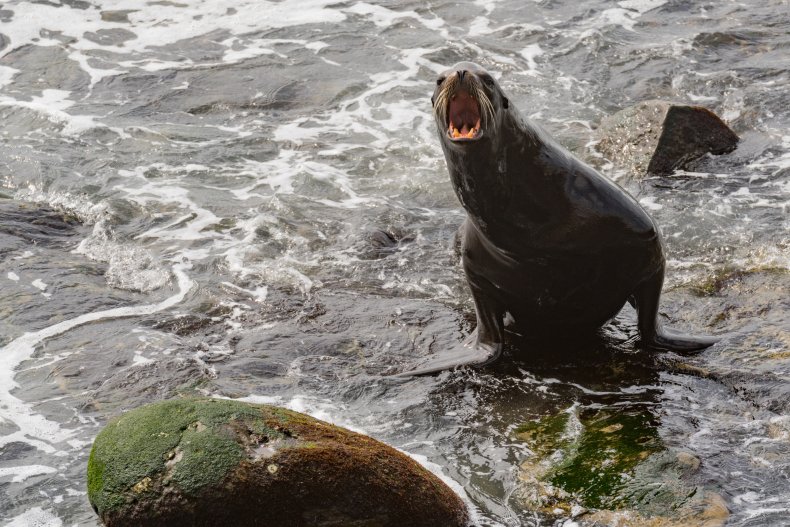 Newsweek has asked Yeyna for comment.
Sea lions are native to the California coast, and rely on the beaches in the area to mate and to nurse their pups.
However, according to a spokesperson from SeaWorld San Diego, there may be more going on between the blubbery beach bums than it appears and instead of intending to charge the crowd of beach-goers, the first sea lion may simply be running away from the second one.
"You would really only notice if you watch a lot of sea lion behavior, but the fact that one jumps in the water and the other does so quickly after shows they are following one another," the spokesperson told NBC 7.
Even if they weren't trying to hurt the La Jolla beachgoers, sea lions are capable of harming humans, and have done so in the past. Sea lions can get aggressive if a human comes too close, especially within around 8 feet. In 2007, a sea lion mauled a 13-year-old girl surfing behind a speedboat in Western Australia, and in San Diego in 2015, a sea lion attacked a 62-year-old man on a boat, injuring his hand and foot.
"People should be cautious and keep their space at a reasonable distance," the SeaWorld spokesperson told NBC 7. "Although sea lions may get close to visitors along the beach it's always recommended that we/the public do not get close and interrupt their behavior."
Humans and sea lions have a fraught history, as sea lions were once hunted for their meat, skin and oil. They were hunted so extensively that they are now protected under the Marine Mammal Protection Act.
The City of San Diego has ordered the closure of Point La Jolla—near La Jolla Cove where this video was recorded—from May 25 to September 15 this year for the sea lions' pupping season. This is designed to protect both the new pups and members of the public that may get too close and put themselves in danger.
Yeyna, who uploaded the TikTok, said that she was glad that it went viral. "[It will] raise awareness of how dangerous that they can be. Like, they are still wild animals and you need to give them their space. They're also protected. So I think that this shows that they are not to be messed with," she told NBC 7.