Sean Hannity Compares Biden's Brush With COVID to Trump's: 'Much Weaker'
Fox News' Sean Hannity has downplayed Joe Biden's recovery from COVID-19 compared with Donald Trump, noting the president has a "much weaker" variant of the virus than his predecessor contracted.
Biden made his first public appearance in nearly a week on Wednesday to deliver a speech from the White House Rose Garden after testing negative for COVID.
During his remarks, Biden said vaccination was the reason he had much less severe symptoms than Trump.
Biden is fully vaccinated and twice boosted, with the White House saying he was experiencing "very mild symptoms" when announcing he had tested positive for COVID on July 21.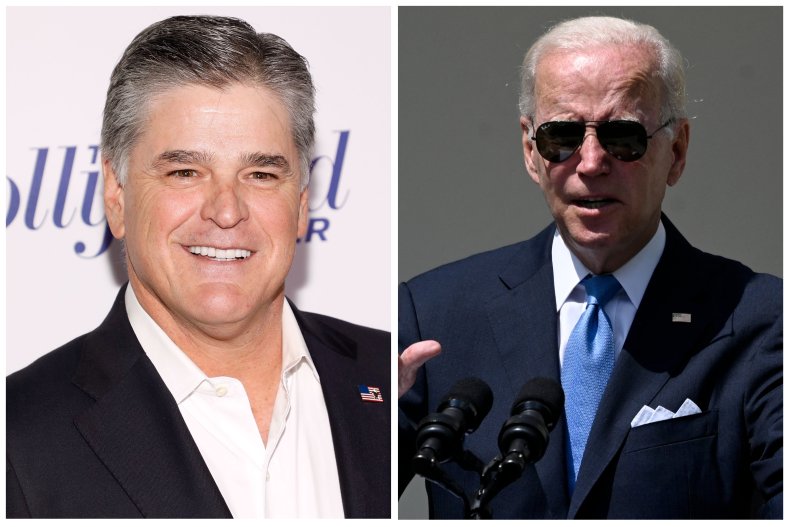 "When my predecessor got COVID, he had to get a helicopter to Walter Reed Medical Center. He was severely ill. Thankfully, he recovered," Biden said. "When I got COVID, I worked in the White House and the offices upstairs for the last five-day period. The difference is vaccinations, of course."
During his Wednesday night show, Hannity criticized Biden because he "failed to mention" that the BA.5 omicron sub-variant of COVID which he contracted is "much, much weaker" than the strain Trump had in October 2020 before the vaccines were available.
"And by the way, I never saw Donald Trump trip not once, not twice, but three times climbing up the stairs to Air Force One and then having a spokesperson claim it was very windy," Hannity said in reference to Biden's falls at Joint Base Andrews in March 2021.
"Donald Trump never got blown over by the wind. In fact, his [Biden's] current COVID variant is so weak that even a frail, cognitively impaired 79-year-old can recover at home with no problem whatsoever," Hannity said.
Hannity added that Biden "forgot to mention" that he was taking the antiviral medicine Paxlovid during his recovery, which was not available when Trump contracted COVID-19.
"And of course, Biden was also helped by the vaccines, which were made possible by President Trump's Operation Warp Speed, but God forbid President Biden would ever give any credit to his predecessor," Hannity said.
The Fox News host then played a clip of Biden struggling to pronounce Paxlovid while discussing how he was taking the medicine while isolating.
During his speech at the Rose Garden, Biden said the BA.5 variant is a "very transmissible version" of the Omicron variant that rapidly spread through the world last winter.
"The reality is that BA.5 means many of us are still going to get COVID even if we take the precautions," Biden said
The White House has been contacted for comment.