How Joe Biden and Donald Trump's COVID Cases Compare
Last week, the White House announced that President Joe Biden had contracted COVID-19, giving him one thing in common with former President Donald Trump, as he also was diagnosed with the disease while in office.
While there are some similarities with the way Biden and Trump dealt with COVID, there are differences as well, especially since Trump was diagnosed earlier in the pandemic and different treatments are available now.
While Trump turned to social media to announce his diagnosis, the news regarding Biden was released in a more traditional way.
On October 2, 2020, ex-President Trump announced to the world on Twitter that he and First Lady Melania Trump had tested positive for COVID-19.
"Tonight,@FLOTUS and I tested positive for COVID-19. We will begin our quarantine and recovery process immediately. We will get through this together," he tweeted.
On July 21, 2022, the White House released a statement announcing Biden had tested positive for COVID-19 and gave an update on his overall condition.
"This morning, President Biden tested positive for COVID-19. He is fully vaccinated and twice boosted and experiencing very mild symptoms," the statement read.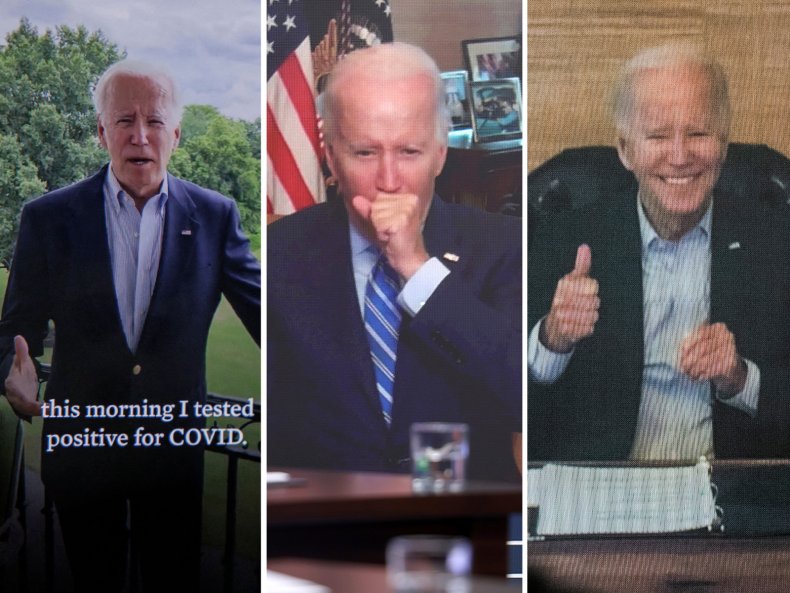 When Trump contracted the virus he was not vaccinated, as COVID vaccines were still being developed and not available at the time. However, in March 2021, Trump announced that before leaving the White House he had the Pfizer vaccine.
Speaking to Yahoo Finance Live in October 2021, he said: "Well, I got the Pfizer [vaccine] and I would have been very happy with any of them. I had it, recovered from it pretty well. I don't think I had it like the press, like the media said, you know, they would try to make it difficult."
On the day that he announced his positive test, Trump was transferred to Walter Reed National Military Medical Center.
Trump spent the weekend at the medical center and received various treatments, including an 8-gram dose of the experimental antibody therapy cocktail made by the biotechnology company Regeneron.
In the company's early data from a trial on the investigation cocktail, named REGN-COV2, it said the treatment was safe and seemed to reduce viral levels and improve symptoms. This data had not yet been peer-reviewed, however.
Trump was also given a five-day course of the antiviral drug remdesivir and he also received the drug dexamethasone after his oxygen level dipped.
In addition, Trump also took zinc and vitamin D supplements as well as a daily aspirin.
According to the recent White House statement regarding the treatments Biden is receiving, the president has begun taking Paxlovid.
Paxlovid is an oral antiviral pill that can be taken to help keep high-risk patients from getting so ill that they need to be hospitalized, according to a Yale Medicine report.
On October 12, 2021, Trump's then-press secretary Kayleigh McEnany took to Twitter to announce that Trump had tested negative for COVID-19 multiple times since his hospitalization.
"In response to your inquiry regarding the President's most recent COVID-19 tests, I can share with you that he has tested NEGATIVE, on consecutive days, using the Abbott BinaxNow antigen card."
For Biden however, no such announcement has been made, but on Monday, July 25, the president did say he was feeling "great" and was on the mend.
"I'm feeling great. You know, I've had two full nights of sleep all the way through," Biden said while taking questions from reporters at the close of a meeting on semiconductors at the White House.
"Matter of fact, my dog had to wake me up this morning. My wife's not here, and she usually takes him out in the morning while I'm upstairs working out. So I felt this nuzzle of my dog's nose against my chest about [6:55 a.m.]," Biden said. adding that he is feeling better every day and hopes to return back to work in person by the end of the week.