Hannity, Seinfeld, Simpsons Stars In Tributes to Comedian Jackie Mason, Dead at 93
Tributes have been paid to Jackie Mason following the legendary Borscht Belt comedian's death on Saturday evening at the age of 93.
The rabbi-turned-comic passed away at 6 pm ET at Mt Sinai Hospital in Manhattan, celebrity lawyer Raoul Felder told The Associated Press.
Mason had been hospitalized there for over two weeks prior to his death.
Born Yacov Moshe Hakohen Maza, Mason came from a long line of rabbis that included his father, grandfather, great-grandfather and great-great grandfather.
His three older brothers were also rabbis.
Despite being ordained and leading congregations in Pennsylvania and North Carolina, Mason quit the synagogue after three years to pursue a career in comedy.
He went on to carve out a career as a comedian working the Borscht Belt, the name given to the popular summer resorts of the Catskill Mountains of upstate New York.
Mason's big break came with an appearance on The Steve Allen Show in 1961, which served as the perfect showcase for the comic's dry wit and fast-paced irreverent style.
Appearances on The Ed Sullivan Show followed although Mason ended up being banned from the show for two years after Sullivan accused him of giving him "the finger" when he was being told to wrap up his act. Mason always denied knowingly using the gesture and later returned.
He went on to enjoy considerable success on Broadway, most notably with his one-man show "The World According to Me!" which won a Special Tony Award and an Emmy in the 1980s.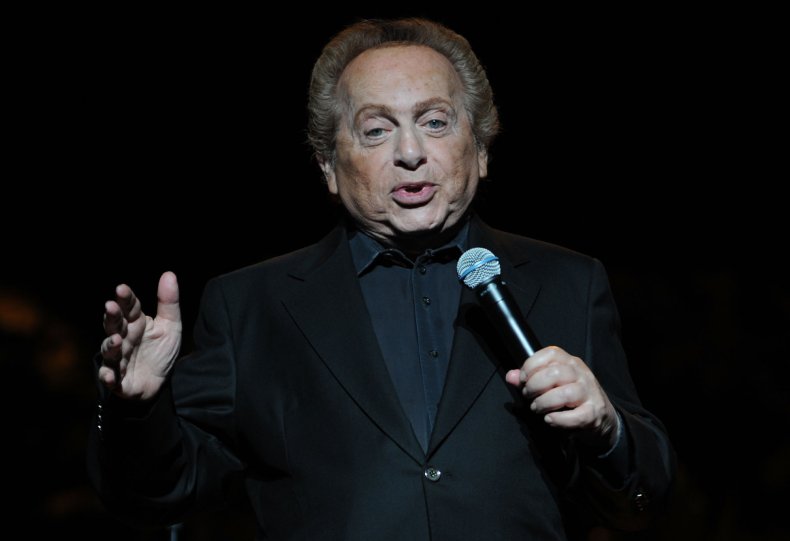 Several more one-man broadway shows followed along with a series of television specials as Mason continued to earn acclaim from audiences and critics alike for his unique brand of culturally grounded and occasionally controversial humor.
Mason also garnered praise for his memorable guest appearance as Rabbi Hyman Krustofsky, the father of Krusty the Clown, on The Simpsons, winning a Primetime Emmy for his performance in the episode "Like Father, Like Clown."
The much-loved comedian died with his wife and a few close friends by his side, Felder told The New York Post. According to the news outlet, a small private funeral is to be held today in New York.
In the wake of his passing, notable figures from the world of entertainment and beyond took to social media to pay their respects.
Fox News host Sean Hannity was among those paying tribute, writing: "Love and prayers for our friend Jackie. Irreverent, iconoclastic, Funny, smart, and a great American Patriot. He will be missed by so many. God Speed Jackie. Love and prayers to him and his wonderful family."
Fellow comedian Gilbert Gottfried tweeted a picture of himself alongside Mason and the words: "One of the best. RIP."
Seinfeld's Jason Alexander shared memories of seeing Mason perform live.
"I took my folks to see Jackie Mason on Broadway twice," he wrote. "I have never seen them laugh harder. A comic from a different time but one of the best. Mister, I'm takin' to you."
Writer David Iserson also recalled a hilarious story from when he met Mason as a youngster.
"I met Jackie Mason at the food court at the Sands in Atlantic City (as a child, my parents forced me to bother "celebrities.")," he tweeted. "I told him his brother circumcised me (true) and he asked, 'How did he do?'"
This Is Spinal Tap and Better Call Saul star Michael McKean offered up a similarly amusing anecdote of his personal encounter with Mason.
"I was doing a show at CBS in 1989. Next door, Jackie Mason was doing his Chicken Soup sitcom, and I encountered him just once," he wrote. "I admitted to using one of his jokes on my friends when I was a teenager. He was very forgiving once I assured him it got laughs."
Another actor, Harvey Fierstein, tweeted: "A comic genius and a pain in the ass. This man could get a laugh reading the weather. His rhythms and delivery were master classes in comedy. Farewell, Jackie. Farewell."
The Simpsons showrunner and writer Al Jean, meanwhile, posted a picture of Mason's character on the show, Rabbi Hyman Krustofsky, alongside the words: "We will very much miss Jackie Mason."
Mike Reiss, a writer and producer on The Simpsons, also paid tribute to Mason, describing him as the "funniest comedian ever" and an "all-time great" guest star.
"It was an honor and a joy to write for you," he added.
TV host and author Rita Cosby sent "prayers and forever love" to her "dear friend."
"When we were together just a few weeks ago, he was as hilarious, irreverent and brilliant as ever," she wrote.
"Truly one of a kind...who will be deeply missed. Love you so Jackie."
Happy Days star Henry Winkler was also among those who paid their respects, tweeting: "Truly one of the funniest shows I have ever seen .. ever .. thank you Jackie and now you get to make heaven laugh."
Newsweek has reached out to Raoul Felder for comment.