Sean Hannity Slams Black Lives Matter Protests in Boulder Shooting Coverage
While discussing the mass shooting at a busy grocery store in Boulder, Colorado on his show, Sean Hannity took the opportunity to criticize last summer's Black Lives Matter protests.
Ten people, including a Boulder police officer who responded to the shooting, were killed when a gunman opened fire at a King Soopers grocery store on Monday afternoon. A lone suspect is in custody.
On Monday evening's episode of Fox News's Hannity, the host brought on conservative commentator Dan Bongino, a former police officer, to discuss the shooting .
Hannity immediately launched into a diatribe about the demonstrations against police brutality and racial injustice that took place last summer, some of which erupted into violence.
"You know, we're often reminded and then we forget," Hannity said. "Remember, 'What do we want? Dead cops. When do we want them? Now. Pigs in a blanket. Fry them like bacon.'
"Bottles, rocks, bricks, Molotov cocktails. They're not riots, we were told all summer to over 2,500 cops injured, but these are the cops that go put themselves in harm's way and in this case, we lost one tonight."
Bongino then criticized what he referred to as the "defund the police crowd," saying social workers would not be "dumb enough" to walk into an active shooting scene.
"It's brave police officers who do that," he said.
"I have such respect for what these guys do. Just remember this one thing, every time I heard gunshots as a police officer, everybody's running away... It's the cops going this way, towards the gunshots, the only ones by the way, and no one should ever forget that."
Hannity then referenced the police response to the 2014 shooting of House Minority Whip Steve Scalise, as well as to the September 11, 2001 terror attacks.
"Everybody else is racing to get the hell out of there, they're going up in the other direction," he said. "And now we're going to defund the police, disparage the police?"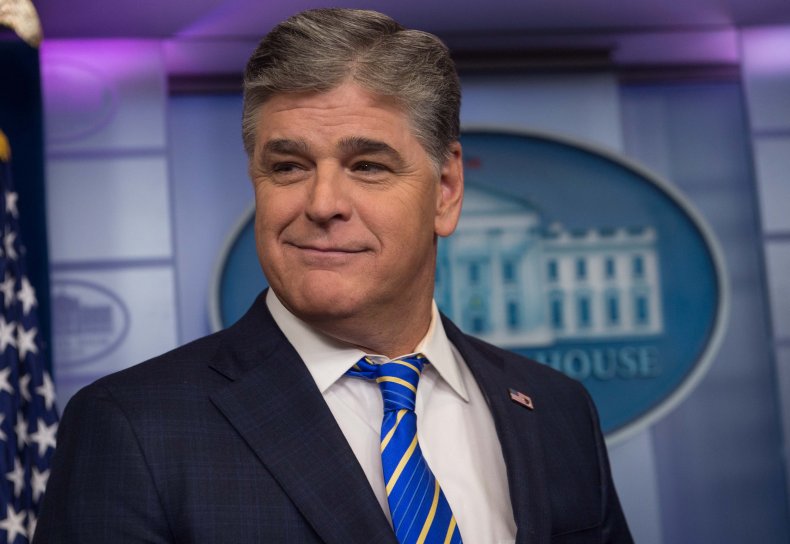 Hannity's remarks were referencing the widespread protests that took place in the months following the death of George Floyd on May 25 last year. Protesters called for police reform and to reduce the budgets of police departments in order to redistribute funds towards social services.
The New York Times reported this week that inquiries into law enforcement's handling of the summer's unrest revealed a "widespread failure in policing nationwide."
According to the newspaper, reports revealed many police forces were insufficiently trained, heavily militarized and "stunningly unprepared" for the protests, which erupted after video showing a white Minneapolis police officer kneeling on Floyd's neck for almost nine minutes circulated online.
Jury selection in the trial of Derek Chauvin, the former officer charged in Floyd's death, is currently underway in Minneapolis.
Black Lives Matter has been contacted for comment.
The graphic below, provided by Statista, shows the number of mass shootings in the U.S. since 2013.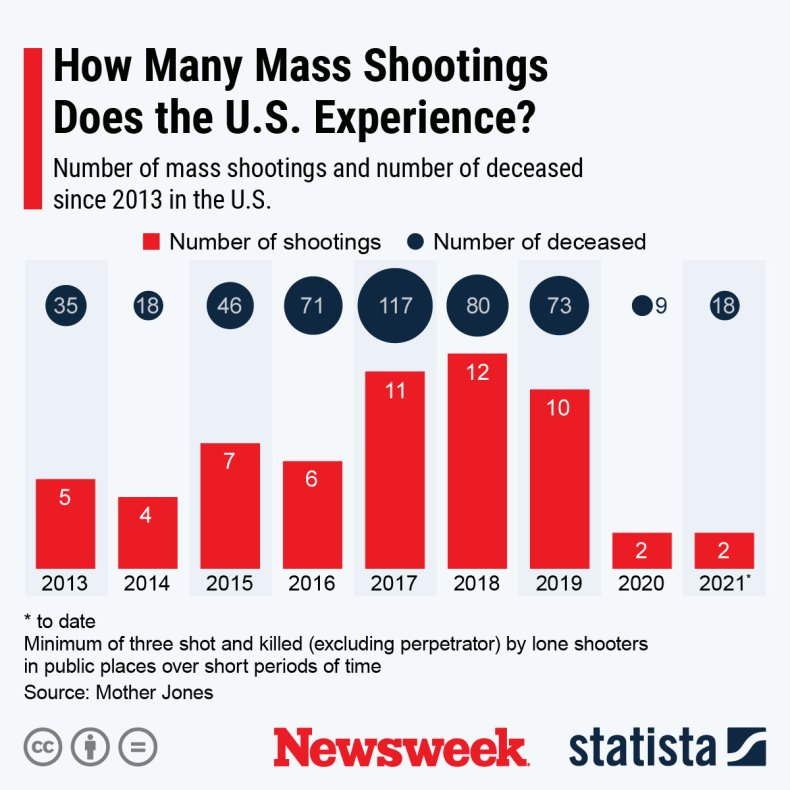 Update 3/23 9 a.m. ET: This article has been updated to add an infographic.