Sean Spicer Defends Donald Trump's Cabinet Choices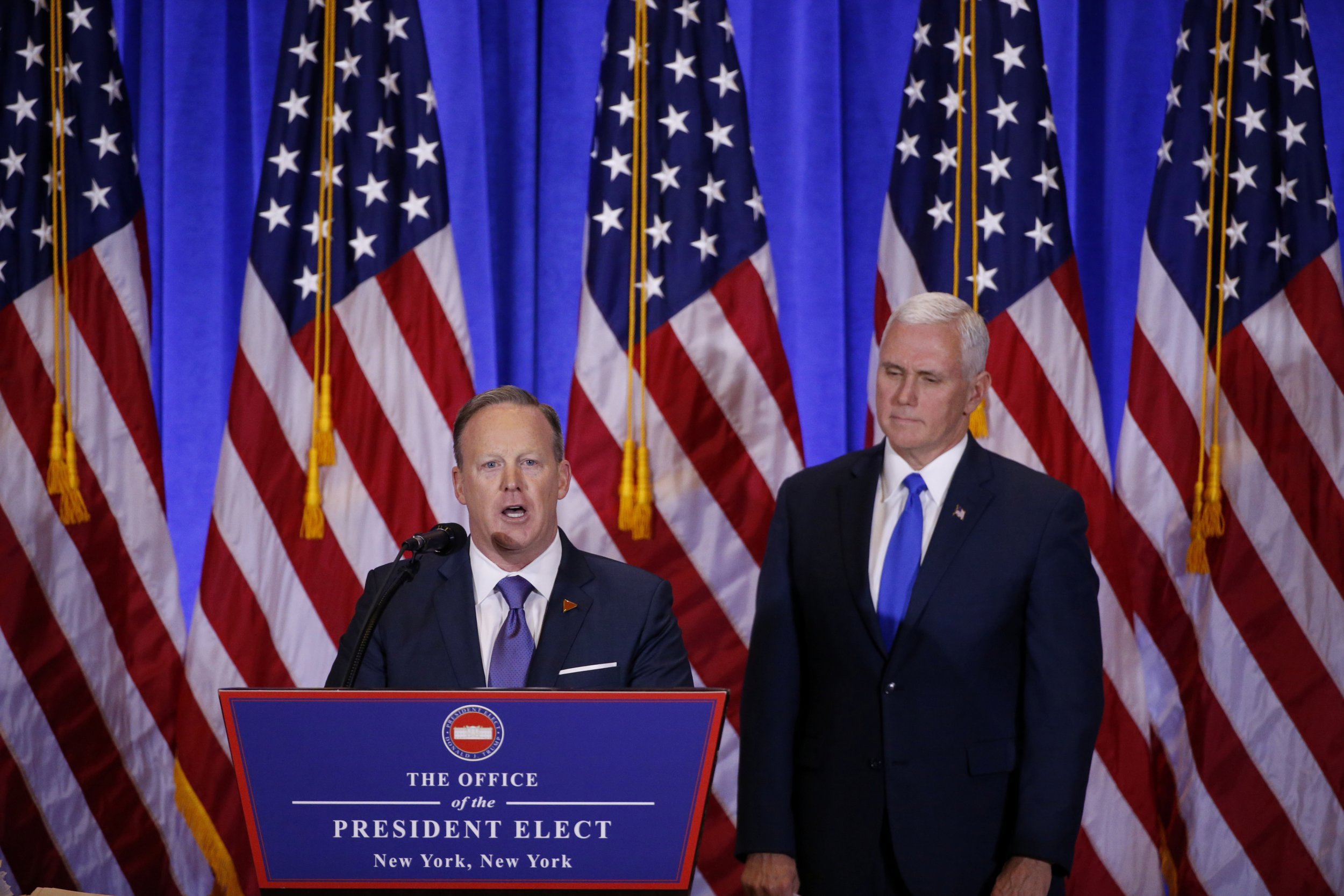 Incoming White House Press Secretary Sean Spicer on Thursday morning defended the racial makeup of Donald Trump's Cabinet nominees, during his first official briefing on the eve of the president-elect's inauguration.
Related: Schedule of events for Donald Trump's inauguration
In a 45-minute briefing that included remarks from Vice President-elect Mike Pence, who has been the head of Trump's transition team, a reporter asked Spicer about the absence of Hispanics among the Cabinet picks. Trump's list of nominees is the first in nearly 30 years to not include a Hispanic.
"The No. 1 thing that I think Americans should focus on is, is he hiring the best and the brightest? Is he hiring people who are committed to enacting real change, respecting taxpayers, bringing about an agenda that will bring about jobs?" Spicer said. "It's not just about skin color or ethnic heritage."
While on the campaign trail, Trump made multiple comments about Hispanics and immigrants that offended many people. But Spicer argued that Trump had nominated "high-quality" individuals of various backgrounds, including an Asian-American, Elaine Chao for secretary of transportation; an Indian-American, Nikki Haley for U.N. ambassador; and an African-American, Ben Carson for secretary of housing and urban development. He criticized Democrats for delaying the appointments of those three individuals, who he said weren't on "their political hit list."
"There is really no excuse for the delay tactics and frankly the partisanship that's being exhibited by the Democrats," he said.
He added: "I think that it really speaks volumes that the Democratic leadership is not working with us to ensure continuity of government. This was not the precedent that was set by Senate Republicans when they worked with the Obama administration in 2008."
Earlier Thursday, Trump's transition team officially filled out his Cabinet with the nomination of former Georgia Governor Sonny Perdue as secretary of agriculture. Meanwhile, Trump has asked more than 50 individuals to remain in critical spots throughout the government, including the administrator of the Drug Enforcement Administration and the special envoy for the Global Coalition to Degrade and Defeat ISIL.
Spicer addressed reporters a day after President Barack Obama gave his final press conference in office. The two-term president shared with reporters his advice to Trump: Rely on advisers and don't lead on your own. He also encouraged Americans to follow closely the remaining confirmation hearings for the president-elect's nominees.
Spicer on Thursday said Trump continues to make edits to his inaugural address, which he said will be "a very personal and sincere statement about his vision for the country" and "more of a philosophical document" than an agenda. He told reporters to expect from Trump a "robust" first day, first week, first month and first term.
Meanwhile, Trump on Thursday departed New York City to begin his inaugural events in Washington, D.C. And two of his high-profile nominees—former Goldman Sachs banker Steven Mnuchin for treasury secretary and former Texas Governor Rick Perry for energy secretary—were on Capitol Hill for their confirmation hearings.
Spicer formerly was communications director and chief strategist of the Republican National Committee. His first White House briefing under President Trump is scheduled for Monday. Reports had surfaced that Trump's team was considering moving the press corps from the West Wing. But the president-elect since has denied that idea.