Obama to Trump: Don't Try to Do It Alone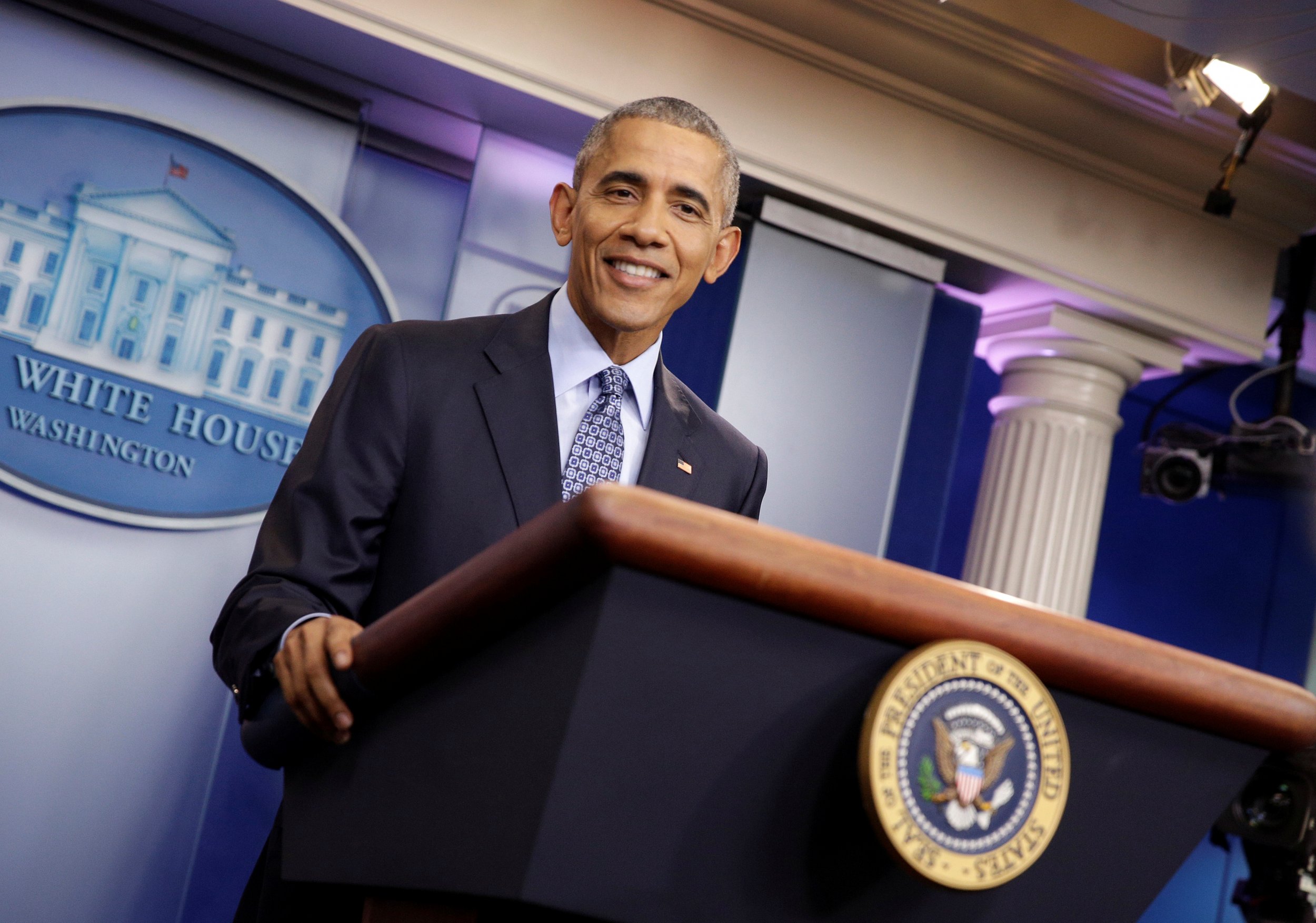 Updated | President Barack Obama seemed to send signals to his successor during his final press conference at the White House on Wednesday, just two days before Donald Trump takes the oath of office.
Related: 2017 Trump inauguration: Schedule of events
Obama declined to provide details about his conversations with the president-elect, but said they are "cordial" and at times have been both "fairly lengthy" and "substantive." He said he has offered his best advice on domestic and foreign issues. "Having won an election opposed to a number of my initiatives and certain aspects of my vision for where the country needs to go, it is appropriate for him to go forward with his vision and his values, and I don't expect that there's going to be enormous overlap," he said about his successor.
When the two met face-to-face just two days after the election, Trump told reporters he plans to seek counsel from the outgoing commander in chief. On Wednesday, Obama said his most constructive advice to Trump likely was about not working alone, but instead relying on the advisers he chooses to surround himself with. "If you find yourself isolated because the process breaks down, or if you're only hearing from people who agree with you on everything…that's when you start making mistakes," he said.
The two-term president didn't mention Trump by name, but Obama clearly had him in mind when he stressed the importance of the press in a democracy. "You're not supposed to be sycophants, you're supposed to be skeptics," he told reporters during his opening remarks. "You're supposed to ask me tough questions. You're not supposed to be complimentary, but you're supposed to cast a critical eye on folks who hold enormous power and make sure that we are accountable to the people who sent us here, and you have done that."
Reports have surfaced that Trump's team is considering moving the press corps from the West Wing of the White House to another building nearby, an idea that Trump since has denied. During his last meeting with the press as president, Obama told reporters that having them in the White House has "made this place work better," keeping staff honest and making the administration work harder and think about whether they are delivering on their constituents' requests.
Obama's last press event was a stark contrast to Trump's news conference on January 11—his first since July—during which he insulted the media by telling a CNN reporter that his organization is "terrible," and calling BuzzFeed a "failing piece of garbage." Both news outlets had reported on Russia apparently having compromising information on the president-elect, reports that he said are "fake news."
Dozens of Democratic members of Congress are set to boycott Trump's inauguration on Friday. When asked about these lawmakers, Obama declined to comment. "All I know is I'm going to be there and so is Michelle," he said, referring to the first lady.
Among other things, reporters also questioned Obama about shortening the prison sentence of Chelsea Manning, the former U.S. military intelligence analyst who was convicted for a 2010 leak of classified materials. Obama on Wednesday defended the commutation, saying it is "entirely appropriate."
Speaking about his post-presidential life, Obama said he most looks forward to celebrating his 25th wedding anniversary and spending time with his two daughters. "I want to be quiet a little bit," he added, "not hear myself talk so darn much." But he also made it clear he won't be afraid to speak out on issues he cares about, including voting rights and race relations. In the meantime, he urged Americans to pay attention to the many Senate confirmation hearings currently taking place for Trump's nominees. "At my core," he said about the country, "I think we're gonna be OK. We just have to fight for it. We have to work for it and not take it for granted."
In his final days as commander in chief, Obama also has granted a full pardon to retired U.S. Marine Corps General James Cartwright, the former vice chairman of the Joint Chiefs of Staff who pleaded guilty to making false statements to the FBI during an investigation into leaks of classified information; has surprised Vice President Joe Biden by awarding him the Presidential Medal of Freedom, the highest civilian honor; and has met with fellow Democrats on Capitol Hill to strategize about how to save Obamacare, as Republicans are in motion to repeal his signature health care law.
As the 44th president prepares to leave office, he has a high favorability rating: 53 percent of Americans approve of his job performance, while 44 percent disapprove, according to a Politico /Morning Consult poll released earlier on Wednesday. Meanwhile, Trump will enter office with only 42 percent of voters approving—and 47 percent disapproving—of his transition period.
This article has been updated to include details from Obama's press conference.