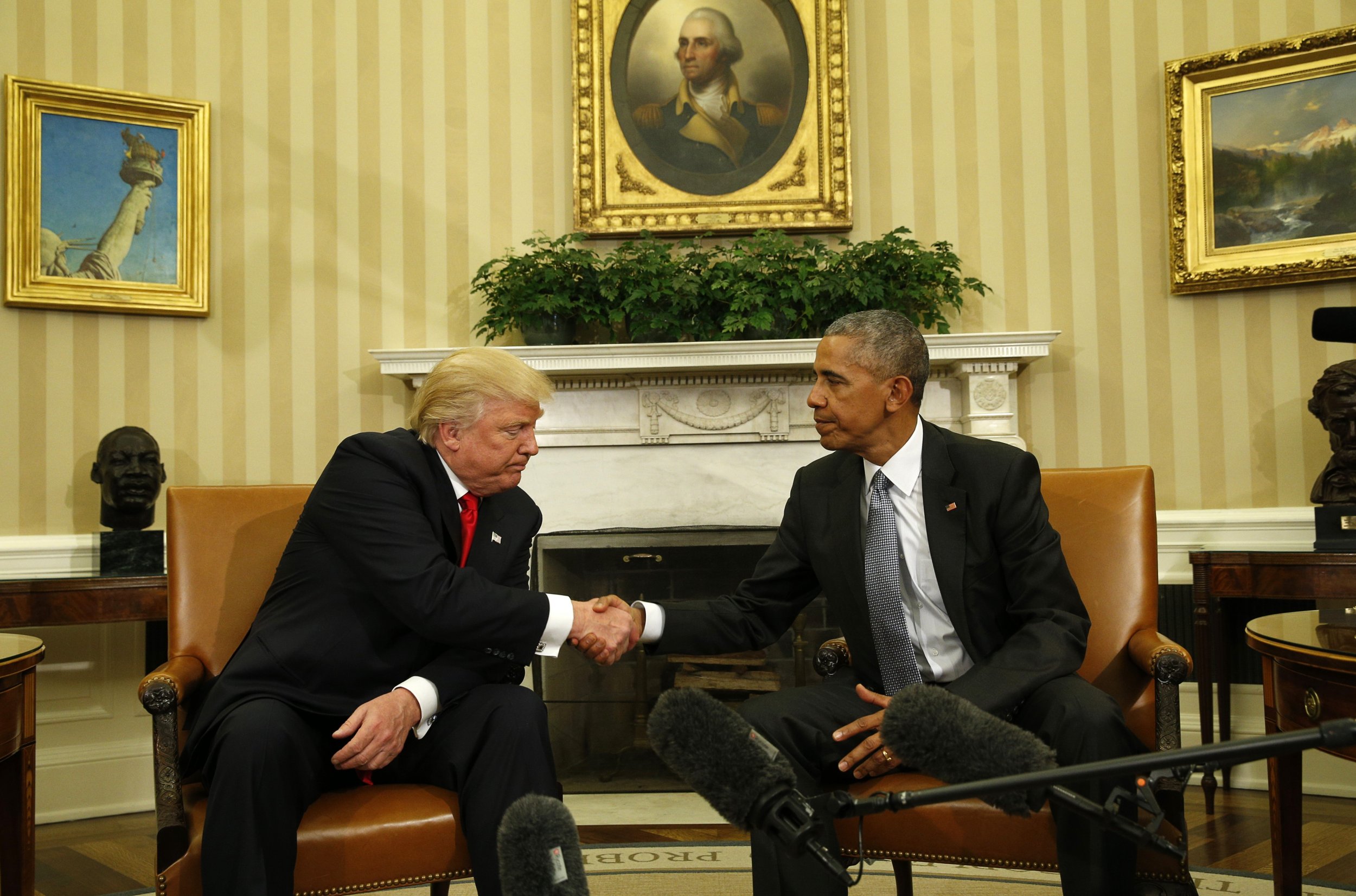 Updated | After his first meeting at the White House since winning the election, President-elect Donald Trump on Thursday said he "very much" looks forward to dealing with President Barack Obama, including seeking counsel from him when he takes over the White House.
The two men met privately for about 90 minutes inside the Oval Office and then briefly addressed the press. Trump said he had expected the meeting to last only 15 minutes, as a chance for the two to meet one another face-to-face for the first time. Trump, who led the "birther" movement that questioned Obama's U.S. citizenship, called the president "a very good man."
Obama said they had an "excellent conversation" that was "wide-ranging" in topics, including foreign and domestic policy and setting up the White House. He stressed that his No. 1 priority in the remaining 10 weeks of his presidency is to facilitate a smooth and peaceful transition of power. "I have been very encouraged by the. I think, interest in President-elect Trump's wanting to work with my team around many of the issues that this great country faces," Obama told reporters after the meeting. "I believe that it is important for all of us, regardless of party and regardless of political preferences, to now come together, work together, to deal with the many challenges that we face."
Turning to Trump, he added: "We now are going to want to do everything we can to help you succeed, because if you succeed, then the country succeeds."
Reporters tried to ask questions but were rebuffed. "Here's a good rule," Obama joked to Trump. "Don't answer the questions when they just start yelling."
Their meeting was the first of many planned before the inauguration on January 20. As part of a long-standing tradition, Trump and other senior officials will begin receiving daily intelligence briefings from the White House, building off the intelligence briefings Trump received before the election.
Shortly after Obama welcomed Trump to the White House, Press Secretary Josh Earnest told reporters that the meeting didn't focus on the rancor of the campaign trail: "They obviously have deep disagreements, but what they do agree on is a smooth and effective transition."
Before voters elected Trump on Tuesday, he had vowed to dismantle Obama's signature health care law and called him the founder of the Islamic State, among other things. The rhetoric from Obama was vicious as well. On the campaign trail, where he urged voters to cast their ballots for Democratic nominee Hillary Clinton, Obama called the real estate mogul "uniquely unqualified to be president" and "erratic," and mocked him for having his Twitter account taken away from him. "You don't see him hanging out with working people, unless they're cleaning his room," the president said a week ago in Florida.
But just hours after Trump's shocking defeat of Clinton, Obama on Wednesday vowed to stick to a smooth and seamless transition of power, as former President George W. Bush did when Obama was preparing to take over the White House in 2008. Many are hoping the meeting will stand as a symbol of a nonviolent transition of power.
After his meeting with Obama, Trump and Vice President-elect Mike Pence were to have lunch on Capitol Hill with Republican House Speaker Paul Ryan, with whom he had a strained relationship throughout the election season. Pence also will meet with Vice President Joe Biden later Thursday, and Melania Trump spent time with first lady Michelle Obama at the White House.
Earlier Thursday morning, the president-elect left Trump Tower in New York City, where he spent Wednesday focusing on his transition and the process of deciding on the members of the cabinet that will surround him. The city was one of many, including Boston, Chicago and Los Angeles, where thousands of protesters gathered Wednesday night to speak out against his victory.
British Prime Minister Theresa May might be the first foreign leader to visit a Trump White House. Earlier Thursday, he spoke on the phone with May and invited her to the U.S. "as soon as possible," Politico reported. The businessman owns several golf courses in the United Kingdom, in Ireland and Scotland. On the campaign trail in June, he praised British voters' decision to leave the European Union, saying it's a great thing that they have "taken back their country."
This article has been updated to include details from the meeting at the White House.