What Is Sean Spicer Doing? 'Useless' Press Secretary Not Giving On-Camera Media Briefings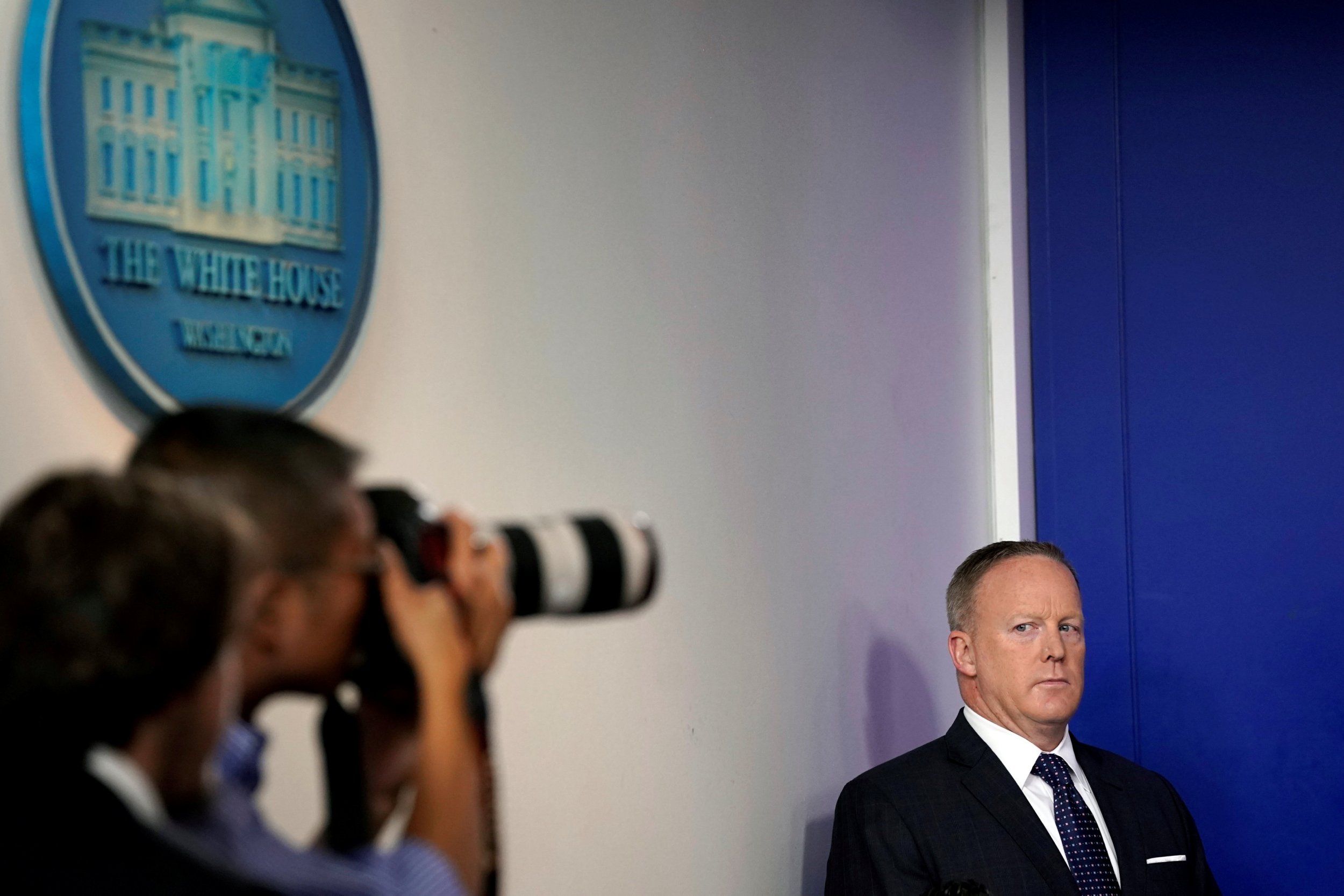 Sean Spicer, the White House press secretary Americans love to hate, held a press briefing on Monday. But you won't hear it or see clips of it on TV tonight.
Spicer demanded Monday that his briefing would be off-camera and without audio, which meant journalists could report what he said but not record or broadcast it. The secretary said he made the rules because President Donald Trump had already been on camera and would make further comments later.
"There are days that I'll decide that the president's voice should be the one that speaks and iterate his priorities," Spicer added.
And then Spicer said little of anything.
Related: Trump's tweets are 'Official Statements,' Sean Spicer says, completely contradicting White House aides
Among the harshest critics of Monday's decision were CNN anchors Wolf Blitzer, who told viewers "normally we'd be airing the White House press briefing…but unfortunately we're not allowed to show it to you live," and Jim Acosta, who tweeted a photo of his socks in lieu of a picture of Spicer during the gaggle. Afterward, Acosta spoke bluntly about the session with fellow CNN correspondent Brooke Baldwin.
"I wish we had some video or some audio from this briefing to share with you, but the White House mandated that we are not allowed to cover the White House press secretary for the United States of America in that fashion," Acosta said. "My guess is because they want their evasive answers not saved for posterity. That is the only conclusion one can draw, that when they give us answers, it somehow reads better in print."
Acosta went on to say that reporters asked a variety of questions on hot-button issues like the Republicans' forthcoming health care bill, Trump's opinions on climate change, whether he's been taping conversations in the White House and whether he could fire the special prosecutor looking into possible connections to Russia.
But Spicer didn't have many answers, saying it was "possible" information about the would-be tapes was coming soon and that he hadn't talked to the president about climate change.
"The White House press secretary is getting to a point, Brooke, where he's just kind of useless," Acosta added. "You know, if he can't come out and answer the questions and they're just not going to do this on-camera or audio, why are we even having these briefings or these gaggles in the first place?"
Acosta's comments may have been blistering, but they're not entirely off-base. Spicer and his deputy, Sarah Huckabee Sanders, have been decreasing the number of press gaggles they hold and how long they stay at them, according to The Washington Post.
The drama comes after weeks of rumors that Trump planned to shrink Spicer's public role after the president's first foreign trip abroad.
Unnamed sources told Politico the president was unhappy with Spicer's argumentative demeanor, and communications director Mike Dubke resigned last month. Trump himself has hinted that his representatives might not be sharing accurate information.
"As a very active president with lots of things happening, it is not possible for my surrogates to stand at podium with perfect accuracy," he tweeted May 12.