Seattle Mayor Expresses Support for 'First Amendment Activities' at CHOP
Seattle Mayor Jenny Durkan's office has said "first amendment activities" in the CHOP, a protester-occupied space in the city also known as CHAZ, will be able to continue amid "the community's call for change."
The CHOP, which stands for Capitol Hill Organized Protest or Capitol Hill Occupied Protest, spans a space of six city blocks around Seattle's East Precinct after police vacated the station amid protests.
Demonstrators have maintained the area, which is also called CHAZ for Capitol Hill Autonomous Zone, for more than a week and have made demands for sweeping law enforcement reforms.
While police have previously expressed a desire to return to the precinct, a statement from Durkan's office spoke of her commitment to preserving a space for demonstrations.
Details of moves to ensure safety in the area in order to maintain it as a gathering spot for those protesting were outlined Tuesday.
A statement from the mayor's office said: "The Capitol Hill Organized Protest has emerged as a gathering place where community members can demand change of their local, state, and federal government. Capitol Hill and Cal Anderson Park have long been a gathering place for justice. While there have been inaccurate and misleading depictions of the CHOP from the President and some national media, the City believes first amendment activities can continue while also maintaining public safety and allowing access for residents and businesses who operate in the area.  Mayor Durkan believes these changes can help ensure any focus of the CHOP and Cal Anderson will allow for peaceful demonstrations to continue."
Newsweek subscription offers >
This added that City officials have visited the site in order to work to "meet community needs" on points of hygiene, sanitation and safety, while utility providers have been able to service the area.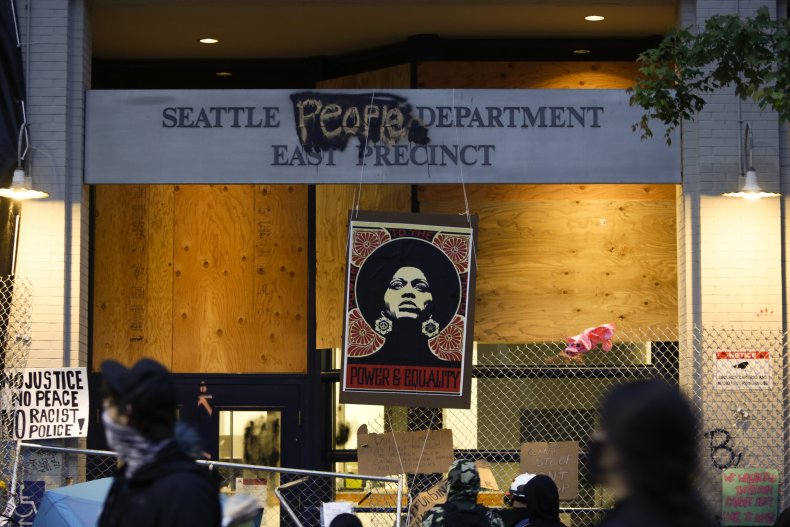 Seattle Police Chief Carmen Best had also been able to visit the site "multiple times," according to the statement.
Through discussions between officials and CHOP organizers, changes are being implemented for safety reasons.
"Minor changes to the protest zone will implement safer and sturdier barriers to protect individuals in this area, allow traffic to move throughout the Capitol Hill neighborhood, ease access for residents of apartment building in the surrounding areas, and help local businesses manage deliveries and logistics. Additionally all plans have been crafted with the goal of allowing access for emergency personnel including fire trucks," the statement added.
In addition to this work, Durkan's office reiterated that police will respond to certain emergency situations.
"The Seattle Police Department will dispatch to respond to significant life-safety issues in the area. The Seattle Police Department's definition of life-safety issues may include an active shooter incident, an assault, a structure fire, significant medical emergency (i.e. heart attack, stroke, trauma) and other incidents that threaten a person's life safety," the statement said.
It also outlined that groups including Black Lives Matter had been contacted in order to discuss the plans, adding: "Preserving a space for demonstrators to come together is one of several actions the City has taken to respond to the community's call for change. Over the last two weeks, Mayor Durkan has prioritized meeting with community leaders and demonstration organizers, heard their concerns, and is committed to enduring systemic changes to reimagine what policing looks like in Seattle and to addressing systemic racism."
Newsweek has contacted Durkan's office for further comment.
Sergeant Lauren Truscott, interim public affairs director for Seattle Police Department, said in a statement to Newsweek that officers "will respond to significant life-safety issues" in the CHOP.
She added: "The City of Seattle continues to meet with demonstrators to work toward long-term solutions to issues within this area.
"For all other calls originating from this area, dispatchers and officers will attempt to coordinate officer contact outside of these boundaries when feasible.
"Officers have and will continue to document calls for service that originate within these boundaries."
The CHOP was formed amid protests following the death of George Floyd, who died in Minneapolis after a police officer put his knee on his neck while arresting him. Footage of the incident spread online, prompting widespread demonstrations.
Those involved have raised concerns over systemic racism and police brutality, with discussions surrounding the concept of defunding the police rising in prominence, as people suggest finances for law enforcement be shifted into other community measures.
In Seattle, the city council has already moved to enact a review on police funding, with the view of reducing the department's finances to support measures elsewhere.
While Durkan has moved to defend the zone, President Donald Trump has spoken of his desire to see normality resumed in the area, stating he would consider intervening should the area not be cleared.
"If they don't straighten that situation out, we're going to straighten it out," he said in an interview with Fox News host Harris Faulkner.
Update: A statement from Lauren Truscott of Seattle Police Department was added 6/18/2020.
Seattle Mayor Expresses Support for 'First Amendment Activities' at CHOP | U.S.