Donald Trump Says He'll Use National Guard to Dismantle Capitol Hill Autonomous Zone if He Has To
President Donald Trump said Friday he was prepared to send in the National Guard to break apart a police-free zone protesters created in Seattle.
Earlier this week, Seattle police officers left their precinct in the city's Capitol Hill neighborhood, providing protesters with an area free of law enforcement in which they could gather. The president responded to the so-called Capitol Hill Autonomous Zone, or CHAZ, during an interview with Fox News host Harris Faulkner that aired Friday afternoon.
"If they don't straighten that situation out, we're going to straighten it out," Trump told Faulkner. "What I mean is very simple: We're not going to let Seattle be occupied by anarchists."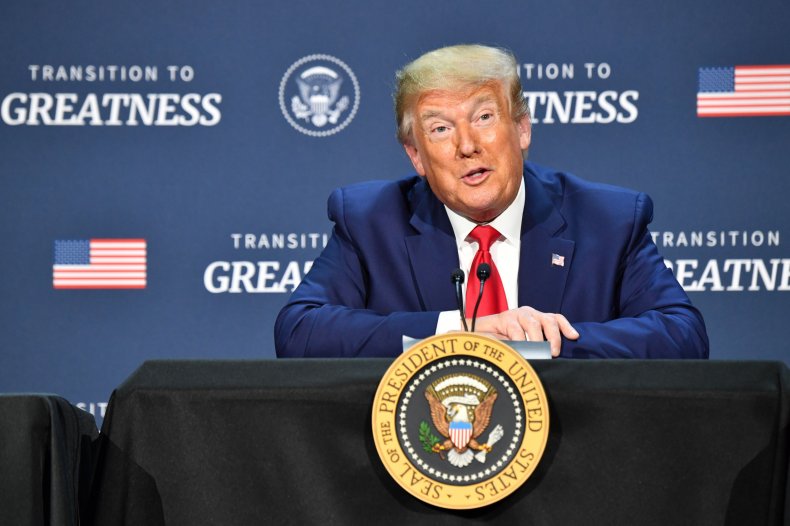 Since Seattle police left the precinct on Monday, protesters have blocked off a space surrounding the building and added signs to the area's entry points, declaring CHAZ a welcoming spot for demonstrators.
While Seattle Mayor Jenny Durkan has supported protester efforts and compared the autonomous zone to block parties and other large events held in the city in years past, local police said their ability to respond to emergency calls was compromised because their movement in the area has been limited. During a Thursday news conference, Seattle Police Chief Carmen Best said that the delays could mean the difference between life and death in some cases and that marginalized communities were especially affected.
Free Capitol Hill, the movement behind the autonomous zone's creation, published a list of 30 demands in a June 9 post on Medium. The list starts by saying the movement wants the police department and judicial system abolished entirely in Seattle. The list contains other demands that have been popular with the Black Lives Matter movement, including investigations into police brutality, halting the use of armed force by law enforcement and expunging records for those serving jail time for smaller drug offenses.
In the meantime, the president said the protesters' takeover of the area must be stopped—and if Durkan or Washington Governor Jay Inslee do not dismantle the autonomous zone, he said he was ready to do so himself.
"We're not going to let this happen in Seattle. If we have to go in, we're going to go in," Trump told Faulkner, adding his encouragement for Inslee to activate the state's National Guard.
"Let the governor do it—he's got great National Guard troops, he can do it," Trump said. "One way or the other, it's going to get done."
Inslee sent National Guard troops into Seattle during the early days of the nationwide protests that began in response to the death of George Floyd, a black man who died while in police custody in Minneapolis. In a statement authorizing the troops' deployment to Seattle, Inslee said they would be unarmed and would "only be utilized if absolutely necessary."
So far, Inslee has not activated troops in connection with the autonomous zone.
Mike Faulk, Inslee's deputy director of communications, criticized the president's suggestion that he would move to deploy National Guard troops if Inslee did not step in.
"The president's behavior reflects his own insecurities about being the weak and ineffectual leader he knows he is," Faulk told Newsweek.
The president, who has been critical of the wave of protests since they began in late May, told Faulkner a move had to be made soon to put an end to Seattle's autonomous zone.
"These people are not going to occupy a major portion of a great city," Trump said. "They're not going to do it. And they could solve that problem very easily."
This story has been updated to include a comment from Governor Inslee's office.