Is a Second Civil War Likely? One Third of Americans Think So
Nearly one third of Americans think another civil war could break out in the U.S. in the next five years over opposition to President Donald Trump's policies with more than one in ten believing it is very likely to happen.
Of the 59 percent of people who do not believe that a second civil war could happen sometime before 2023, only 29 percent said the scenario is "not at all likely" according to a Rasmussen survey of 1,000 likely voters.
The survey found that, overall, Democrats (37 percent) are marginally more fearful than Republicans (32 percent) of an upcoming civil war.
A further breakdown reveals 44 percent of African Americans think that a civil war will break out within five years, compared to 28 percent of white Americans and 36 percent of other minority voters. Women and those under 40 are also more worried about a possible civil war compared to men and older voters.
Additionally, at a time where there have been continuing protests against the government's "zero tolerance" separation policy for migrant families at the border, a total of 59 percent of voters from all sides say they are concerned that opposition of Trump's policies will resort to violence with 33 percent saying they are "very concerned."
A similar survey conducted in March 2010 during Barack Obama's second year in office yielded similar results with 53 percent of U.S. voters describing themselves as "somewhat concerned" that those opposed to his policies will resort to violence, up 10 points from the previous September.
The survey also found that 53 percent believe those critical of the media's coverage of Trump will resort to violence with nearly one in four (24 percent) saying they are very concerned about the violence from opponents of the media.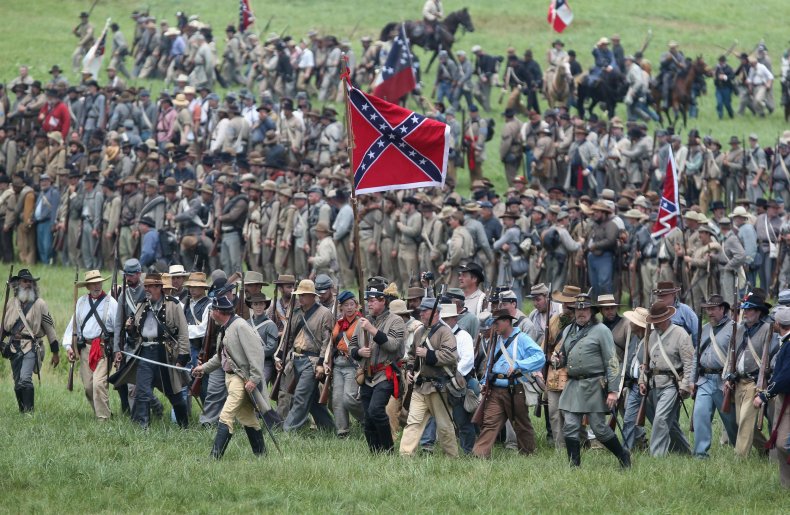 "Most voters across the partisan spectrum are concerned about political violence from those opposed to Trump's policies, although Republicans are the most likely to be very concerned," the report says. "The level of concern is about the same among Republicans, Democrats and unaffiliated voters when it comes to the threat of violence from those critical of the media's coverage of Trump."
The survey also notes that just before Trump's inauguration in January 2017, half (50 percent) of voters felt America was a more divided nation than it was under Obama's presidency.
Nearly 18 months later, a majority (55 percent) of voters now believe America is more divided.
The survey of 1,000 Likely Voters was conducted on June 21 and 24, 2018 by Rasmussen Reports with a 3 percent margin of error.