A Democrat-leaning group "committed to holding Republicans accountable" blasted audio clips of crying migrant children separated from their families at the border outside a Trump Hotel as attendees arrived for a GOP fundraiser.
Liberal super PAC group American Bridge 21st Century played the clips, which shocked the world after they were obtained by ProPublica, outside the Trump International Hotel in Washington, D.C., during the America First Action event.
The audio, played on loudspeakers, featured small children crying out for their parents after they had been separated and placed in detention centers in South Texas.
President Donald Trump was a keynote speaker at the two-day summit held at his hotel in the capital. According to the Associated Press, donors paid $100,000 for general admission tickets to attend, with VIP tickets costing $250,000.
"Trump and his wealthy cronies are refusing to hear the cries of families torn apart by his actions," said American Bridge spokesperson Amelia Penniman. "Tonight as they toast their callous policies, we'll be on-site to force them to listen."
Among those said to have attended the fundraiser are Donald Trump Jr., Senator Ted Cruz, former Arkansas governor Mike Huckabee and former White House press secretary Sean Spicer.
According to a New York Times report from inside the fundraiser, those attending were not fazed by the protest occurring outside.
"Does anybody here look stressed out?" conservative commentator Candace Owens told reporters from the hotel lobby.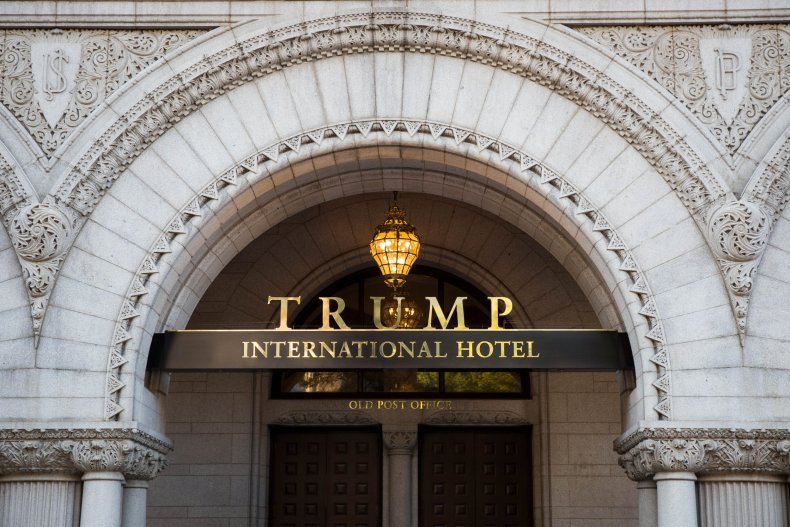 The Trump administration has been heavily criticized for its "zero tolerance" immigration policy following reports that more than 2,000 children were separated over a six-week period.
During a White House press briefing on Monday, a clip of the children was played by a journalist for more than 30 seconds while Homeland Security Secretary Kirstjen Nielsen defended the policy, reports The Washington Times. It is unclear which reporter played the clip, or if Nielsen could hear it.
Nielsen was also heckled out of a Mexican restaurant by protesters in Washington.
In a statement, members of the Democratic Socialists of America said Nielsen and "everyone else who has carried out these brutal and cold-blooded orders to rip apart families should never be allowed to eat and drink in public again."
The night before the audio protest from American Bridge, a separate group projected a series of slogans and phrases onto the Trump Hotel in Washington demonstrating against the separation policy, including one addressing the Trump donors attending the summit reading: "You are complicit."