Second Stimulus Check 'Critical,' Rep. Tlaib Says, After Bipartisan Bill Omits Measure
A second round of stimulus checks has been described as "critical" by Rep. Rashida Tlaib (D-MI), as she responded to a recent bipartisan relief proposal that excludes such payments.
A cross-party group of lawmakers proposed a $908 billion compromise proposal on Tuesday, in a bid to breach the ongoing impasse over stimulus.
However, despite bipartisan support among lawmakers and the public for further economic impact payments, they have been excluded from the pitch.
"It's critical that we have another stimulus check. Direct payments help families in desperate need & it stimulates our local economy," Tlaib wrote on Twitter, sharing a news report detailing the package.
"This proposal ignores the fact that 8 mill more people have fallen into poverty due to this pandemic, many of which are families with children."
A study from Columbia University released in October said the number of people in poverty in the U.S. had grown by eight million since May, according to a report from The New York Times
Alongside these comments, Tlaib shared an article detailing the call from more than 125 economists, published by Economic Security Project, urging another round of stimulus checks be paid out.
"We urge policymakers to use all the tools at their disposal to revitalize the economy, including direct cash payments, which are one of the quickest, most equitable, and most effective ways to get families and the economy back on track," this read.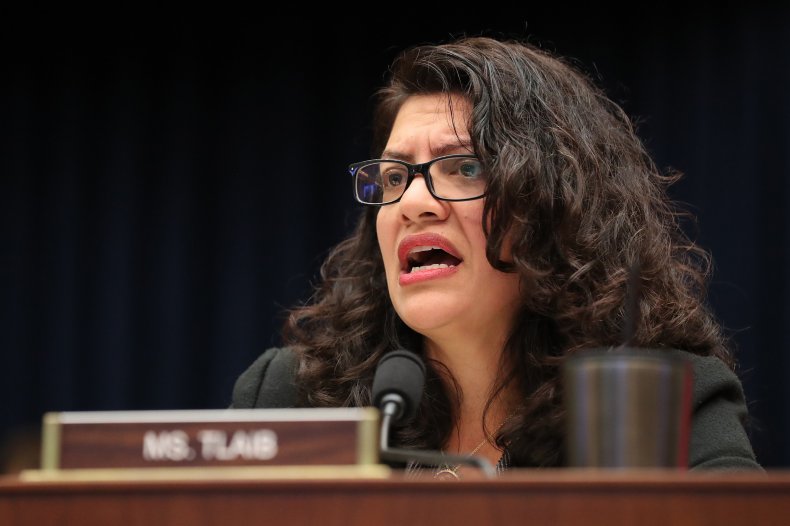 Tlaib also highlighted polling that indicated bipartisan support for stimulus checks.
Newsweek has contacted Tlaib for further comment.
The bipartisan proposal includes funding for the paycheck protection program ($288 billion), additional unemployment insurance ($180 billion), and funding for state, local and tribal governments ($160 billion).
Senate Majority Leader Mitch McConnell (R-KY) has shared his own proposals for a stimulus and continues to back spending of around $500 billion. He has been criticized for suggesting the bipartisan proposal was a waste of time.
The last relief bill, the CARES Act, was passed more than eight months ago.
It included $1,200 direct payments to millions of people across the U.S. to aid them through the financial turmoil posed by the pandemic.
There has been support on both sides of the aisle for further stimulus, however disagreements on topline spend and specific measures have seen a prolonged stalemate in terms of reaching an agreement.
The debate over further stimulus comes with the number of confirmed COVID-19 cases in the U.S. throughout the pandemic having surpassed 13 million.
The below graphic, from Statista, shows the nations with the highest numbers of confirmed cases as of November 30.