Second Stimulus Check Deal Needed Imminently for Hope of August Rollout
The chance of a second stimulus check being widely distributed this month could hinge upon a deal sanctioning them being signed off by Friday.
Talks to secure a bipartisan agreement on a further relief package faltered last week, with President Donald Trump instead choosing to use executive orders in a bid to somewhat tackle certain aspects of the COVID-19 crisis, such as extending enhanced unemployment payments.
However, despite stimulus checks not being a point of contention the negotiating groups split on other aspects which saw the talks grind to a halt.
Chad Hooper, national president of the Professional Managers Association (PMA) which represents managers at the Internal Revenue Service (IRS), suggested that should plans be confirmed this week, most of the checks could feasibly be sent this month.
"I think if something were signed by Friday, members of our association and their teams could possibly get some, if not all, of the funds distributed within August," he told Newsweek.
Hooper has also previously suggested the checks could be sent quicker than the last round due to processes already in place, as reported by Newsweek.
"Getting checks out within two weeks is a lot more achievable now than it seemed back in March," he said previously.
Commenting further on the situation now, Hooper said PMA was "concerned for America's taxpayers, many of whom are in need of financial support during this pandemic," adding its encouragement for the Senate to take up the HEROES Act, passed previously by the House.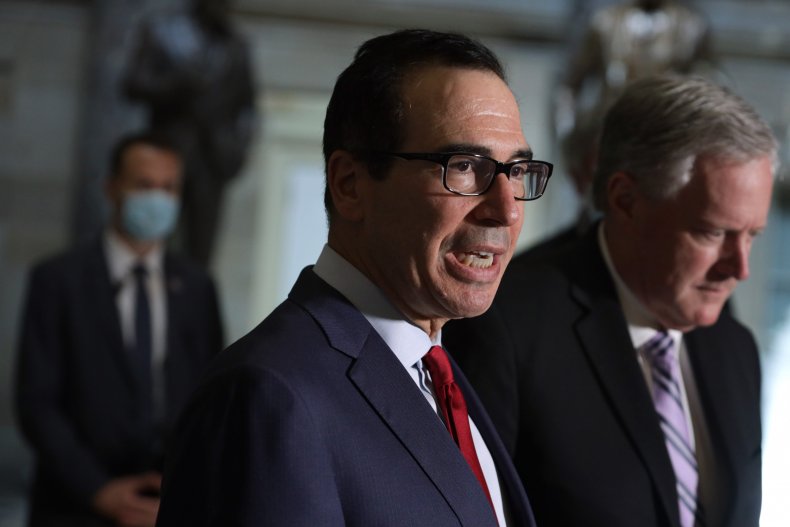 Treasury Secretary Steve Mnuchin has suggested that a second round of checks would resemble the first, with the CARES Act having included $1,200 payments for people with an adjusted gross income of $75,000 or less, then $2,400 for joint-filers earning up to $150,000.
The Senate GOP put across similar proposals, while the Democrats' HEROES Act, passed by the House, sanctioned payments along the same lines.
Mnuchin has previously expressed confidence as to how fast the payments could be distributed.
"If I could get it passed tomorrow, I could start printing them the following week. I could get out 50 million payments really quickly," he told reporters on August 2.
Newsweek has contacted the Treasury and the IRS for comment on the possibility of checks being distributed in August.
Both sides in the talks, with Senate Minority Leader Chuck Schumer (D-NY) and House Speaker Nancy Pelosi (D-CA) negotiating with Mnuchin and White House Chief of Staff Mark Meadows, have suggested the other has been unwilling to compromise.
Republicans have suggested a $1 trillion cap on spending for the next package, whereas the Democrats' HEROES Act had a price tag of around $3 trillion.
Mnuchin has indicated the White House could back spending more, suggesting agreement could be reached this week if there is "a fair deal."
Schumer has however pressed his desire to spend as much as in the HEROES Act, to fulfill what his party sees as the needs of the nation.
"The $3.4 trillion in the Heroes Act is based on the country's needs, which are so large and so diverse," he said on the Senate floor on Monday.
"It is not a political position, it is what our country needs: it's schools, it's businesses, it's renters, it's homeowners, it's essential workers, it's post office and it's elections, state and local governments and our health care system."
He pinned blame on the lack of compromise on the White House, adding: "Let's meet in the middle, we said. In the middle. That's how negotiations occur, that's how you get something done. The White House said no."
Following Trump's decision to move in with executive powers, questions have been raised over the effectiveness of the measures proposed.