A Second Stimulus Check Would Likely Arrive Sooner Than the First
If Congress does approve another round of stimulus checks, it is anticipated a second batch of direct payments could be distributed quicker than the first.
Some Americans continue to wait upon the money granted to them by the CARES Act, to assist them through the economic hardship spurred by the COVID-19 outbreak, while polling suggests many would like to see another round of money distributed to assist them during the pandemic.
However, it is unclear whether such further support will be approved with the House-approved HEROES Act, which includes such measures, stalling in the Senate due to GOP opposition.
Senate Majority Leader Mitch McConnell (R-KY) has called for a pause to assess what measures should go into another stimulus bill, calling for the impact of the earlier action to be analyzed before more is taken. This analysis could determine whether more direct payments are necessary.
While there have been issues with the first set of checks Chad Hooper, national president of the Professional Managers Association (PMA) which represents managers at the Internal Revenue Service, believes a second set would likely be distributed faster.
Speaking to Newsweek, Hooper said, while he could not make an absolute prediction, if there were the same or similar eligibility requirements that "should there be subsequent rounds of stimulus, the agency could get out all of the payments more rapidly."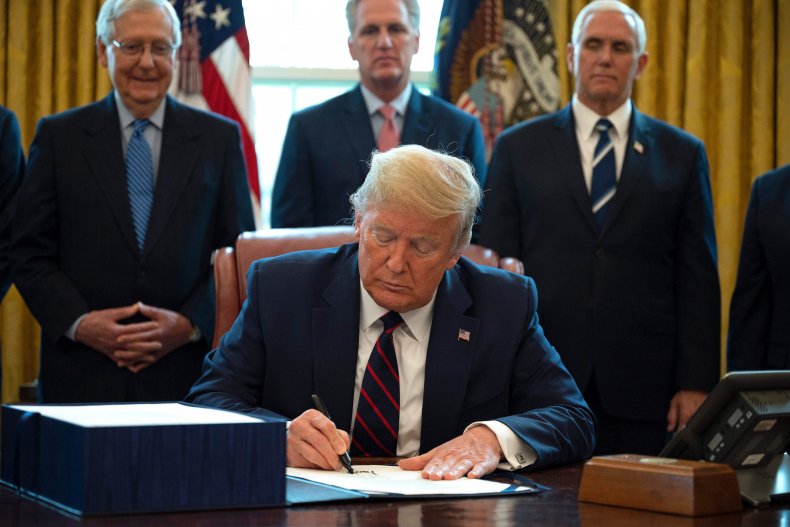 He said: "Under the CARES Act program, the agency was able to issue direct deposits in fewer than four weeks – because of how the agency's aging mainframe functions, it is our understanding that the most rapidly a check could be issued is roughly 2-3 weeks so I would expect to see payments issued within 4 weeks.
"Because the Treasury recently chose to issue debit cards to unbanked taxpayers or taxpayers for whom we do not have banking information, this is another population of taxpayers for whom we would have direct deposit information and will only help the agency to issue subsequent payments more rapidly."
In regards to another such payment coming, he said though he cannot speak on any such plans to deliver further stimulus, the IRS is usually watchful of potential legislation.
"Historically, the agency monitors pending legislation very carefully so that we can be prepared to implement changes soon after they become law," he said, referencing the passing of the HEROES Act in the House and McConnell's comments on a further relief bill as situations the IRS would be wary of.
On the potential of future payments being made, an IRS spokesperson told Newsweek: "The IRS does not speculate on future legislation."
Newsweek has also contacted the Treasury for comment.
The CARES Act saw those eligible receive direct payments of up to $1,200 per adult, with the HEROES Act proposing the same.
Individuals with a modified adjusted gross income of $75,000 or less will receive the full amount. In cases of a head of household filing the income cap increases to $112,500 and is further increased to $150,000 for those filing joint returns, who can receive up to $2,400.
Republicans have dismissed the idea of the HEROES Act passing the GOP-dominated Senate in its current form, with McConnell branding it a left-wing wish-list.
He has indicated further relief could be forthcoming in some form, indicating towards the end of May that a decision could come in around a month, though a Republican-backed act would likely be smaller in scope than the $3 trillion HEROES Act.
As the first payments continue to be made, issues have arisen such as people mistaking letters sent to them containing prepaid debit cards for junk mail, and others being sent payments they should not have been, with some families having received payments for deceased relatives.
A further stimulus bill is being considered as the economy reels due to the coronavirus outbreak, with lockdown measures seeing businesses stall.
Cases continue to rise in the U.S., with more than 1.8 million confirmed across the nation, according to Johns Hopkins University figures.
The graphic below, from Statista, shows the states with the highest case numbers as of June 3.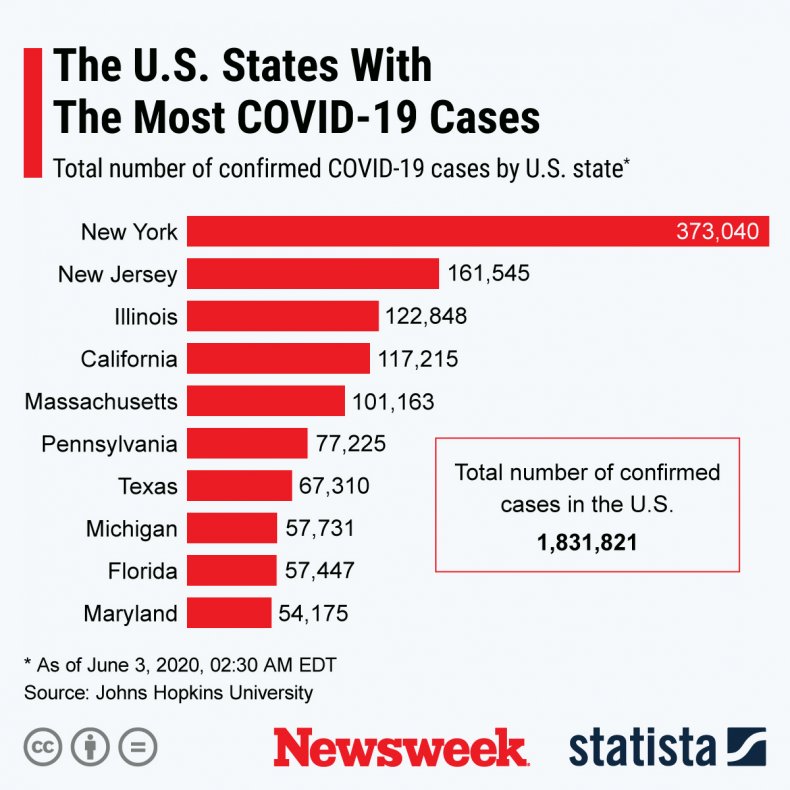 Correction: A previous version of this story referred to Mitch McConnell as the House Majority Leader. He is the Senate Majority Leader.