Most Americans think there should be another round of stimulus checks in order to help cover basic living costs, according to a new poll.
Of 1,000 likely voters asked for an FT-Peterson US Economic Monitor survey, 76 percent feel it is important they personally receive another direct payment, as they combat the financial turmoil caused by the COVID-19 crisis.
Respondents were asked: "For you and your family personally, how important is it that you receive an additional payment?"
Just more than half, 51 percent, said it was very important, while 25 percent said somewhat important.
Alternatively, 24 percent suggested it was not important to them, with 15 percent responding not that important and 9 saying not important at all.
The poll was conducted online by Global Strategy Group and North Star Opinion Research, who asked the questions to 1,000 registered voters from May 20 to May 26. Those asked were based nationwide and the polling has a margin of error of plus or minus 3 percent.
In regards to how people would spend another economic impact payment, 52 percent said they would use it to cover basic living costs such as their mortgage, rent or food.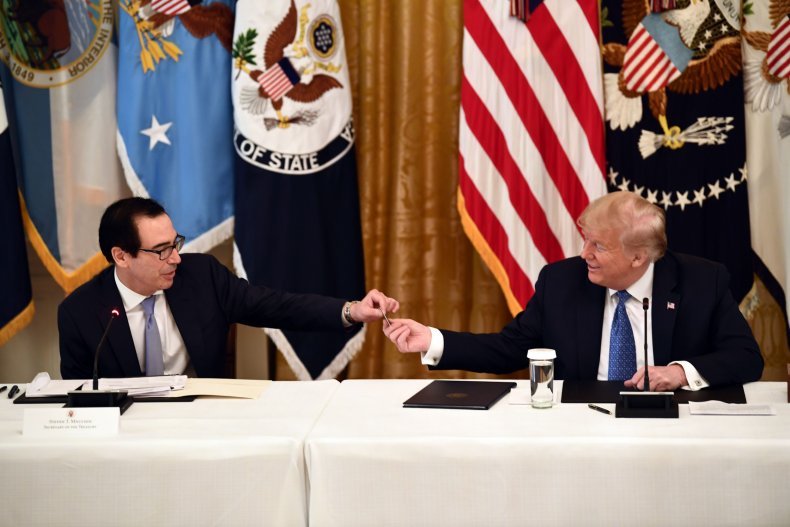 The FT-Peterson US Economic Monitor data reflects previous surveys that have shown people's desire for a second round of stimulus.
OnePoll research from May found 82 percent of Americans asked thought a one-off payment from the CARES Act, which provided up to $1,200 per eligible adult, was not enough. They indicated they felt regular payments should be made throughout the pandemic to assist those impacted by the economic turmoil.
In a CNN/Change Research poll, 74 percent of people quizzed across the states of Arizona, Florida, Michigan, North Carolina, Pennsylvania and Wisconsin supported further direct payments through the crisis.
While polling suggests public support for another round of payments, the potential for such measures has stalled in the Senate, with Republican Senate Majority Leader Mitch McConnell calling for a pause before supporting further relief spending.
He has hinted a future act is likely, but called for the impact of previous measures to be analyzed before deciding the type of response that will come next.
The HEROES Act, which has passed the Democrat-dominated House of Representatives, includes plans for further direct payments, similar to those in the CARES Act. However, Republicans have said the bill has no chance of passing the GOP-led Senate, with McConnell branding it a left-wing wish-list.
Democrats have criticized this pause, calling for Republicans to negotiate over the bill to determine a way forward which both sides could agree to as soon as possible.
Comments from GOP lawmakers have since expanded on the prospect of another relief bill due to the impact of the coronavirus, though there have been indications more stimulus checks are not necessarily going to be included.