'Security Guard' Steals Spotlight From Dance Team in 'Wild' Video: 'He Ate'
Michael Galyean saw a childhood dream come true after about 20 years when he was invited to surprise the crowd by performing with the University of Tennessee dance team at a football game against the University of Kentucky.
A TikTok video posted by the dance team's TikTok account @vol_danceteam has been viewed more than 15 million times as Galyean is seen posing as a security guard who joins the team's routine.
Galyean was a cheerleader in high school and intended to continue his cheerleading career in college, but told Newsweek he was too intimidated to try out when he enrolled in the University of Tennessee.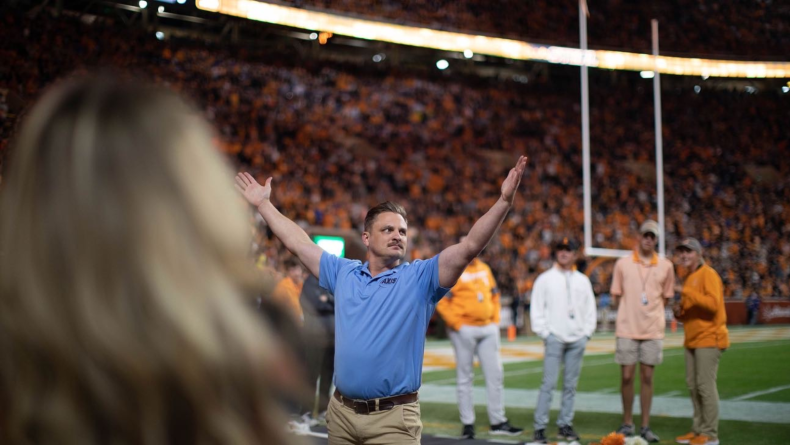 "I knew every cheerleader in the state and then to just see the beast that is [University of Tennesee] cheerleading, I just went, 'OK this isn't for me,'" he said.
Galyean went through school, found a job and did not revisit cheerleading for years. Aside from his experience in cheerleading, his other training includes a dance class he took in college.
He said he worked in retail for more than 20 years but lost his job last year. At that point, Galyean took it as a sign to pursue his passions.
"So, I've spent the last year just throwing darts, whether it's been the TV work that we have here in Knoxville, in front of and behind the camera, trying different things," he said. "I host events around town, I work with different dance outlets."
Galyean has known Kelley Tafazzoli, the dance team's Spirit Program Director, and he said the team was looking for ways to build the fan experience.
The University of Tennessee's Dance Team has seen much of its own success, winning seven national championships, making it one of the most decorated dance programs in the United States.
"When they aren't claiming championship rings, they can be found leading the crowd at home football games, basketball games, Lady Vols basketball games and volleyball games," the team's website says.
The team also competes at the Universal Dance Association's (UDA) College National Championship and the UDA's College Spirit Camp.
Galyean was approached on October 20 and received a video of the routine on October 23, which was performed on October 29 with just one hour of official practice with the team.
"[Kelley] just knew that I have a history of being a showboat," he said with a laugh. "I guess she felt comfortable that I would do the role well and with respect."
The video shows Galyean wearing a blue security shirt and a pair of khakis as he stood in front of the team while they were starting their routine.
He pretended to get into an argument with another member of the dance team and was approached by another person on the sidelines.
Galyean backed up as the music continued to build and broke out into the dance routine alongside the other members of the team.
The crowd erupted into cheers as Galyean continued the steps in the center of the group before striking a pose at the end of the routine.
Viewers on TikTok were just as enthusiastic about his performance.
"I was not a vols fan until this year and I feel like this year was a great time to start," a viewer wrote.
"Omg he ate and left zero crumbs," another TikTok user commented.
"This video doesn't capture how wild the crowd went for it," one viewer wrote.
He said being in Neyland Stadium was "electric."
"To go and be on the stand and kind of see the rollercoaster of emotions that the fans went through, you know, it goes from football and excitement, and then they see this guy that's just interrupting the dance team," Galyean said.
He said he didn't expect for all eyes to be on him as his performance was shown on the jumbotrons.
"I knew there would be some reaction, I didn't expect that reaction and it was so shockingly warm," Galyean recalled. "It was just so well-received. It fed my 18-year-old high school cheerleading soul."
At that moment, he achieved what he wanted to fulfill as a high school student preparing to head off to college.
Galyean continues to keep himself busy in the dance community as the advisor for the University of Tennessee's dance company and as a choreographer for the area's high school musical theater program. He also joked that he is available for the upcoming Super Bowl.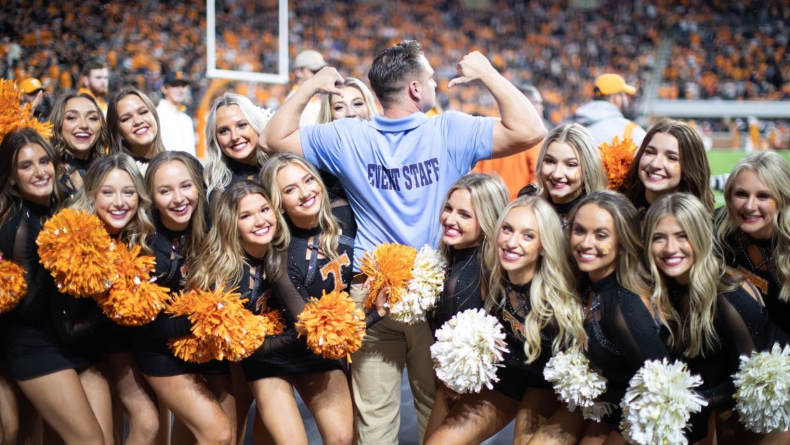 Looking back on his experience, Galyean said he's grateful to have participated in the dance and that it was so well-received.
"The crowd reaction, I'll never be able to replace or, you know, emulate or even describe, but seeing the mix of people that are enjoying it is what keeps me moving every day," he said.
Newsweek reached out to Kelley Tafazzoli for comment.
This was not the first time the crowd was treated to seeing something unexpected.
A baseball fan caught a raccoon with his bare hands in a video that has since gone viral, while one baseball team went viral after performing a TikTok dance before the ball was pitched to the batter.
Another video showed footage from a hockey game's kiss cam that took a turn.