Baseball Fan Wrangles Raccoon With Bare Hands at Game in Hilarious Video
A hilarious video showing the moment a baseball fan caught a raccoon with his bare hands at a game has gone viral online.
The video, filmed at an Arkansas Razorbacks game, was posted to Twitter last week by Khristan Uran. It has amassed more than 130,000 views and hundreds of comments from viewers who couldn't decide whether the moment was "bada**" or dangerous.
In the clip, the man—identified by multiple outlets as 24-year-old Grant Harmon—holds the raccoon up by the scruff of the neck for the cheering crowd. At first, the raccoon remains calm as Harmon parades him around the stands. But as Harmon moves closer to the stairs to exit the stadium, the animal starts thrashing around.
Fortunately, Harmon kept a firm grasp on the animal, and deposited it outside the stadium, according to multiple reports.
A separate video captured by Josh Teeter shows Harmon exiting the stadium with the raccoon as the crowd continues to cheer.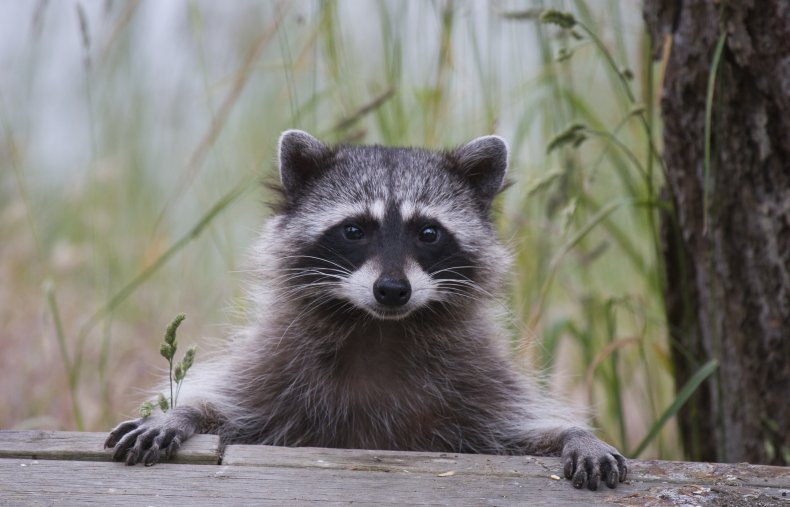 Speaking to the HawgBeat, Harmon revealed he'd never wrangled a raccoon up until that point.
"It was definitely a first for me, but I mean, it wasn't anything I was afraid of necessarily," he said.
One commenter said the raccoon wrangling was "not very smart...considering some 'coons carry Rabies."
Another added: "Maybe rabies shots are in order."
According to the Humane Society of The United States, raccoons, along with several other wild animals, are considered "a primary carrier of the rabies virus in the United States." That being said, "effective post-exposure treatment" is available to anyone who has been bitten by a rabid raccoon, and as it stands, "only one human has ever died from the raccoon strain of rabies."
Of course, the Humane Society encourages people to call professionals to help handle raccoons, as they could carry other diseases, such as Leptospirosis—a bacterial disease that, if left untreated, could lead to kidney damage, liver failure or even death, according to the CDC.
Unfortunately, the raccoon did bite Harmon's hand, so he must now receive several rounds of rabies shots.
"I was about to walk back into the stadium, and the cop was like, 'Uh, you need to go get a rabies shot, like, right now,'" he told the Southwest Times. "I drove to an ER that was close by, and they gave me my first round of rabies shots."
Despite the fact that Harmon was exposed to rabies, many commenters thought the video was "bada**."
"This is so bada**!!!" exclaimed Jackson Braswell.
"This is the best thing I've seen all day," wrote Bryce Dawson.
Cody Tapp added: "A+ content here."
Harmon's raccoon wrangling isn't the first bizarre sports moment to go viral.
In April, a video of a baseball fan catching a foul ball while feeding a baby amassed over 700,000 views on Twitter. In September, a video showing the moment a group of football fans caught a falling cat at a Miami Hurricanes game went viral with more than 63,000 views.
And last August, a hilarious clip of a cat wandering onto the field during a New York Yankee game garnered more than 1 million views.