If you are a fan of Knives Out, Murder on the Orient Express and Death on the Nile, See How They Run is the movie you do want to miss this summer.
Featuring a star-studded cast led by Sam Rockwell and Saoirse Ronan, See How They Run follows the story of a detective duo set on finding who murdered a Hollywood director in a 1950s London theater.
Newsweek has everything you need to know about See How They Run, so you do not miss a thing.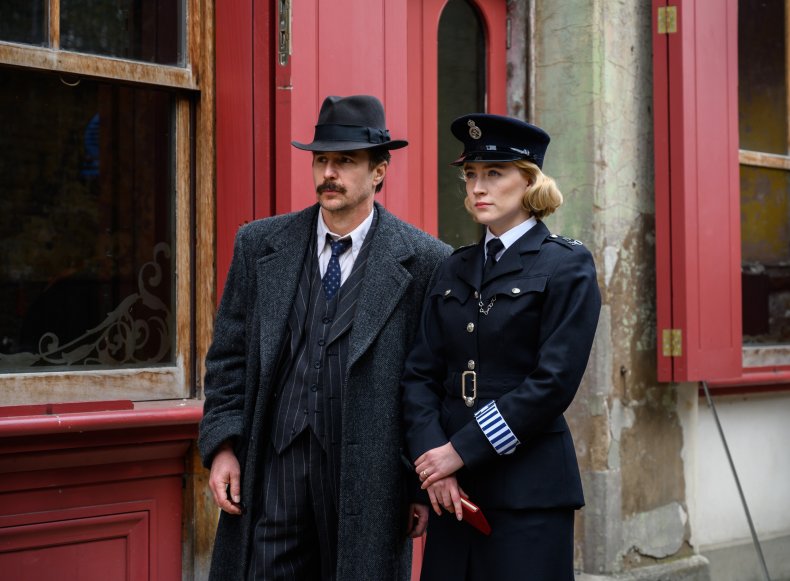 When Is See How They Run Out?
If you are looking forward to watching See How They Run in the cinema, there is some very good news.
The movie has an official release date of Friday, September 9 in U.K. cinemas, which is not too far away.
U.S. audiences will have to wait just a little while longer, with an official release date set for Friday, September 30, reports Variety.
At the moment, Searchlight Pictures has not confirmed whether See How They Run will be available to stream but if there are plans for the movie to head online, it will most likely not be available until at least two months after it's theatrical release.
Therefore, fans will be looking at a potential November streaming date.
What Is See How They Run About?
The official synopsis for See How They Run teases: "In the West End of 1950s London, plans for a movie version of a smash-hit play come to an abrupt halt after the film's Hollywood director is murdered.
"When world-weary inspector Stoppard (played by Sam Rockwell) and eager rookie constable Stalker (Saoirse Ronan) take on the case, the two find themselves thrown into a puzzling whodunit within the glamorously sordid theatre underground, investigating the mysterious homicide at their own peril."
In a statement, director Tom George, who oversaw 19 episodes of the sitcom This Country said: "Working with this incredible cast has been a total dream. I'm so excited to bring this thrilling, smart, funny murder mystery to audiences. Doing so with the company behind such brilliant ensemble films as Jojo Rabbit, Birdman and The Grand Budapest Hotel, has really been the perfect fit."
Who Stars In See How They Run?
See How They Run features a star studded cast, including huge Hollywood and award-winning actors.
Oscar-winner Sam Rockwell and Oscar-nominee Saoirse Ronan lead the cast as Inspector Stoppard and Constable Stalker respectively.
Rockwell is best known for his roles in Jojo Rabbit, Three Billboards Outside Ebbing, Missouri, Frost/Nixon and The Green Mile. Ronan is best recognized for starring in Lady Bird, Mary Queen of Scots, and Pretty Women.
The Pianist's Adrien Brody plays the role of Hollywood director Leo Köpernick and His Dark Material's favourite Ruth Wilson stars as Petula Spencer, a West End star.
This Country's Charlie Cooper plays Dennis the Usher and Fleabag's Sian Clifford takes on the role of Edana Romney.
Les Misérables' David Oyelowo and Gangs of London star Pippa Bennett-Warner round out the cast as celebrated writer Mervyn Cocker-Norris and film producer assistant Ann Saville respectively.
Other famous faces starring in See How They Run include:
Reece Shearsmith
Harris Dickinson
Shirley Henderson
Lucian Msamati
Pearl Chanda
Paul Chahidi
Jacob Fortune-Lloyd
Tim Key
Ania Marson
Is There a Trailer for See How They Run?
Yes, there is a hilarious trailer for See How They Run, introducing audiences to Rockwell's Inspector Stoppard and Ronan's Constable Stalker.
Throughout the trailer, viewers get a glimpse at their unique dynamic, with Stalker asking far too many questions and Stoppard losing the will to live.
Fans are also introduced to the movie's ensemble cast as Stoppard and Stalker try to find the murderer on the loose around London's West End.
As the trailer comes to an end, it looks like the theater cast could also be victims but Charlie Cooper's character, Dennis the Usher, may just hold the key to the whodunit.
See How They Run is coming to U.K. movie theaters on Friday, September 9.