Selena Gomez Attributes Weight Fluctuation to Lupus Meds: 'Go Away'
Selena Gomez has slammed those who criticize her weight fluctuations, saying they were caused by lupus medication.
The singer, 30, has long struggled with the auto-immune disease and was even forced to have a life-saving kidney transplant in 2017. As a result, Gomez has to take medications for the rest of her life, but said she was happy to do so because "they are what helps me."
Speaking about her health on a TikTok Live broadcast, Gomez told the haters to "go away" because she would rather be healthy than obsess about her weight.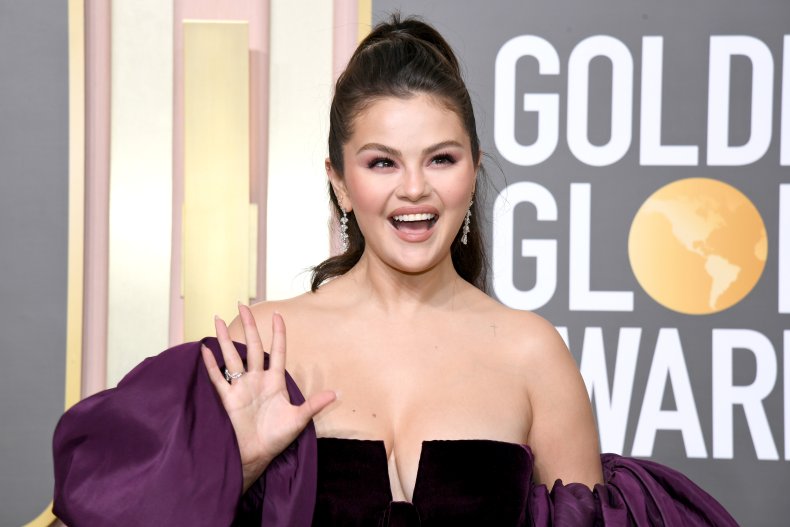 "When I'm off of it, I tend to kind of lose weight," Gomez said explaining how her medication makes her add "water weight," but she would rather live with those side effects than be sick.
"My medications are important, and I believe they are what helps me."
To her detractors, Gomez pointed out she was not a model and was therefore not as obligated to remain stick thin.
"Go away, because, honestly, I don't believe in shaming people for [their] body or anything. So, yeah, not a model. Never will be," Gomez said. "And I think they're awesome—mind you—I just, I'm definitely not that."
The Only Murders in the Building star also had a message to her fans going through their own body image issues.
"I just wanted to say and encourage anyone out there who feels any sort of shame for exactly what they're going through and nobody knows the real story," she said.
"I just want people to know that you're beautiful and you're wonderful."
Gomez added: "And yeah, we have days where maybe we feel like s***, but I would much rather be healthy and take care of myself."
The former Disney star, who rose to fame on the series Wizards of Waverly Place, received a kidney transplant in 2017 after her friend, Francia Raisa, found out she was compatible and donated one of her kidneys to Gomez.
Gomez's kidneys had been shutting down due to her having lupus, which attacks healthy tissue within a person's body.
In 2017, Gomez explained on Today that it was extremely difficult to ask any of her friends to get tested for a match.
"She [Raisa] lived with me in this interesting time where my kidneys were just done," Gomez said at the time. "That was it. I didn't want to ask a single person in my life. The thought of asking somebody to do that was really difficult for me. She volunteered and did it—and let alone somebody wanting to volunteer, it is incredibly difficult to find a match. The fact that she was a match, I mean, that's unbelievable. That's not real."
Raisa herself opened up on the moment she learned her DNA was compatible with Gomez's.
"I did panic. When I found out I was a match, it wasn't the way I expected," she told Self magazine in 2018.
"One day I got a phone call from Selena, a FaceTime, and she's like, 'we're a match!' and I'm like, 'yaaaay, what? How do you know this?'"
Raisa added: "I had a way that I wanted to tell her when I made the decision. I knew it was going to happen, I just needed that time. Like, it's a big thing.
"So I hang up, and I call my social worker, and I'm angry, and she told me, 'It's gonna be hard. The recipient is gonna glow, and she's gonna recover a lot faster than the donor is because she's receiving something she needs, you're losing something you don't need to lose. It's gonna be hard.' And it was very hard."