'Selena' on Netflix: The True Story Behind the Diane Warren Scene
Selena: The Series Part 2 is streaming now on Netflix and one moment in particular has fans flocking to Google to find out whether it really happened. In the scene, the singer's brother A.B. Quintanilla (Gabriel Chavarria) has a meal with Diane Warren (Lindsey Pearlman) and convinces her to write a song for Selena (played by Christian Serratos).
Ballad fans will know Warren as the songwriter behind mega-smashes such as "Nothing's Gonna Stop Us Now," "Because You Loved Me" and "I Don't Want to Miss a Thing." Movie fans may also know her as one of the people nominated for multiple Oscars without winning a single one—her 2021 nod for best original song was her 12th in the category.
Warren did work with Selena in real life, as well as the likes of Celine Dion, Cher, Beyoncé, Michael Bolton and Mariah Carey. She wrote "I'm Getting Used to You," which became the final single on Selena's posthumously released album Dreaming of You. It was one of the last songs the singer recorded before her murder.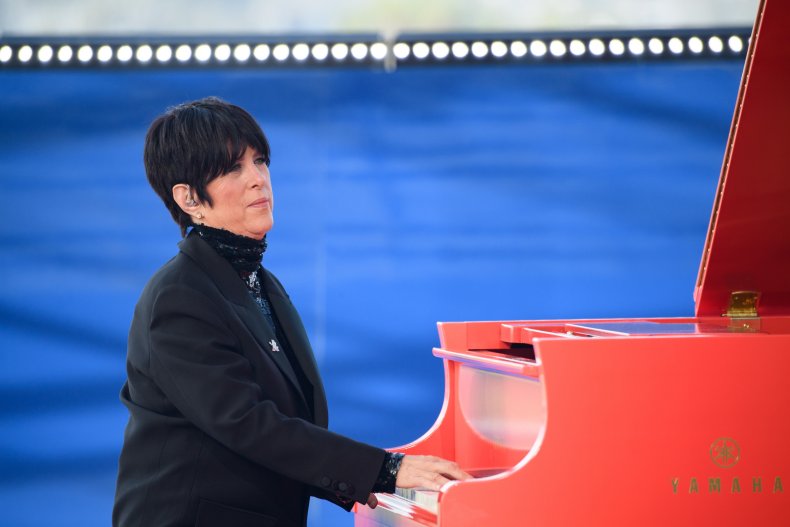 In reality, however, it was Selena herself who went to dinner with Warren to discuss a collaboration. In a Houston Chronicle article commemorating the 25th anniversary of the Dreaming of You album, it was revealed that the dinner was also attended by songwriter Franne Golde and producer Guy Roche, who later worked with Selena on the song "Dreaming of You."
In the article, Golde said she found Selena "down to Earth and humble and funny, very sweet."
Roche added: "To me, she was an unknown. But you could tell that she would be a great pop artist for the U.S. and world markets. She had it all, I think."
Warren recounted her memories of the dinner in an E! oral history about Selena's posthumous album. "I tend to swear like a sailor," Warren said. "And everybody kept warning me, 'You know, you can't swear around Selena. She's very strait-laced.' I remember having dinner with her and, of course, I was myself. And I remember she goes, 'Oh, I love you!' She wasn't insulted at all. She was just a lovely, lovely person."
Speaking about the song she wrote for Selena, Warren added: "I heard her sing. And I had just written 'I'm Getting Used to You.' I didn't write it specifically for her, I rarely do. I just try to write a great song, you know? I thought, 'This would be such a great song for her.' And she loved it … I remember hearing her on it and I was really excited about it."
Selena: The Series is streaming now on Netflix.