Self-Professed 'Proud Boy' Arrested After Allegedly Threatening to Blow Up North Dakota Voting Location
Police officers in North Dakota arrested a self-professed "Proud Boy" on Wednesday after he allegedly threatened to blow up a voting location.
Dickinson Police Department officers arrested Anthony Raymond, 33, on terrorizing charges. Raymond had allegedly sent an email that afternoon to The Dickinson Press, a local newspaper, conveying a bomb threat that targeted a polling center in Stark County, according to a post on the department's Facebook page.
The anonymous email stated: "I will blow up the voting location in Stark Co.," and it was signed by "The Proud Boys," according to the Press. The Proud Boys claim to be a fraternal group of "western chauvinists" whose mission is to spread an "anti-political correctness" and "anti-white guilt" agenda, according to the Southern Poverty Law Center (SPLC).
While the organization has attempted to distance itself from connections to the far-right, its members' actions over the years have at times proven otherwise, as documented by the SPLC. Proud Boys appeared at the Unite the Right rally in Charlottesville, Virginia, in 2017, alongside white supremacist groups including the Ku Klux Klan.
Members of the group have frequently appeared at Black Lives Matter protests throughout the summer, often being accused of inciting violence. During the first presidential debate between President Donald Trump and Democratic nominee Joe Biden, debate moderator Chris Wallace asked Trump if he was willing to condemn white supremacists and tell militia groups to "stand down." The president answered by saying that the Proud Boys should "stand back and stand by," a comment many said was a call to arms.
Gavin McInnes, the group's founder, told The New York Times in September that there was not "some sort of secret standing army" of Proud Boys and militiamen waiting for Trump's order to engage in street fighting. But if violent protests are to continue around the country, he said, "ordinary Americans are finally going to say, 'We're sick of you burning down our cities,' and they're going to start fighting back."
After being notified of the email, officers with Dickinson's investigations team traced its origin, determining an IP address for the computer and ultimately locating and arresting Raymond without incident.
Dickinson Police Sgt. Joe Cianni told Newsweek that Raymond's alleged threat should not prevent anyone from feeling safe or casting their vote.
"This is truly an isolated incident related to a serious lapse in judgement of one individual. We certainly have no reason to believe that anyone was (or is), in any immediate danger," he wrote in an email. "It is truly and assuredly safe to vote at any of the various polling locations in Stark County and all other jurisdictions across the state of North Dakota."
The investigation is ongoing, and officers are working through video surveillance footage, Cianni said. Raymond remains at the Southwest Multi-County Correctional Center where he is awaiting a bond hearing.
Cianni described Raymond as an "intellectually challenged Dickinson resident" who is not believed to have any affiliation with the Proud Boys.
Raymond will be found guilty of terrorizing if prosecutors determine he intended to "place another human being in fear for the human being's or another's safety" by threatening to "commit any crime of violence or act dangerous to human life" or "falsely informs another that a situation dangerous to human life...knowing that the information is false," according to the North Dakota Century Code.
The crime is considered a class C felony in North Dakota, punishable by up to five years' imprisonment and up to $5,000 in fines. Cianni speculated the motive behind Raymond's actions, telling the Press that he doesn't know "why people do some of the things they do."
"Some of them have some issues going on in their lives and mental health disabilities. There's such a variety of things which causes people to commit crimes that I can't really pin it down," he said, adding that it could boil down to someone having a bad day and being "frustrated with what's been occurring throughout the day or throughout the week."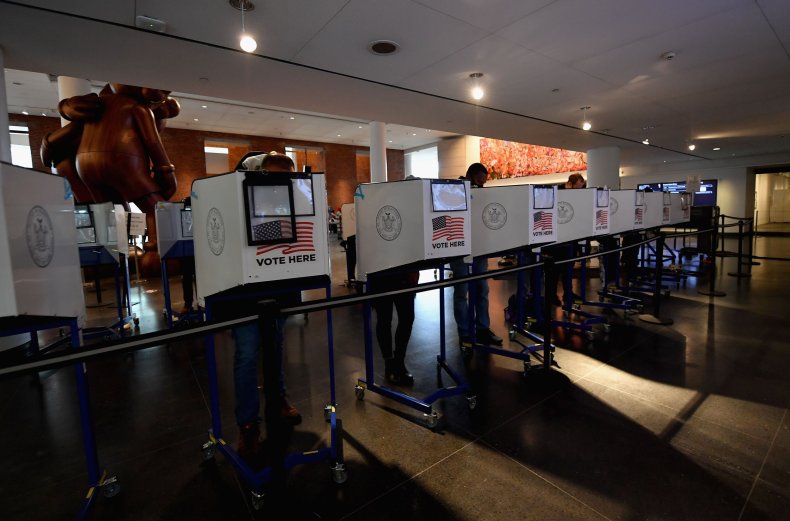 The reported bomb threat comes amid mounting concern that the U.S. could see an increased amount of violence surrounding the upcoming election. According to a recent USA Today/Suffolk University poll, three out of every four survey respondents said they are concerned about the possibility of violence on Election Day and afterward.
This marks a significant shift from October 2016, when the poll asked voters the same question. Then, almost half of Americans (47 percent) said they had little or no concern about violence around the election.
The Armed Conflict Location & Event Data Project (ACLED), in conjunction with MilitaWatch, published a report this month outlining the potential for certain localities across the U.S. to experience organized militia activity before, during and after the election.
The two groups attributed the recent militia activity to a rise in social justice activism and public health restrictions because of the coronavirus pandemic. Of the militias tracked throughout the study, ACLED reported that the majority were right-wing armed groups, including the Proud Boys.
"The Proud Boys are evolving into a more militant organization," the report states. "Groups of young men increasingly show up to Proud Boys events with rifles and plate carriers."