Senate Control Narrowly Alive for Democrats as Georgia Contest Heads to a Runoff
A U.S. Senate race in Georgia is buoying what little hope Democrats have left of retaking the upper chamber.
The nail-biter contest between Republican Senator David Perdue and Democratic challenger Jon Ossoff is likely headed to a runoff election, as NBC News projected. As of Thursday evening, Perdue had 49.9 percent of the vote—0.1 percent shy of the majority vote share required to avoid a runoff election that would not occur until January 5.
That means control of the Senate may not be known until two days after the new Congress is sworn into office, which takes places January 3.
The margin between the two candidates was narrow—2.1 percent, or less than 103,000 votes—with 98 percent of the vote. The race has yet to be called.
With Democrats' dismal performance in other states where they expected to oust several Republicans, such as Susan Collins in Maine, Steve Daines in Montana and the long-shot races of Mitch McConnell in Kentucky and Lindsey Graham in South Carolina, their final chance now relies solely on Georgia's two Senate races.
The state's other Senate race, between GOP Senator Kelly Loeffler and Democrat Raphael Warnock, is already headed to a runoff after neither candidate won a majority. Loeffler captured 26.1 percent and Warnock 32.7 percent. A third candidate, Republican Representative Doug Collins, received 20.1 percent.
Democrats need a net gain of four seats for a 51-50 Senate majority, or three seats for a split chamber that they would control if Joe Biden is victorious, since running mate Kamala Harris would break ties as vice president. The party had a net gain of one seat as of Thursday night, with wins over Martha McSally in Arizona and Cory Gardner in Colorado. Democrats lost Senator Doug Jones in Alabama and appeared on track to lose against GOP Senators Thom Tillis in North Carolina and Dan Sullivan in Alaska, though those two races had yet to be called.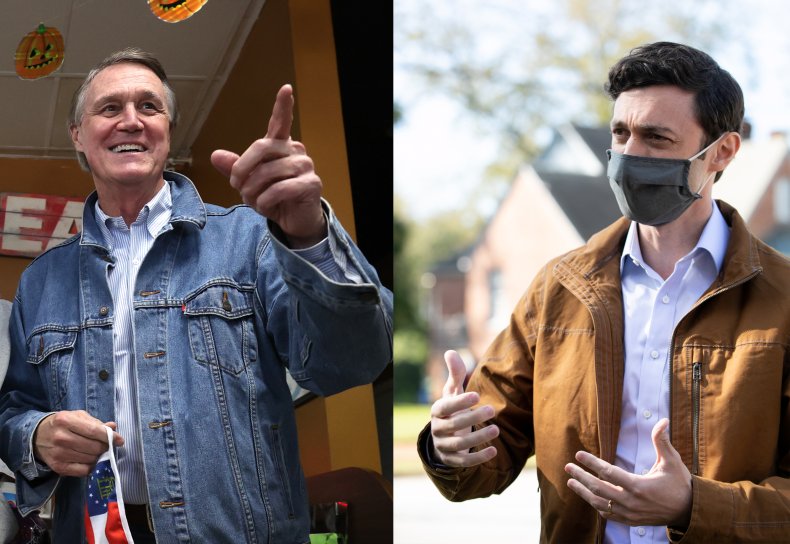 Much like President Donald Trump, Perdue's lead in the Peach State has shrunk significantly since Election Day, as elections officials continued their tally of outstanding ballots.
The race between Trump and Biden also has yet to be called in Georgia. With 98 percent of the vote for their contest, the two were separated by just 0.1 percent, or 3,486 votes.
Democrats winning either the Senate or presidential races in Georgia would be major wins that the party was not expecting. A Democrat hasn't won a presidential race in the state since Bill Clinton's first term in 1992 and a Senate race since 2000.
Both the Perdue and Ossoff campaigns earlier in the day on Thursday acknowledged the possibility of a runoff, and both were equally confident that their candidate would prevail.
"There is one thing we know for sure: Senator David Perdue will be re-elected to the U.S. Senate and Republicans will defend the majority," Perdue campaign manager Ben Fry said. "If overtime is required when all of the votes have been counted, we're ready, and we will win."
The Ossoff campaign noted votes were still being counted but signaled they expected a runoff.
"We are confident that Jon Ossoff's historic performance in Georgia has forced Senator David Perdue to continue defending his indefensible record of unemployment, disease, and corruption," said campaign manager Ellen Foster.
The Georgia Senate contests were already some of the most expensive in the country, with more than $100 million combined flowing in for the five candidates in both races. But with the Perdue-Ossoff race joining the Loeffler-Warnock battle and heading to a runoff, all eyes—and money—will be focused on the two elections that could determine control of the Senate.
The political action committee of the pro-life group Susan B. Anthony List has pledged $4 million to go "all in" to help re-elect Perdue and Loeffler—the "pro-life champions," as they were described.
"Without a pro-life Republican majority in the Senate," spokesperson Mallory Quigley said, "there would be no check on the pro-abortion Biden-Harris administration, Chuck Schumer, Nancy Pelosi and the radical pro-abortion lobby bent on ditching the filibuster and packing the Court."