Senate Democrats Set to Raise Debt Limit by $2.5T, Funding Government Past 2022 Midterms
Senate Democrats on Tuesday will move to raise the U.S. debt limit just one day before a potentially catastrophic default, extending it by $2.5 trillion in an effort to fund the government past next year's midterm elections.
Treasury Secretary Janet Yellen has previously warned that the U.S. is likely to hit its current debt limit by Wednesday, leaving Congress scrambling to avoid a first-ever default.
The Treasury Department defines the debt limit, or debt ceiling, as the "total amount of money that the United States government is authorized to borrow to meet its existing legal obligations, including Social Security and Medicare benefits, military salaries, interest on the national debt, tax refunds, and other payments."
If the U.S. were to default on its debt, national and world economies could see dire consequences, and the federal government would be forced to make significant spending cuts. Analysts have estimated that nearly 6 million jobs could be lost as government workers could go unpaid, while Medicare, military salaries and Social Security checks would also be impacted.
To avoid this, Democratic Senate Majority Leader Chuck Schumer announced Tuesday that the chamber would open a vote to increase the limit by $2.5 trillion, an amount that is expected to last into 2023. That means that Democrats will be able to make it through next year's crucial midterm elections before being forced to raise the debt ceiling again.
Tuesday's vote began with an afternoon debate in the chamber, and the measure is expected to be passed by later that evening.
Last week, Democrats – alongside Republican Senate Minority Leader Mitch McConnell – voted for a framework that would allow them to lift the debt limit through a simple majority vote.
While raising the debt ceiling is typically a bipartisan effort, Republicans have argued that Democrats should take full responsibility for the effort. This new deal means that Democrats will be able to pass the resolution on Tuesday without requiring any Republicans votes.
"Last week, we advanced bipartisan legislation that will enable this chamber to address the debt ceiling on a fast-track basis. For the information of all, the Senate will act tomorrow to prevent default," Schumer said in a statement on Monday.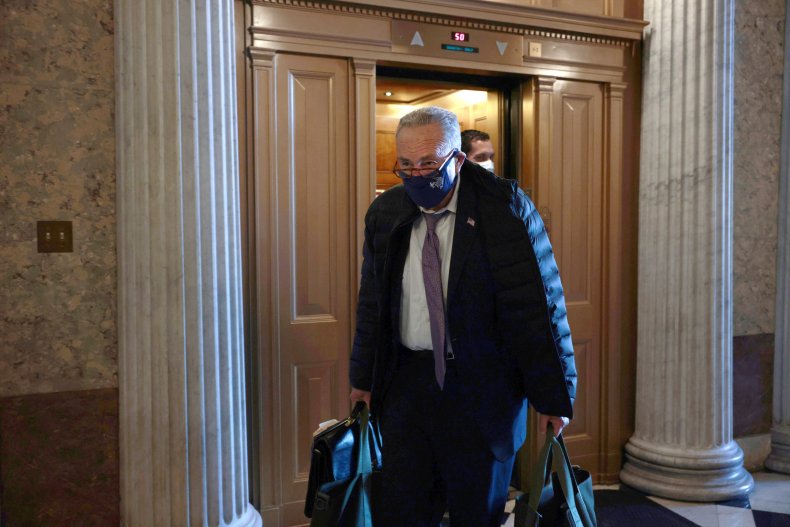 Once it is passed in the Senate, the measure will be sent to the House of Representatives, where Democrats are expected to clear the legislation for President Joe Biden's signature.
Biden could then sign the measure as early as Tuesday night or Wednesday morning, narrowly avoiding the default.
"Responsible governing has won on this exceedingly important issue," Schumer said on Tuesday, per Politico. "The American people can breathe easy and rest assured there will not be a default."