Senate Health Care Bill: 5 Things to Know
U.S. Senate Republicans on Thursday morning released a discussion draft of their health care reform bill to repeal and replace Obamacare, after the 52-member caucus met behind closed doors to learn about its details. Replacing one of his predecessor's signature laws has been a main goal of President Donald Trump since he was on the campaign trail.
Related: Why Republicans' "secret" health care process matters
Leadership revealed the 142-page draft, in its entirety called the Better Care Reconciliation Act of 2017, just weeks after House Republicans in May narrowly passed Trump's health care bill. The House version, the American Health Care Act, aims to repeal and replace key provisions of Obamacare. Not one House Democrat supported the measure. Six weeks earlier, the House had planned a vote, but it was canceled due to lack of support in what was an embarrassing setback for Trump.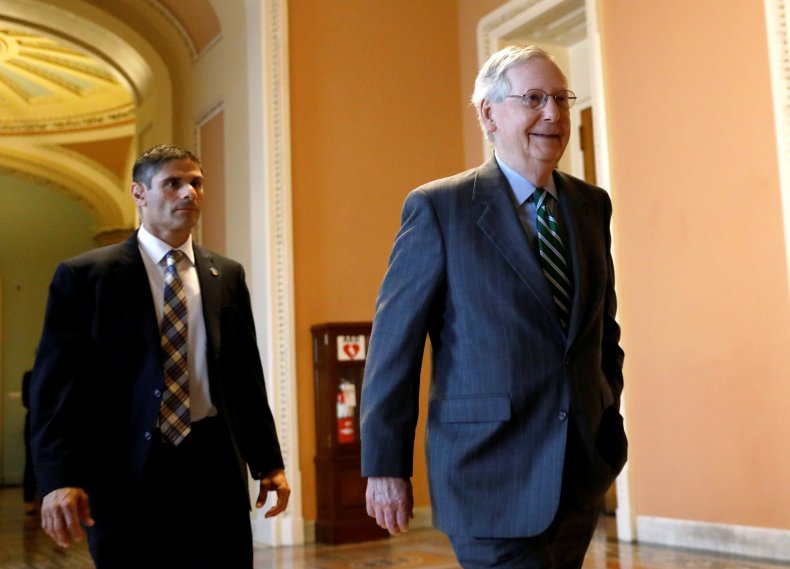 Speaking shortly after the Senate released its draft, Majority Leader Mitch McConnell, the Republican from Kentucky, said the document "incorporates input from so many different members who represent so many different constituents who are facing so many different challenges."
The bill faces an uphill battle in the Senate. Last week, Trump and Vice President Mike Pence had lunch with 13 senators to discuss the status of the GOP health care reform bill. McConnell worked for weeks behind closed doors to amend the House measure. He wants to have a vote on the bill before the July 4 recess next week. Democrats criticized Senate leadership for secretly meeting to draft the bill.
But some Republicans, specifically senators Rand Paul, from Kentucky, and Lisa Murkowski, from Alaska, have voiced their concerns about the new measure. McConnell can only lose two members and still pass the bill. Trump and Pence are expected to back it.
The nonpartisan Congressional Budget Office, a federal agency that provides budget and economic information to legislators, is expected to release an analysis of the Senate's bill no earlier than Monday. The draft is likely to change in some ways before a vote occurs.
"There will be ample time to analyze, discuss and provide thoughts before legislation comes to the floor," McConnell said Thursday.
Democratic Senate Minority Leader Chuck Schumer, from New York, called the Senate bill a "wolf in sheep's clothing."
"Simply put, this bill will result in higher costs, less care, and millions of Americans will lose their health insurance, particularly through Medicaid. It's every bit as bad as the House bill. In some ways, it's even worse," he said.
Below are five things to know about the Senate Republicans' draft of their health care bill.
1. Medicaid
The bill would significantly change how the federal government subsidizes individual health plans and funds Medicaid, a government program that helps low-income Americans pay for health care. It would phase out the Medicaid expansion program but in a gradual way that would be slower than the House's version.
2. Mandates
Similar to the House bill, the Senate measure would repeal one of the biggest parts of the Affordable Care Act: the individual mandate and the employer mandate. Obama's individual mandate requires that most Americans obtain and maintain health insurance or an exemption each month, or to pay a tax penalty. And the employee mandate under Obamacare requires all businesses with 50 or more full-time equivalent employees to provide health insurance to at least 95 percent of their full-time employees and dependents up to age 26, or pay a fee.
The senators agreed on this decision, McConnell said, "so Americans are no longer forced to buy insurance they don't need or can't afford."
3. Taxes
The measure would repeal billions of dollars in taxes, mostly for the richest Americans. Speaking shortly after Republicans released their draft, Democratic House Minority Leader Nancy Pelosi called it a "tax bill disguised as a health care bill." She added, "It's unfortunate."
4. Planned Parenthood
For a year, the legislation would eliminate federal funding to Planned Parenthood, which provides critical care, including breast cancer screenings and birth control, to millions of women across the United States, especially to young and low-income individuals. But Planned Parenthood has long been controversial, mainly because it also provides abortion services. Earlier this year, House Speaker Paul Ryan pledged to strip federal funding for the organization as part of congressional Republicans' efforts to repeal Obamacare. For years they have been trying—to no avail—to defund the nonprofit. They have even threatened to shut down the government unless funding to the organization was eliminated.
5. Regulations
The draft includes flexibility for states wanting to waive Obamacare regulations.
Read the full draft of the bill here.