Prospect of 'Senate Minority Leader' Mitch McConnell Excites Democrats on Social Media
Democrats have been crowing about the prospect of an imminent change in job title for Senate Majority Leader Mitch McConnell following runoff elections in Georgia that are pointing to victory for their candidates.
Media outlets including the Associated Press have called Rev. Raphael Warnock the winner over Republican incumbent Sen. Kelly Loeffler in one of the races, which would make him the first Black senator in the Peach State.
Loeffler has signalled that she will not concede the race yet and told her supporters that there was still "a path to victory" against Warnock.
Meanwhile, in the other race, Jon Ossoff is favored to beat Republican David Perdue in the tight race, after his lead increased to 16,370 votes early Wednesday morning, The Atlanta Journal-Constitution reported.
But the Democrats are on the cusp of taking the Senate, and if both victories are confirmed, it would end the GOP majority, giving the Democrats a 50-50 split in the upper house, and handing Vice President-elect Kamala Harris a deciding vote.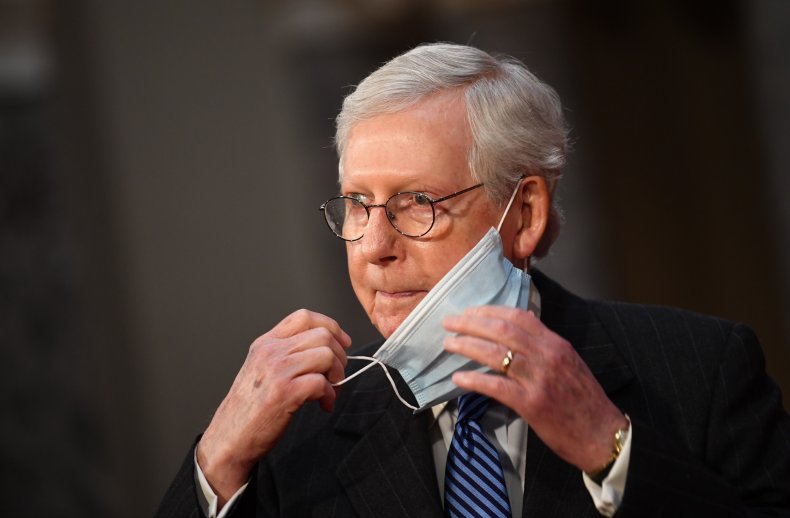 The possibility of a demotion for McConnell has got many Democrats excited on Twitter, such as Rep. Ted Lieu (D-CA) who tweeted: "Can you say: Minority Leader Mitch McConnell? Wait, I didn't hear you. Let's say again: Minority Leader Mitch McConnell.
"And just for good measure: Minority Leader Mitch McConnell," Lieu added.
The theme was picked up by California's Democratic Governor Gavin Newsom, who tweeted: "Senate Minority Leader Mitch McConnell has a nice ring to it."
Chair of the Congressional Progressive Caucus (CPC) Pramila Jayapal (D-WA) tweeted: "Just practicing: Senate minority leader Mitch McConnell. Sounding very, very good."
Representative Katie Porter (D-CA) tweeted: "Say it with me: Senate Minority Leader Mitch McConnell."
Rep. Lori Trahan (D-MA) tweeted: "Minority Leader Mitch McConnell. I can get used to that."
It was not just lawmakers who were trying to let the news of success in Georgia sink in, other prominent Democrat voices also looked ahead to a possible swap in job titles.
Jon Cooper, the former national finance chair of Draft Biden 2016, resorted to caps to express his happiness, tweeting: "I wish I was a fly on the wall when Senate MAJORITY Leader Chuck Schumer meets with Senate MINORITY Leader Mitch McConnell."
Former Secretary of Labor, Robert Reich, tweeted: "Gotta go to bed. But if I wake up and Mitch McConnell will be minority leader and we're going to have Senator Warnock and Senator Ossoff, it will be morning in America."
Charles Booker, who serves in the Kentucky House of Representatives, used McConnell's full name to make his point, tweeting: "Senate Minority Leader Addison Mitchell McConnell Jr."