Senator Kevin Cramer May Need Amputation After Yard Work Injury
Senator Kevin Cramer suffered a "serious injury" to his right hand while doing yard work over the weekend and may need to have the tip of his pinkie finger amputated.
In a statement shared on Twitter Wednesday, the North Dakota Republican said that his injury required "immediate surgery" and that he is remaining in his home state so he can be "close to medical care as there is a high risk of infection and the possible need for amputation."
"I am alert and in good spirits," his statement added. "Although I am missing this week of votes and hearings, I am monitoring Senate business closely and in constant contact with my colleagues and staff. I plan to return to Washington DC after the Independence Day state work period and expect to be doling out a lot of left-handed fist bumps."
Cramer told Forum News Service that the tip of his finger may require amputation. He said a large rock rolled onto his ring and pinkie fingers, ripping off the tip of the latter, which was stitched back on in an emergency room.
Cramer was one of two Republican senators who did not take part Tuesday in an initial Senate vote on a new bipartisan gun safety bill that was negotiated after the mass shooting at a Texas elementary school late last month. Senator Pat Toomey, a Pennsylvania Republican, also did not vote, but he released a statement Tuesday in support of the measure.
Cramer's and Toomey's support or opposition would not have changed the vote's outcome, as the Senate decided 64-34 to open debate on the measure.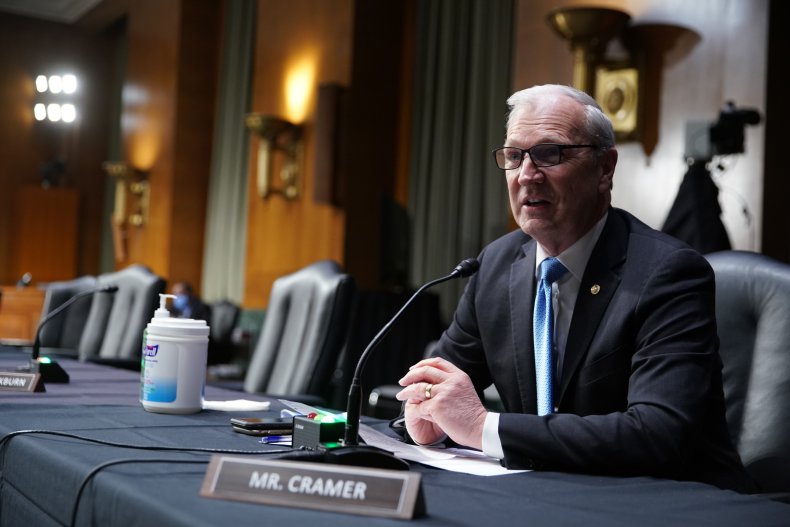 According to Cramer's website, he is a Kindred, North Dakota, native who was elected to the Senate in November 2018. Before that, he served three terms as North Dakota's at-large member of the U.S. House of Representatives.
Despite Cramer's injury over the weekend, he and his office have remained active. Before announcing the injury on Wednesday, he issued a statement opposing President Joe Biden's calls for a federal gas tax holiday.
On Wednesday, Biden called on Congress to suspend the federal gas tax, which is 18.4 cents a gallon, to help offset soaring gas prices in the U.S.
"When gas is $5 a gallon, the American people aren't asking for 18 cents of relief, they want the Trump energy policies back!" Cramer's statement said.
"Suspending the gas tax is nothing more than a knee-jerk political stunt providing minimal relief while blowing a hole in our infrastructure funding. Lest we forget, President Obama called this idea a 'gimmick.' Asking Congress to suspend the 18-cent-per-gallon gas tax is a feckless motion to Americans paying $5 at the pump to drive to work and take their long-delayed vacations," the statement added.
"If the Biden Administration is serious about combating inflation and lowering gas prices, they need to take a complete 180 on their energy policies and pro-regulation agenda," Cramer added.
Cramer's office referred Newsweek to his initial statement in response to a request for additional information and comment on his injury.
​​Updated 6/22/22, 2 p.m. ET: This story was updated with additional information and background.
Correction 6/22/22, 2:30 p.m. ET: An earlier version of this story incorrectly said Senator Kevin Cramer might need to have his right hand amputated after an injury. It is the tip of his pinkie finger that would require the surgery, if performed.