Send Moldova Modern Weaponry in Light of Putin's 'Clear' Ambitions: Truss
British Foreign Secretary Liz Truss said she wants to send Moldova modern weaponry to protect it from the threat of a Russian invasion, according to a new interview published Friday.
Truss told The Telegraph that she believes Russian President Vladimir Putin is seeking to create a "greater Russia," and warned that vulnerable nations could soon become his next target following the assault on Ukraine. Truss said Moldova, which borders Ukraine to the southwest and is not a member of NATO, should be equipped to deter any possible attacks.
"I would want to see Moldova equipped to NATO standard. This is a discussion we're having with our allies," she told the newspaper. "Putin has been absolutely clear about his ambitions to create a greater Russia. And just because his attempts to take Kyiv weren't successful doesn't mean he's abandoned those ambitions."
Moldova is one of Europe's poorest countries, and has taken in more than 435,000 Ukrainian refugees from the ongoing war, according to the BBC. Experts have noted that the nation could soon be Putin's next target, as it is home to a Russian-backed breakaway region called Transnistria.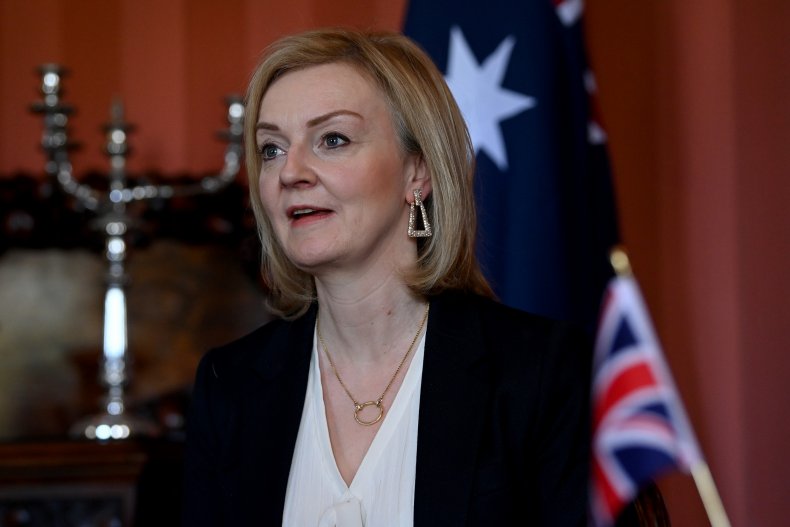 In late April, Russian Major General Rustam Minnekayev heightened those concerns when he said Russia plans to "take full control of Donbas and southern Ukraine" and open "a land corridor to Crimea" to "give the Russian army access to Transnistria." Around the same time, a series of unidentified explosions hit the area, stoking fears that Moscow may be attempting to destabilize the nation.
David Rivera, a visiting professor of government at Hamilton College, told Newsweek last month that the Russian president could attack Moldova using the same ideology he used to invade Ukraine.
"Some of the Kremlin's stated concerns and justifications for its invasion of Ukraine—namely, to protect ethnic Russians and Russian speakers from cultural and linguistic oppression, as well as physical repression—could easily be applied to the Transnistria region of Moldova as well," he said.
Stefan Wolff, international security professor at Birmingham University, also told Newsweek that invading Moldova "would fit with Putin's strategy to reconstitute as much as possible of the former Soviet Union as a Russian sphere of influence as the basis for Russia's great power status."
The concern for Moldova comes as other European nations are seeking to ramp up security protections amid fears that Putin could expand the war. Also on Saturday, Albania's defense minister said it bought anti-tank Javelin missiles to strengthen its defenses, the Associated Press reported.
Putin's invasion has been met with fierce resistance, and Russian troops have so far failed to capture the nation's capital or other strategic cities. However, the war has caused devastating destruction across the country, resulting in thousands of civilian deaths and forcing millions of Ukrainians to flee their homes.
Some critics have argued that Ukraine may have been better prepared to stave off an attack if the U.S. or Western allies would have equipped the country with weapons sooner. To prepare for any future assaults, Truss said recently that the West must "double down on our support" for Ukraine, according to the BBC.
"If Putin succeeds there will be untold further misery across Europe and terrible consequences across the globe. We would never feel safe again," the foreign secretary added.