Serbia Sends Troops to Kosovo Border as NATO Could Face Another Conflict
A video showing Serbian troops reportedly being deployed to the Kosovo border has emerged online, as tensions grow between the two countries over new restrictions imposed on the Serbian population by Kosovo's government.
Footage circulated by local media in Serbia on Tuesday shows several army vehicles reportedly traveling toward the border with Kosovo.
The never-resolved sovereignty dispute between Serbia and Kosovo escalated this summer, with car plates and ID cards serving as the catalyst for the current crisis.
Kosovo's government is trying to enact legislation that will mirror policies already in place for Kosovans in Serbia, including the requirement that people in majority ethnic Serb areas in the country swap their Serbian-issued car plates for Kosovan-issued ones, and that those entering the country with a Serbian ID card complete a form to use as a temporary Kosovan ID card.
These policies, which fundamentally aim to treat ethnic Serbs in Kosovo exactly like ethnic Kosovans are treated in Serbia, have outraged Serbs living in Kosovo and angered the Serbian government, which does not recognize Kosovo's independence.
Among protests from the ethnic Serbs in the country—including roadblocks and clashes with authorities—Kosovo's government decided to postpone the implementation of the new law on car plates, originally planned for August 1, by a month, accusing Serbia of actively trying to destabilize the country by sending protesters to its border.
On October 29, Kosovo once again agreed to delay a rule to confiscate cars owned by ethnic Serbs who refuse to comply with the new legislation on car plates in order to avoid aggravating ethnic tensions.
The flare-up of tensions between the two countries has alarmed the European Union—which for years has tried to play a diplomatic role between Kosovo and Serbia to maintain peace—and NATO, which in August said it was "prepared to intervene" to avoid another war in Europe.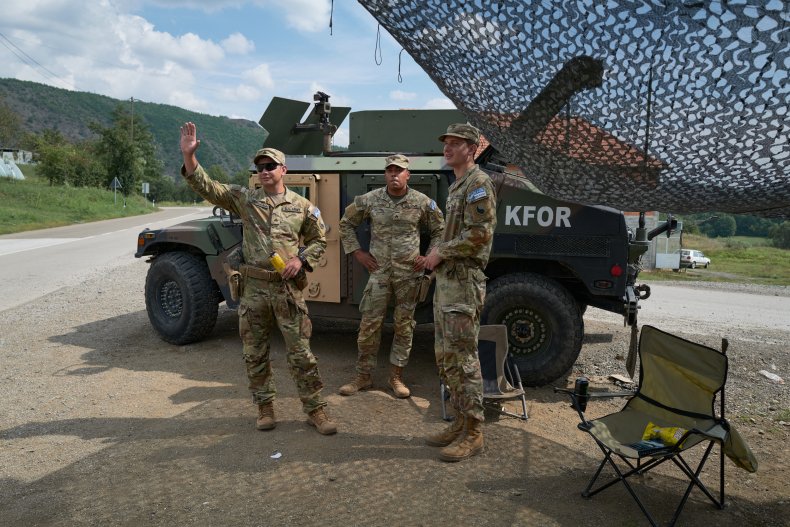 Despite its support for Kosovo in wanting to apply the new legislation, the EU has repeatedly suggested "Kosovo should allow for a longer transition period," as Nabila Massrali, spokesperson for foreign affairs and security at the European Commission, said on Saturday.
But there are concerns that these postponements won't put an end to the tensions between the two countries.
"Diplomatic interventions, along with a top-level dialogue meeting on August 18, led to a temporary relief in the form of extended deadlines and promises to continue discussions. Yet, the parties' willingness to risk dangerous confrontations on the ground, at best set the process back. At worst, it may lead to much more serious consequences, even if unintended," Caroline Ziadeh, special representative of the Secretary-General for Kosovo and head of the United Nations Interim Administration Mission in Kosovo (UNMIK), said on October 18 in New York during an update on the tensions between the two countries.
The deployment of Serbian troops at the border with Kosovo has the potential to escalate tensions even further to the point of it having the "serious consequences" mentioned by Ziadeh.
After fighting a bloody war with Serbia in the 1990s, Kosovo declared independence in 2008, but Serbia said that such a declaration was illegal. To this day, Serbia doesn't recognize the sovereignty of Kosovo and is joined by Russia and China, among others.
Because of this partially recognized status, Kosovo isn't part of the United Nations or NATO, but since June 1999, NATO has kept a mission of 3,770 troops provided on the ground in Kosovo to maintain peace between the country and Serbia and stabilize the region, called KFOR.